"Envision" Magazine Launches App
Top Headlines
Date:
October 4, 2013
Contact:
commdept@andrews.edu
Website:
Phone: 269-471-6314
On the morning of Oct. 1, 2013, the Andrews University Department of Communication held an expo to launch the new interactive app for their department magazine, Envision. The department hopes the release of the app attracts additional readers by making the magazine more accessible to students, faculty and others. The expansion of the magazine would mean more recognition for the department and would allow the magazine to continue publishing stories that are specifically written for the Andrews community.

"I want this to be more than just a launch. I want it to be a declaration of doing something new on campus," says Rachel Williams-Smith, chair of the Department of Communication. The creator of the app, Kenty Ramdatt, is a recent computer science graduate of Andrews. He says, "I was really interested in app development and I wanted a real project to work on."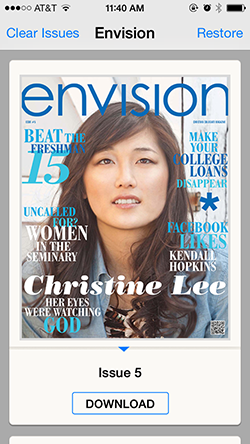 Starting without any knowledge of how to create apps and not even owning a smartphone or tablet, Ramdatt was able to research and acquire all the information needed to make an app from scratch. He then applied this information to put together not simply an app, but an app for a magazine.

"We wanted a magazine that was interactive," says Debbie Michel, associate professor communication and Envision editor-in-chief. "That's the beauty of having something that's digital. You can hear it, you can see it; it becomes real. It's no longer just the printed page."

Following the app launch, the expo attendees explored booths for the different areas of study within the Department of Communication. The department hoped to engage and inform students and help them get involved. There was even a booth from the local Benton Harbor Best Buy where employees demonstrated the interaction of the app on various devices.

"I think [the app] is pretty advanced for a college campus," says senior Denzell Grant. The app, which not only includes everything in the magazine's hard copy, contains interactive features such as videos and a menu that allows you to quickly go to the article or page you want to see with just a click. The app, found under the search, "Envision magazine," is available for all smartphone and tablet devices and is a free download from each respective app store.