Film Grad Makes Personal Documentary
Top Headlines
Date:
October 30, 2013
Contact:
stclair@andrews.edu
Website:
Phone: 269-471-3348
By Becky St. Clair
At the age of 10, Pieter Damsteegt, a 2013 graduate of documentary film and photography at Andrews University, was diagnosed with Ankylosing Spondylitis, a long-term type of arthritis affecting the bones and joints at the base of the spine and their adjoining joints like hips, neck and shoulders. The joints become swollen and inflamed and, over time, the affected bones join together. A few years later he found out he also had Crohn's Disease.

"I live a pretty exciting life," he says with a smile.
Since then Damsteegt has eliminated the symptoms of Crohn's Disease in his life by switching to a completely gluten-free diet, but he still struggles with AS. To document his journey with the disease, Damsteegt created a film documentary of the life he lives.
"Everyone is going to have issues in life," he says. "I want to give other people a positive perspective on life. I want those of us who struggle with health issues to consider more of the things we're not missing. If an athlete sees my film, maybe they'll remember it someday when they're feeling lazy and it will get them on their feet, doing something worthwhile. Maybe it will keep them from giving up."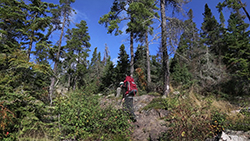 By the end of the film, Damsteegt is in a wheelchair, with only ten degrees of mobility in each of his legs. Still, he expresses gratitude for the things he does have, such as his sight, hearing, and senses of smell, taste and touch.
Ten days after he wheeled himself across the platform at Pioneer Memorial Church to receive his diploma in May 2013, Damsteegt underwent surgery.
He received a bilateral hip replacement from Rush Hospital's Midwest Orthopedics in Chicago. The doctor who performed his surgery holds an engineering degree from MIT and was part of the team to design the tools used during the surgery, which provide a minimally invasive procedure.
"Typical hip replacements, especially doubles like mine, place lifelong restrictions on activities and movements," explains Damsteegt. "But this particular procedure allows you to get back into just about any activity, making it a much better option for a 23-year-old like me."
The surgery Damsteegt had incorporates a plastic part between two metal pieces in each hip. Every 15-20 years he will undergo a simple procedure to replace the plastic parts with new ones.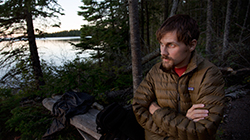 Now that the surgeries are behind him, Damsteegt has high hopes for a very mobile future, and has a good start already.
"I used to take things for granted," he says, "but today I can walk, and I can't take that for granted anymore. So I have to go somewhere every day. I go walking or biking every day, just to be thankful I can do it."
Damsteegt's goal was to do a walking expedition to celebrate the success of his surgeries. In early September, two months after the completion of his second hip replacement, he did a trial run with his mom to see how he would do.
"It was slow, and probably wasn't the mileage most backpackers like to accomplish, but it was still a huge deal for me," he says.
Two weeks later, Damsteegt and his mom headed up to Isle Royale National Park, located on a collection of islands in Lake Superior near the Canadian border.
"She has been so supportive," says Damsteegt of his mother. "Now I take her on all my adventures. Though I don't think she'd go skydiving."
The five-day backpacking trip at Isle Royale included over 16 miles of hiking, a bit of rain, and a whole lot of beautiful scenery.
"Overall the trip felt like a big accomplishment to me," he says. "Now my mom and I are thinking of possible backpacking trips for next year."
Damsteegt has been to Europe and Asia several times, and is feeling up to traveling again. His dream is to work on travel or mission documentaries. His future in film and photography remains flexible, as his primary goal is to complete his personal documentary and submit it to film festivals for a starting point.
"I've met people who, because of my story, are out walking every day or staying active in some other way," says Damsteegt. "This is what I want to do – I want to inspire people to change their lives for the better. It's kind of like a circle, really, because I inspire them, and then they turn around and inspire me right back."
Watch the Andrews University Facebook page for details on how to view Damsteegt's completed documentary: facebook.com/andrewsuniversity.

Photos: Damsteegt on his backpacking trip at Isle Royale.
Credit: Pieter Damsteegt