Howard Center 10th Anniversary
Top Headlines
Date:
October 2, 2013
Contact:
hpac@andrews.edu
Website:
Phone: 888-467-6442
The Howard Performing Arts Center on the campus of Andrews University is celebrating its tenth anniversary with a special series of concerts Oct. 5-8, 2013.
The event begins on Saturday, Oct. 5, at 8 p.m. with the Tenth Anniversary Celebration Gala. Reminiscent of the inaugural weekend of the Howard Center, this formal night is a black tie affair followed by a dessert reception.
The Andrews University Symphony Orchestra, under the direction of Claudio Gonzalez, presents Elgar, op 39, Pomp and Circumstance, March No. 4 and Rimsky-Korsakov's Mlada Suite, featuring the Andrews University Singers.
Performing with the orchestra is Chi Yong Yun, assistant professor of piano and director of piano studies at Andrews University. Together they will present Sergei Rachnaninoff's Piano Concerto No. 2 in C Minor.
Tickets: $10 General Admission; $5 Flex Series
On Sunday, Oct. 6, at 7 p.m., the Howard Center welcomes the In the Round Tour, featuring Bebo Norman, Andrew Peterson and Sara Groves, presented by Compassion International. The contemporary Christian trio will alternate singing and playing their own worshipful songs, including hits such as "I Will Lift My Eyes" and "City on a Hill," among others. This tour is Bebo Norman's final before he retires, so fans will not want to miss one of the last chances to see him in concert.
Tickets: $15 Reserved Seating; $10 Flex Series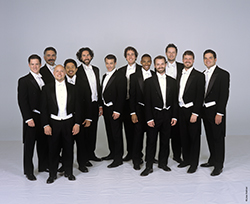 The final concert in this tenth anniversary celebration series is Chanticleer on Tuesday, Oct. 8, at 7 p.m. This 12-member all-male vocal ensemble is celebrating Chanticleer's 35th anniversary as they make all 100 stops on their tour this season. The San Francisco-based group has won three GRAMMY Awards and stands as the first vocal ensemble to be included into the American Classical Music Hall of Fame. Genres performed include Renaissance, jazz, gospel and contemporary. Please note that no children under 5 years old are allowed at this performance.
Tickets: $30 Reserved Seating; $25 Flex Series
Tickets for any of these concerts are available through the Howard Performing Arts Center box office by calling 888-467-6442. For more information about these or any other events in the Howard Center's tenth anniversary season, email hpac@andrews.edu.