Marion Nestle Speaks at Andrews
Top Headlines
Date:
October 10, 2013
Contact:
Website:
Phone:
Andrews University welcomed keynote speaker Marion Nestle on Thursday, Oct. 3, to talk about ethical food politics during the University's 2013 McElmurry Ethics & Society Lectureship.
Nestle is a consumer activist, nutritionist, award-winning author and academic who concentrates on the politics of food and dietary choice. Graduate of the University of California, Berkeley, Nestle teaches as a Paulette Goddard Professor at New York University in the Department of Nutrition, Food Studies and Public Health, which she chairs, and is also a professor of sociology.
"I like turning students into food activists," Nestle laughs as she thanks Andrews for the invitation to speak. "People are really interested in ethical issues around food. They really care where food comes from. They care how animals are raised. This has become something that lots of people, students in particular, have become concerned about."
Introducing the topic of the evening, Nestle references her colleague Kate Clancy's original question about the ethics of food companies, "Is it ethical for food companies to make, and profit from, highly processed foods, urge people to consume such foods, and market such foods to children?"
"Public health people are utilitarian in ethical terms, which means that we think that if something does the greatest good for the greatest number of people, that it's ethical."
Nestle went on to discuss what the collective good is in the food industry, who the stakeholders are and how we can ensure that the various aspects of food production and consumption are done in an ethical manner.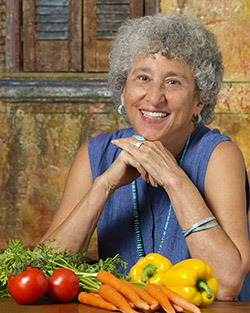 She touched on two specific types of global issues. The first being food insecurity where there is not enough food available, and the second being obesity where there is an overconsumption of food. Both extremes play an important role in the ethics of food and its availability to specific communities. The solutions, Nestle went on to discuss, are both personal and societal.
Because obesity is such a prevalent issue in the United States, Nestle spent some time talking about the effect of the epidemic on the government, the taxpayers and the food industry. She states, "What is ethical, to try to get people to eat less and better and be more active, is very bad for business."
"If I had one thing that I could teach all of you that you could take home with you, it's this: larger portions have more calories! It is not intuitively obvious."
"Low prices are an incentive to eat more," she continues. Because processed foods are cheaper and fresh foods are more expensive, it is seemingly harder to eat healthier. The money that has been spent on marketing junk food has dramatically increased and, Nestle reminds us, "If you like these foods and find yourself eating these foods, you might want to think about the amount of money that is going in to trying to convince you that these foods are what you should be eating."
Another consideration that Nestle emphasized is the fact that many products are making health claims on their packaging. For example, a box of cookies may advertise on their label that this food is a good source of calcium, iron and zinc. "The research shows that any kind of a health claim on a package makes people think it doesn't have any calories," she says.
Nestle's solution to the controversial topics that she brought up is to regulate the food industry. This becomes tricky as most people feel as though freedom to make their own food choices would be violated if such regulations were to be put in place.
"This is corporate food fighting something that was really designed to help people eat healthier. It seems like a David and Goliath situation to me," Nestle says. It is less recognizable when personal choice is up against the environmental influence on personal choice.
"Is it ethical to oppose public health efforts with the amount of funding and effort that they are putting into it?" Nestle asks. "Is it ethical for food companies to support the current unhealthy food environment and to market junk foods and sodas to people in emerging economies?"
Nestle recently attended a meeting held by Michelle Obama at the White House about food marketing to children, which Nestle thinks "is the single issue that raises the most ethical concerns. Kids are too young to understand the difference between marketing and content." As the food revolution is upon us, it is clear that it is not a typical movement. "It's very diverse and fragmented."
For the most part, activists are pushing to make the food system healthier for people and healthier for the environment. It is all about making ethical personal food choices. Home cooking, teaching kids how to cook or growing your own food are all examples of voting with your fork. Making healthier food available to everyone should be a priority as well as experimenting with food caps and changing campaign laws.
In her newest book, "Eat, Drink, Vote," Nestle approaches many of the issues she spoke about in her lecture. For a list of Nestle's available book titles, and to purchase her books, click here.
by Eloise Ravell, IMC student writer