AFIA Fundraises for Philippines
Top Headlines
Date:
November 20, 2013
Contact:
pr@andrews.edu
Website:
Phone: 269-605-3438
by Becky St. Clair
Andrews University's student-led club, AFIA (Andrews Filipino International Association), invites the community to help them raise funds to support those who are affected by Super Typhoon Haiyan (Yolanda) and its aftermath in the Philippines.

During the week of Nov. 11-15, AFIA made over $1,000 from sales of club sweatshirts and beanies. All proceeds were sent to aid in Philippines relief through ADRA (Adventist Development & Relief Agency) International. They also collected cash and check donations to be used for the same purpose by the General Conference of Seventh-day Adventists.

"The devastation that has taken place so many miles away hits close to home and heart," says James Magbanua, AFIA president. "Many of our students and faculty have loved ones living in this area of their homeland. We want to extend a helping hand to those who were affected by the storm and give others the opportunity to do so as well."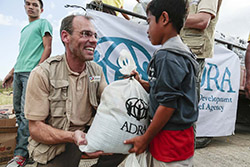 On Saturday, Nov. 23, at 8 p.m., AFIA is partnering with the Andrews University Symphony Orchestra, under the direction of Claudio Gonzalez, and the Howard Performing Arts Center for a benefit concert. 100 percent of the proceeds from the concert will go to ADRA for Philippines relief.

AFIA is still accepting cash and check donations that will be sent to the General Conference of Seventh-day Adventists to provide desperately needed items and services to affected areas of the Philippines. Make checks payable to General Conference of SDA with "Philippines Relief" in the memo. Please mail your check to the following address:

AFIA
PO Box 312
Berrien Springs MI 49103
Online donations can be made at the AFIA fundraising page at andrews.edu/go/afia. A tax receipt will be issued for all online and check donations.

Canadian citizens may contribute to ADRA Canada if they wish to receive tax-deductible receipts for their donation. The Canadian government has committed to matching all donations made before Dec. 9 dollar-for-dollar.

"We also ask that people continue to pray for the thousands of people affected by this disaster," says Magbanua. "We may not be able to support them in person, but we can support them in the best way possible: Prayer."

For more information about AFIA and updates on fundraising initiatives, please visit the fundraiser webpage or contact the association at afia@andrews.edu.

Founded in 1874, Andrews University is the flagship institution of higher education for the Seventh-day Adventist Church and offers over 200 areas of study including advanced degrees. Its main campus is in Berrien Springs, Mich., but the University also provides instruction at colleges and universities in more than 30 countries around the world.

Image: ADRA distributes food and other much-needed items to families affected by the storm. Photo courtesy of ADRA International