AUTV Premiers
Top Headlines
Date:
November 20, 2013
Contact:
pr@andrews.edu
Website:
Phone:
by Eloise Ravell
The premiere of Andrews University Television (AUTV), "Take Me to the Movies," on Sunday, Oct. 20, promoted their new YouTube station where students can watch videos made specifically for them by their peers.

Tiffany Evering, senior photography major and director of AUTV, directs, produces and writes for the videos that are showcased online. Working alongside her is Jourdain Smith, senior documentary film major, director of photography; Lauren Olson, senior documentary film major and head editor; and Ben Choi, freshman pre-physical therapy major and assistant director. AUTV has three contract workers and also depends on volunteers. Jonathan Jacobs, president of the Andrews University Student Association (AUSA), directs and produces as well.

The AUTV station will debut a variety of different videos to engage Andrews' students. Character profiles, dubbed "The Profile," are short documentaries about students on campus that will allow students, faculty and staff to get to know each other by hearing about the lives of the featured individuals. The first episode of this series, "Scriptural Beauty," premiered on the AUTV YouTube page and shares the story of Brazilian Christian artists Tiago and Andre Arrais, who use the beauty of scripture to inspire their music to spread the gospel.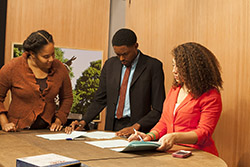 "Moods" is a series of silent shorts that will be shown about twice a month and will incorporate a story that the student filmmakers create and set to classical music. "Blue," the first episode of this series, stars Simone Weithers, junior graphic design major, and Joshua Martin, junior photography major, and tells the story of a classic love triangle.

There will also be a special segment featuring the Andrews seminary students entitled "Devotion." These shorts will allow students listen and watch devotions made specifically to inspire the Andrews community.

The series "Based" is currently in production and will incorporate stories heard from friends and peers and create them into short films.

Along with these original series, the Andrews Department of Communication is producing a campus-wide news program and will also provide live streaming of the University's basketball games and church services.

"We are very honored to be able to provide this sort of service for the Andrews community and we pray we expand," says Evering. "Our goal is unify our campus and to inspire creatively, spiritually and cognitively. We also want our viewers to interact with us, so leave comments under our videos, message us on Facebook, tweet us, whatever! We want to hear from our community because we are a service for them."

All of the AUTV shows can be found on their YouTube page, and on the AUSA page. For updates, "like" AUTV on Facebook or follow them on Twitter.

Image: Students prepare for the filming of their second AUTV news segment. Photo by Christa McConnell, IMC student photographer