Film Class Attends Film Festival
Top Headlines
Date:
November 6, 2013
Contact:
Website:
Phone:
By Becky St. Clair & Eloise Ravell
As part of his "Directing the Documentary" class at Andrews University, Paul Kim, associate professor of documentary film, debuted a program to take his students to the Toronto International Film Festival this past summer and is considering opening up this opportunity to the entire Documentary Film program.
The Toronto International Film Festival is one of the two most prominent film festivals in the world, the other being the Cannes Film Festival in France. Because of the worldwide exposure at the Toronto festival, Kim feels that this opportunity is important to get his students involved with film in a big urban area.
"One challenge I see with film today is that so much of what we are familiar with and so much of what we consume is mainstream," says Kim. "Mainstream is not that diverse. When you go to a festival like the Toronto International Film Festival you get a chance to see films that break the norms of what we typically watch on a weekly or monthly basis."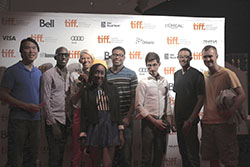 The films presented in Toronto usually have plot lines that break social standards that the students may not be familiar with. It can help them develop different perspectives and consider in which direction they want their careers to go.
Running around Toronto in order to see as much as possible, Kim took his students to a dozen films over the course of five days. The filmmakers and some of the actors attended the showings and were taking questions from the audience to discuss their work.
"It's about watching and discussing films in a condensed form," Kim continues. "We're trying to raise awareness about the culture of film. To think critically about film and consume it as part of a community rather than consuming film alone in your dorm room behind a computer purely for escapist mechanisms. That's hard to do but important."
There were a total of seven students who ventured to Toronto with Kim and those students will be using what they saw and discussing it throughout the semester during class. Kim feels as though this experience was important to expose the students to something bigger and broader than anything they have seen before.
"It was intense. This was new for me, too, and it was big," says Kim.
The Documentary Film program at Andrews University focuses specifically on non-fiction which sets it apart from other schools with film programs. Documentaries tend to embrace the social component, giving filmmakers a sense of civic responsibility as they approach their work. The students are encouraged to get their work out into the community and engage people by having conversations that would not otherwise take place.
"The power of cinema is considering life and situations in ways that people wouldn't have otherwise," Kim states.
Kim encourages his students to get out of their comfort zone. They cannot get proper material without talking to people, going to people's houses, talking on the phone and establishing those relationships between the filmmaker and the subject of the film that are absolutely essential. Differing from fictitious films, documentary films require you to be present and to talk to real people as well as engaging the community and enacting social change.
"You have to build the relationship and in that process you change and you become a part of what's happening. You don't just work behind the camera on a blank piece of paper, you have to engage."
Image: Paul Kim (left) and his documentary film class at Toronto International Film Festival in September.