Music Professor Performs in Europe
Top Headlines
Date:
November 6, 2013
Contact:
Website:
Phone:
By Eloise Ravell
New to the Andrews University faculty, Charles Reid, classical performer of opera and oratorio, has already demonstrated his immense talent by currently singing Don José in Georges Bizet's opera "Carmen" at Theaterhagen in Hagen, Germany. Commuting between performances and the Andrews campus, Reid serves as associate professor and artist-in-residence as well as coordinator of vocal studies for the Department of Music. His roles include voice instruction, leading theatrical and opera productions, and teaching classes in vocal pedagogy, singer's diction and vocal repertoire.
With a Bachelor of Music in vocal performance from Houston Baptist University and a Masters of Music in opera performance from the University of Maryland at College Park, Reid has traveled across the United States and Europe performing opera and oratorio. Oratorio differs from opera in the sense that opera is musical theatre and oratorio is generally a concert piece centered on Biblical characters. Andrews plans on presenting J.S. Bach's oratorio, "The Passion According to Matthew," this Easter at the Howard Performing Arts Center, produced by Reid and featuring the University Symphony Orchestra, University Singers, and solo performers from the Department of Music.
Reid has had over 50 roles in opera and been involved with around 40 oratorio works in venues around the world, the most famous being the Metropolitan Opera, San Francisco Opera, Carnegie Hall, Bayreuth Festival, Theater an der Wien in Vienna, Austria, Salzburg Festival, Frankfurt Opera and Nationaltheater Mannheim in Germany.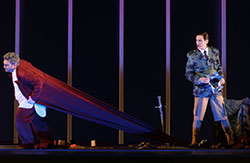 When asked about his decision to study musical performance in college, he reveals that becoming a music major was never his intention. Although he was involved with music in high school, he declared music as his major primarily because of a scholarship that had been awarded to him so he would sing in the university's choir. He decided to continue with it, much to his parent's surprise, and concluded that performing music would be a sensible career choice.
"I laugh heartily when I look back on this point in my life, because it is only through God's providence that I've been so blessed with a career," says Reid, "The vast majority of music students, even great ones, are not so fortunate, but somehow I believed it would be true."
As Reid's studies continued, he deluged himself with classical music by checking out six CDs biweekly, listening to them and making notes. The first time he physically attended an opera was after he had already performed in a few through the opera workshop program at his university. After graduating, he began working in the industry and has been actively performing for more than 20 years. He thanks God for blessing him so richly in his career.
"Every big plan I ever made for my career failed to come to fruition," he recalls, "God always had bigger and better things in mind. A life in the theater or concert hall is intensely fun. The hardships of being on the road are less so, but singing as a job seldom feels like work, even though we work very hard. There is something about the act of using these artistic gifts, of creating, of playing, and most importantly, sharing with those for whom we sing. It is a tremendous blessing."
In addition to the spring semester staging of Matthew's passion story, Reid encourages everyone to come to the Howard Center on Friday, Nov. 22, at 7 p.m. for a special concert featuring famous scripture songs from the early 1900s. This is a unique opportunity to worship with amazing music that has been seldom heard in our churches for many years.
To discover more about Reid and his career, visit charles-reid.com, or listen to the podcast he produces, "This Opera Life," available on his website.
Image: Charles Reid, left, performs in Germany.