Andrews Does Operation Christmas Child
Top Headlines
Date:
November 20, 2013
Contact:
pr@andrews.edu
Website:
Phone:
by Eloise Ravell
On Oct. 28, 2013, Andrews University welcomed Operation Christmas Child on campus. The event allowed students to work with the community and pack shoeboxes for children in need around the world. Coordinated by the Andrews University School of Health Professions, this event encouraged students to come together and have fun while making a difference in the lives of these children.

Emily Olakowski and David Regal, president and vice president of the Speech-Language Pathology & Audiology Club, helped organize the night and explained how to fill a shoebox with toys, nonperishable treats such as hard candy, and a personal note, and send it through the organization to a child who is not otherwise able to celebrate Christmas.

"It's such a simple thing for us to participate in, but it brings the kids so much joy," Olakowski says.

Berrien Springs businesses Berrien Dental, State Farm Insurance, Apply Valley Market and Adventist Book Center donated items that were packed in the shoeboxes. Depending on what is put inside, the boxes are separated into age groups and gender to appropriately distribute the gifts once delivered.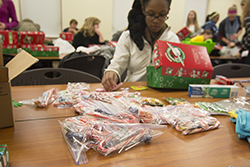 "We're also making it a social event," says Regal. "People can come, pack boxes, have a snack and listen to live music. It's a fun way to give back."

Andrews became involved with Operation Christmas Child after Esther Jones, administrative assistant at the Department of Physical Therapy, began working at the school two and a half years ago. She first got involved through her local church in Buchanan, Mich., and has seen more than 200,000 boxes go through the organization base at Niles Adventist School.

"It's not a Santa Claus project," Jones says. "These are tools of ministry and gospel opportunities. They are used all around the world in different countries by pastors and missionaries to reach out to the children, and for most of them this will be their very first gift. An orphan from Russia who is now living in Chicago received a box about 10 years ago with a washcloth that became his personal towel. Even something as simple as a pencil will allow a child to go to school for a year. That's pretty powerful."

Lauryl Murphree, a physical therapy student at Andrews and student coordinator of the event, says, "It has been eye-opening and it's great that we have this opportunity to help."

Murphree grew the event to a bigger scale by including the whole School of Health Professions and is trying to get the entire University involved. They held another school-wide collection Nov. 18–20 when students picked up a box, filled it with personal gifts and brought it back where it was sent through the organization.

"The value of a shoebox here is so little compared to how the Lord uses it to impact the lives of the children," Jones says. "Not only are they getting their very first gift ever, they also receive the story of Jesus, which is the best gift. It is certainly a Matthew 28 project—completing the Great Commission—and that's what keeps me working with Operation Christmas Child. It's a passion of mine; I'll be involved with it until they throw dirt over me."

Image: Darren Heslop, IMC Photographer