Orchestra Holds Benefit Concert
Top Headlines
Date:
November 19, 2013
Contact:
pr@andrews.edu
Website:
Phone: 269-471-3348
By Becky St. Clair
The Andrews University Symphony Orchestra presents its fall concert on Saturday, Nov. 23, at 8 p.m. in the Howard Performing Arts Center. This event will be a benefit concert to support those affected by Typhoon Haiyan/Yolanda in the Philippines.

Both the orchestra and the Howard Performing Arts Center are contributing 100 percent of the concert's proceeds toward Philippines relief through ADRA (Adventist Development & Relief Agency) International. ADRA's emergency management initiatives provide aid to disaster survivors, such as the victims of the Nov. 8 storm in the Philippines.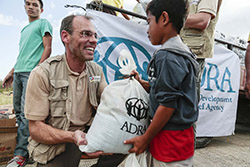 Andrews Filipino International Association (AFIA) will also be selling apparel at the concert and will give 100 percent of their proceeds to ADRA for Philippines relief as part of the AFIA fundraising campaign for the Philippines: Many Hands, One Hope.

Directed by Claudio Gonzalez, music director, and Jose Meneses, assistant conductor, the ensemble will perform Rossini's Overture La Gazza Iadra, Paganini's Concerto for Violin & Orchestra and Tchaikovsky's Symphony No. 2, "Little Russian," Op. 17.

The orchestra also welcomes guest soloist Haoli Lin, winner of the Andrews University International String Competition 2013.

Tickets are available online at howard.andrews.edu or by calling 888-467-6442. General admission is $5; students and seniors are $3; children 12 and under are free.

Special thanks to WAUS and United Sports Apparel for their support of these fundraising efforts. WAUS is a 24-hour all-classical radio station located on the campus of Andrews University. United Sports Apparel has been operating in Stevensville, Mich., since 1973 providing top brand active sportswear and street wear for men, women and children.

The Andrews University Symphony Orchestra is the core ensemble of the orchestral program at Andrews. In addition to their current series at the Howard Performing Arts Center, the orchestra travels within the Great Lakes region as well as internationally. Since 2006 they have performed in Italy, Austria, Germany, France, the Philippines and Costa Rica.

Founded in 1874, Andrews University is the flagship institution of higher education for the Seventh-day Adventist Church and offers over 200 areas of study including advanced degrees. Its main campus is in Berrien Springs, Mich., but the University also provides instruction at colleges and universities in more than 30 countries around the world.