Barry Black to Speak
Top Headlines
Date:
January 15, 2014
Contact:
pr@andrews.edu
Website:
Phone: 269-471-3348
Andrews University's School of Graduate Studies & Research welcomes Barry Black, chaplain of the U.S. Senate, as the featured speaker for this year's Graduate Student Consecration Service on Saturday, Jan. 18, at 10 a.m. in the Howard Performing Arts Center. The event is free and open to the public.

The Consecration Service is designed to recognize the graduate student population at Andrews University and to consecrate their pursuit of higher education.

"Philosophically, Seventh-day Adventist education is holistic, says Christon Arthur, dean of the School of Graduate Studies & Research. "Therefore, our students should experience intellectual stimulation, social interaction, emotional well-being and spiritual renewal."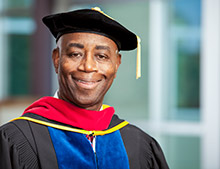 Black's sermon is titled "The Blessing of Adversity." Niels-Erik Andreasen, University president, and Andrea Luxton, provost, will also address students during the service.
On June 27, 2003, Rear Admiral Barry C. Black (Ret.) was elected the 62nd chaplain of the Senate. Prior to Capitol Hill, Black served in the U.S. Navy for over 27 years, ending his distinguished career as the Chief of Navy Chaplains. In addition to opening the Senate each day in prayer, Black provides counseling and spiritual care for senators, their families and staff--a combined constituency of more than 7,000 people. He also meets with senators about spiritual and moral issues, assists with research on theological and biblical questions, and facilitates discussion and reflection small groups among senators and staff.

Black also conducts marriage enrichment counseling and officiates at weddings, funerals and memorial services. He initiates and participates in special and seasonal observances, leads interdenominational prayer gatherings, and cultivates relationships with local clergy and leaders of humanitarian agencies.