Student Employment
gain job experience while in school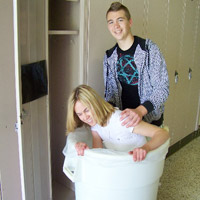 Work is not guaranteed to any student, and all students who participate in the work education program should maintain a proper balance between their course and workloads. Students accepting campus employment must maintain their work program until the official close of the school year. After freshman year, a student must be employed as a prerequisite to receiving financial aid.
If you are looking for student employment at Andrews Academy you have several options. If you'd like to work as a reader, you need to contact a teacher directly. Contact the building director, Ray Spoon, if you'd like to work on the custodial team. Andrews University also provides a wide variety of student jobs.

To qualify for possible employment, a student must apply, be accepted and demonstrate his/her intention to attend the academy. There is no mandatory payroll deduction applied to the student's account; however the parent may submit an authorization to withhold earnings to the payroll department. It is strongly advised that the student enroll in the automatic payroll deposit plan through the payroll department at the university. Otherwise they must go to the Administration Building at the university to pick up payroll checks.

Student eligibility for employment must be verified at the Andrews University Payroll Department. Once all the paperwork is completed, an Employment Officer will issue a Permission to Be Employed Form, which is an orange half-sheet form, before a rate sheet can be submitted for the student to work.

If you have any questions regarding the student job search process, please contact the Academy office at (269) 471-3138 or contact us by email at academy@andrews.edu.