Open House Celebrating SPLAD's New Suite
Top Headlines
Date:
September 20, 2012
Contact:
speech@andrews.edu
Website:
http://www.andrews.edu/shp/speech/
Phone:
The Department of Speech-Language Pathology & Audiology (SPLAD) officially opened the doors to its new suite in Bell Hall during an open house and ribbon cutting ceremony on Thursday, Sept. 27, 2012. Guests were invited to tour the new facilities, which include state-of-the-art sound booths for complete hearing evaluations and a new lab monitoring room for the Speech & Hearing Clinic. Complimentary hearing screenings were also offered during the open house, which was the first official event for the new School of Health Professions.

The new, larger space was badly needed for the growing department, whose enrollment has more than doubled over the last five years. The new space is 2,800 sq. ft. compared to a cramped 700 sq. ft. in their old location. The Speech & Hearing Clinic is also housed in this space. The clinic is open to the public and is the only one within 60 miles that offers central auditory processing testing to check whether the ear and brain are working in harmony to receive and process auditory information.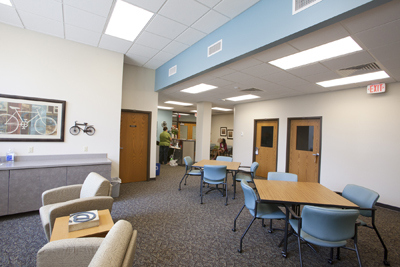 The Department of Speech-Language Pathology & Audiology's square footage
grew from 700 sq. ft. to 2,800 sq. ft.
"The open house for the Department of Speech-Language Pathology & Audiology was well attended and supported by Andrews University faculty, staff, administration and students as well as people from the community," says Darah Regal, department chair. "Many people participated in the free hearing screening available and some area medical professionals asked questions and requested more information about the speech pathology and audiology services that we provide to the community."
SPLAD hopes to expand their department offerings soon as well. Currently the department offers a bachelor's and a minor in speech-language pathology and audiology. However, they are working to expand their program to include a master's program and are developing a proposal to receive accreditation for the master's from the American Speech-Language-Hearing Association.