Student Reports
view current homework assignments, grades, behavior and attendance reports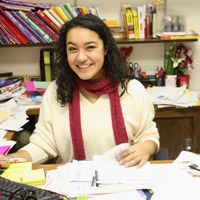 Students and parents/guardians may view the progress of the student reports at https://factsmgt.com/. This includes assignments, grades, behavior and attendance. Information is submitted by the teachers. Frequency of academic reports will vary by department; especially with the English department and others where a majority of the assignments are project-oriented and/or written work; therefore, grades may not be updated as often as in mathematics and other courses where daily assignments are more frequent. Attendance and behavior reports will appear immediately and is considered a "live" report.
These grades are ongoing progress reports and are not recorded on the transcript until final grades are completed. Contact the specific teacher if you have questions about your student's assignments or coursework.
Separate student and parent/guardian logins are generated at the time of application and remain unchanged as long as the student is enrolled at Andrews Academy. If you have forgotten or lost your user name and password, please contact our office by phone: (269) 471-3138 or by e-mail: academy@andrews.edu.
LOG ON TO FACTS GO >>
View attendance, class schedules, final and mid-term semester grades, current address information, financial account and other student information.