Andrews University
InMinistry Center intensives classes are held each summer on the campus of Andrews University. Classes are usually held in a seminar room or classroom in the seminary building on campus; the specific room location should be identified in your course outline, or inquire at the seminary dean's office upon your arrival. Signs are usually posted in the building to direct you to the classroom reserved for your class. Be sure to check ahead of time on course location, because occasionally we must use a campus facility other than the seminary building.
Contact Information
Andrews University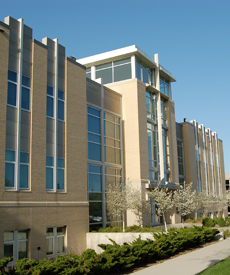 Berrien Springs, MI 49104
269-471-3537
www.andrews.edu
InMinistry Center
Seventh-day Adventist Theological Seminary
Andrews University
Berrien Springs, MI 49104-1525
269-471-3514
www.inministry.info
Emergency Contacts
Andria Stewart, InMinistry Center Advisor/Administrative Assistant: (269) 471-3514
Pastor Esther Knott, InMinistry Center Director: (269) 471-3353
Area Airports Distance from Andrews
South Bend Regional Airport, South Bend, IN — www.sbnair.com (about 24 minutes)
O'Hare International Airport, Chicago, IL — www.ohare.com/Ohare/OhareHomepage.shtm (about 2 hours 6 minutes)
Midway International Airport, Chicago IL — www.ohare.com/midway/MidwayHomepage.shtm (about 2 hours)
Transportation
The Andrews University Department of Transportation does provide service to and from South Bend Regional Airport, but there will be a charge. For more information please visit their website at www.andrews.edu/about/visiting/transportation_dept or call 269.471.3295, option 2.

If you choose to fly into O'Hare or Midway there is a bus limousine service to the South Bend Airport (Coach USA - www.coachusa.com/tristateunitedlimo/).
Driving Directions
Please visit www.andrews.edu/about/visiting/get_to_andrews for directions to Andrews University.
Visitors Parking Permit
All visitors and guests of Andrews University must obtain a parking permit to park on Andrews University property. Permits are free and can be picked up at the Safety Department during regular office hours.
If you are staying in a campus guest room, you can obtain a permit at the front desk when checking in.
Please park according to the campus signage. Residence hall parking lots are strictly off limits to anyone who is not a residence hall resident. However, we do offer an ample supply of additional parking near these restricted areas.
Accommodations
On-campus Lodging
The InMinistry Center has reserved a block of rooms for InMinistry Center students; however, it is the responsibility of each student to contact Guest/Convention Services in order to reserve one of the rooms available and make arrangements for payment. Check in time is 3:00 p.m., and check out time is 11:00 a.m.
InMinistry Center students staying on campus may be assigned another InMinistry Center student as a roommate, unless you specifically request not to have a roommate. We, of course, will not assign a roommate to students who bring their spouse. (Please be sure to include your spouse's name on your room reservation.)
Room Reservations
Telephone Reservations: (269) 471-3360; Please tell the agent which of the following program you are attending:
• InMinistry MAPMin
• InMinistry MDiv Cohort 2012
• InMinistry MDiv Cohort 2011
• InMinistry MDiv Cohort 2010

Online Reservations
www.andrews.edu/services/convention/reservations/index
Summer Convention Room Rates
Rooms with two twin beds and a semi-private bathroom are:
Single Occupancy: $37.50 per night for one person
Double Occupancy: $37.50 per night ($18.75 per person)

Rooms with two twin beds and community bathrooms are:
Single Occupancy: $39.00 per night for one person
Double Occupancy: $33.00 per night ($16.50 per person)

Guest/Convention Services will let you know which type of room is available.

Off-campus Lodging
Please visit www.andrews.edu/about/visiting/lodging_off for a list of lodging options available near Andrews University.
Meals
Andrews University has a wonderful Dining Services Center with great food. Please note that the cafeteria does not serve breakfast on Sabbath and Sunday, so please plan ahead to be sure you have something to eat. Also, to eat in the cafeteria on Sabbath you must have a meal card, which is available for purchase at the Dining Services office in the Campus Center.

There's also the Apple Valley Market located about a mile away from the dorms as well as a few restaurants in Berrien Springs. For a list off-campus dining options near Andrews University please visit www.andrews.edu/about/visiting/dining_off.