Graduation Requirements
know what you need to succeed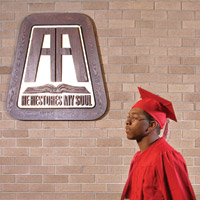 Requirements for graduation vary between the different diplomas offered. Each diploma requires a slightly different emphasis in coursework, credit hours earned and grade point average.
RESIDENCY REQUIREMENTS
A student must be enrolled for the last semester of his/her final academic year, completing a minimum of two units of academy coursework during that semester.
NON-NATIVE ENGLISH LANGUAGE STUDENTS
An international student whose native language is not English must complete an English language proficiency test with a satisfactory score to graduate with a College Preparatory Diploma.
GRADE PLACEMENT POLICY
When a student application is processed, grade placement is considered. In order to make normal, consistent progress towards graduation, a student should earn an average of approximately 6 credits per year. This will accumulate, over a four-year period, the approximate number of credits required for graduation (24).

Grade placement is credit-based. The student must complete the previous grade with the minimum credit totals shown below:
successful completion of eighth grade—grade 9 (freshman)
6 units—grade 10 (sophomore)
12 units—grade 11 (junior)
18 units—grade 12 (senior)