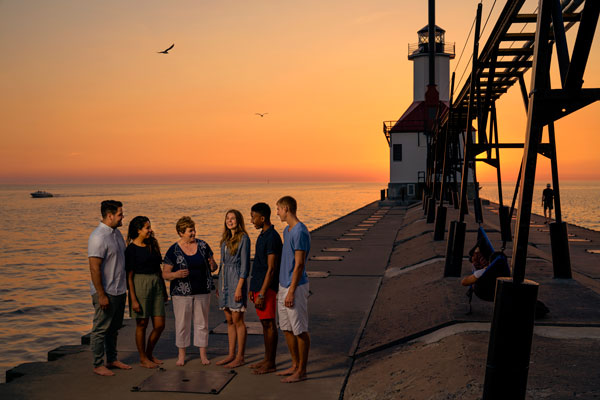 Wellness and Andrews University do not have any degree of separation. At the heart of its mission, Andrews University is committed to encouraging a lifestyle that says to students and employees, "Your health, your wellness, is important to us." That wellness embraces the emotional, the physical and the spiritual. It is important because wellness adds to the quality of life, and that in itself is vital. Wellness also impacts success in every other area: academic and professional. This integral connection is part of what makes Adventist education unique, and it is part of the fabric of this University.
In recent years we have taken this commitment to a new level. By our hire of a director of University Wellness who is focusing on the whole campus wellness environment, and by building the Andreasen Center for Wellness, we are showing how important wellness is to our future University thinking. What does this change mean? We will continue to serve outstanding vegetarian cuisine in our cafeteria. We will continue our thought-provoking and inspiring spiritual programming. Our Counseling & Testing Center will remain committed to supporting the emotional health of all our students. Our curriculum and co-curricular programs will expect student engagement in wellness—both through education and physical activity.
Now, however, we are intentionally and progressively identifying new ways all individuals can engage in making increasingly healthy decisions. In fact, as a result of the University Wellness initiative, the University has been identified as a Gold Level Campus by the American College of Sports Medicine (ACSM) Exercise is Medicine on Campus (EIM-OC) Advisory Group for three years in a row. By giving this rare award the organization recognizes the intentional focus of the campus on wellness, and in this case, exercise as prevention, in particular.
That is on the programmatic front and has happened even before our Center for Wellness is completed. And once completed we will be doing even more. It will be the go-to place for students working on individual fitness plans, engaging in sports activities, or wanting to relax in a peaceful space. Friends will come together: one may get a massage, another join in a team game, a third take an extra-curricular exercise class and a fourth swim laps in the pool. Afterward, they will meet again, relax and share a smoothie while they talk and laugh together. The Andreasen Center for Wellness will be the place that exemplifies our commitment to holistic living and education on this campus, and a commitment that will extend to those in the community who want to share our vision.
We plan to formally open our amazing new facility in the fall of 2019. Thank you to those of you who have helped make this project a reality. You have helped us celebrate healthy living and the commitment to creating a center of excellence for student and employee wellness.


Andrea Luxton
President