Rentals
The Andreasen Center for Wellness Pool is available for pool rentals for various reasons and occasions.
The pool is available for rental on Sunday afternoons from 12:00-2:00 p.m.
To book the pool for any reason please follow the link provided and fill out the registration form. A staff member will contact you to confirm your rental and the desired details. All reservation details and payments should be finalized by the Wednesday before the weekend the rental is scheduled on or closest to. If hosting a party with food, one of the classrooms must be rented out. No food allowed on the pool deck.
All pool rental participants will need to fill out this waiver prior to rental day.
We offer a 25% discount or AU groups/departments when paying with an IDC number.
Group Size for 2 hr Rental (Available 12-4 p.m. Sundays Only)
Price
Up to 40 people
$150

41-75 people

$200
76-125 people
$250
125-200 people
$300
If you would like to rent an Instructor to work through an honor with your pathfinders or adventurers then you must plan to pay $20/hr/Instructor. Each group size should not exceed 10 students. Payment must be made the day of the rental.
Additional Rental Add-On
Wibit AquaTrack
Our new Wibit aquatrack is an inflatable pool -length obstacle course that is fun for ages 6+. Test individual skills on our course or challenge your friend to a race through the obstacles. Wibit is a company out of Germany that produces modular inflatable features. They have a proven safety record and have designed their products to offer fun in many water settings and making the products out of the highest quality materials. Check out their website here: http://www.wibitsports.com.
This feature is a deep water feature meaning it goes into the deep end, so only those who can swim can use it. No lifejackets allowed. If under 14 must pass a swim test.
This Aquatrack features a step to get onto the course. The first obstacle is called :"the cliff" where the user must navigate either side of the slope using the handles and balancing their way around this cliff feature. Once past the cliff, you will find yourself at "the bridge" where you must navigate up and over without falling through. Balance and quickness will be needed for the "V-Connect" part of the course, because footing is limited and if you're not careful you'll find yourself slipping through to the water. If you're still standing at this point you'll need to look up to climb "the slope". Once at the top you can be rewarded with a 6 foot slide into the water below. Think it looks easy? It is known to be harder than it looks. Try your skills out today.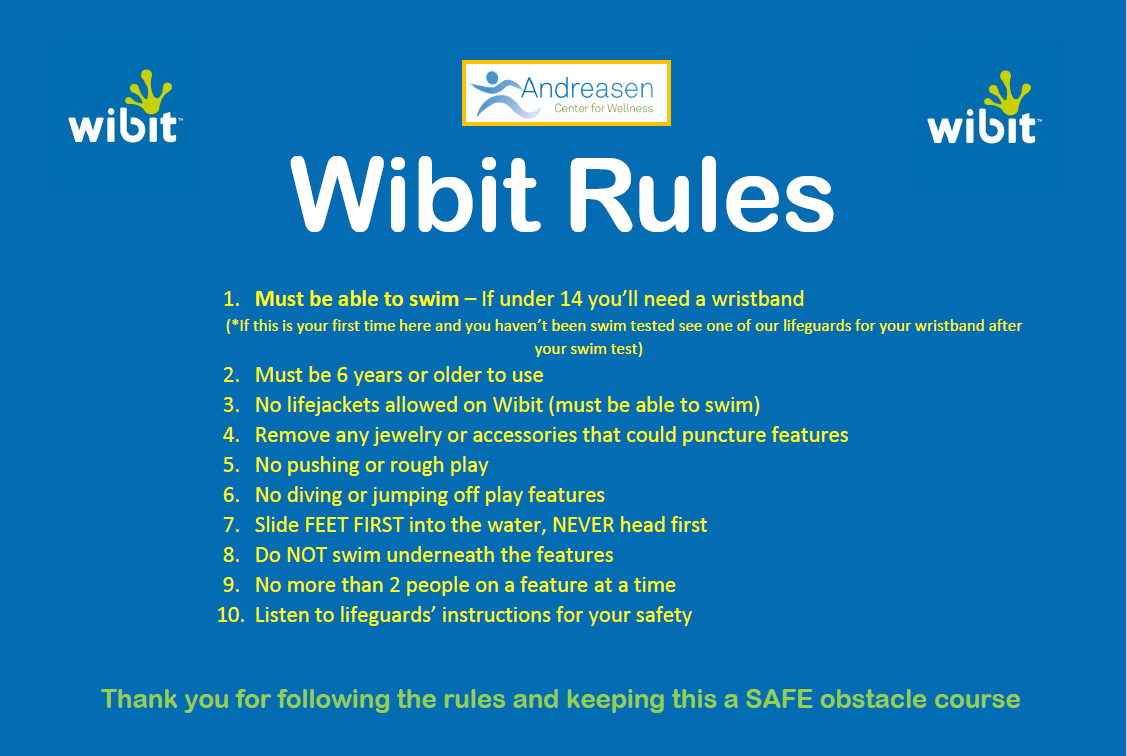 Price:
| | |
| --- | --- |
| AquaTrack | Price |
| 2 Hour Rental | $200 |
For additional questions, call 269-471-3257 or email learn2swim.coordinator@gmail.com