Alumnus of the Year
DR. WILLIAM G.C. MURDOCH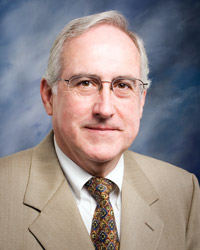 William Murdoch was regarded by his friends at Andrews Academy (AA) as extremely intelligent, a high achiever but a free spirit, kind, caring and friendly; attributes that have served him exceedingly well over the course of his varied and accomplished career.
Following his 1967 graduation from Andrews Academy, Bill pursued an academic career that led to earning a Bachelor of Arts from Andrews University, a Doctor of Medicine from Loma Linda University, and a Child Psychiatry fellowship at the University of Michigan.
After directing the adolescent section in the Department of Psychiatry at the University of Michigan, he joined the faculty of Loma Linda University School of Medicine and the medical staff of Loma Linda University Hospital in 1986. He carries multiple professional responsibilities in hospital appointments, teaching and administration. Currently, Dr. Murdoch serves as chair of the LLU Department of Psychiatry in the School of Medicine.
As co-chair of Loma Linda University's Behavioral Trauma Team since 1996, Murdoch's sphere of influence extends to the world community. In this capacity he has led intervention teams to tsunami areas, Haiti and the Dominican Republic.
Murdoch was born in Sydney, Australia. He is married to Jean Kinzer Murdoch and they have one daughter, Emily Elizabeth. For relaxation and enjoyment, Bill and Jennie renovate and redecorate homes that provide affordable housing for university students. The restoration of older automobiles is also a special interest of Bill's, particularly on early Honda models. When traveling, the Murdoch family includes visits to State capitols and presidential libraries, and their goal is to visit them all. Bill finds gardening to be a pleasant and satisfactory diversion from his complex professional life.
Because of his dedicated service to humanity, especially to children and youth, his professional achievements and his embodiment of the ideals of this school, Andrews Academy is pleased to name Dr. William G.C. Murdoch the 2006–2007 alumnus of the year.