Alumnus of the Year
Donald E. Van Duinen, PhD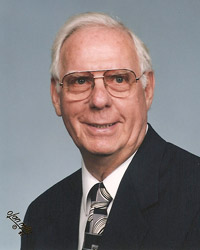 Donald Van Duinen was regarded by his associates at Andrews Academy (EMCA) as an earnest, conscientious, faithful young man who worked diligently to defray his educational expenses. Later, while a student, he directed the wiring of several prominent campus buildings, including Hamel Hall and the Alumni House. These attributes of persistence and commitment have served him exceedingly well as a highly regarded Seventh-day Adventist Christian educator.

Following his 1948 graduation from Andrews Academy, Don pursued an academic career that lead to earning a Bachelor of Arts from Andrews University, a Master of Arts from Western Michigan University, and a Doctor of Philosophy from Michigan State University.

His career as an educator began at Kalamazoo Junior Academy, where he was principal and teacher. The centerpiece of his career commenced, however, when he joined the faculty of Andrews University Elementary School as seventh/eighth grade teacher and later as principal—a remarkable career that spanned almost three decades.

Dr. Van Duinen was a leading influence in the planning and construction of the current elementary school building, now known as Ruth Murdoch Elementary School. He assembled an excellent, committed and unified faculty, and secured for the school a reputation as a model in Adventist education.

Since his retirement, Van Duinen and his wife, Cathy, have continued to serve their church and community in a wide variety of significant leadership roles.

Because of his professional achievements, his investment in the lives of hundreds of children, and his embodiment of the ideals of this school, Andrews Academy is pleased and proud to name Dr. Donald E. Van Duinen its 2007-2008 alumnus of the year.