Worship Speaker
Arne Nielsen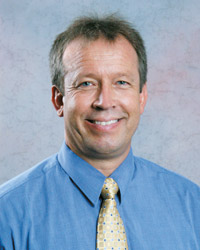 After graduating from Andrews Academy, Arne went on to finish a Bacheleor of Science in Physical Education/Health at Andrews University in 1983. His first teaching job was at Mt. Pisgah Academy in North Carolina, where he eventually served as principal from 1991-96. While juggling the responsibilities of a boarding school, he also completed a Master of Arts in School Administration at Western Carolina University in Cullowhee, N.C.

In 1996 the Nielsen family moved to Africa, where Arne spent seven years as principal and business manager for Maxwell Adventist Academy in Nairobi, Kenya. He next moved to the Idaho Conference of Seventh-day Adventists in Boise, Idaho, where he was the Superintendent of Schools until 2006. Presently, he is the Adminstrative Superintendent of Schools for the Florida Conference of Seventh-day Adventists. Concurrently, he is working on a Doctor of Philosophy in Leadership at Andrews University.

Nielson and his wife, Teen, have been happily married for 24 years. They have three sons: Josh (20), Jake (18) and Jesse (14). Arne enjoys all sports, photography, hiking, mountain climbing, snorkeling, reading, birding and traveling.