Student Week of Prayer
Grow Your Faith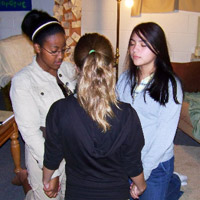 Student Week of Prayer was held during the first full week of April 2009. Beginning with Monday morning chapel time, student speakers challenged their peers with the theme "Dying to Live." Evening meetings began at 7 p.m. in the Orrison Chapel.
This Student Week of Prayer was planned and executed by the Spiritual Life Committee, which consists of student pastors elected by the classes and school organizations. Planning sessions started shortly after the beginning of the school year and culminated in a half-day retreat spring semester. With much prayer and discussion the theme, "Dying to Live," was chosen as the best way to meet the spiritual needs of the student body.
Each day of the week was covered by a two-student team made up of a speaker and a planning point person. Together these two worked with other students to provide the song service, skits and different media aspects of the day's morning and evening meetings. Parents and siblings of Andrews Academy students were invited to attend.
VIEW PHOTOS FROM THE 2008-09 SPRING WEEK OF PRAYER