Instructional Media Center
a wealth of knowledge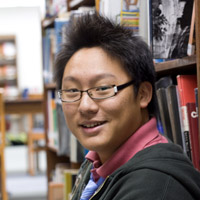 To meet students' needs, a complete Instructional Media Center (IMC) is provided. The IMC provides materials that support the curriculum. As a repository of knowledge, it includes both audio‑visual and printed material. The location of the IMC, in the midst of the English, social studies and religion classrooms, convenient to the other curricular areas, demonstrates its significance as the focal‑point for learning. An atmosphere both functional and inviting is provided. All materials are fully classified and catalogued to make them easily available to students and faculty.
The checking out of materials, as much and as often as possible, is highly encouraged. The IMC is designed for activities such as individual and group research, individual and group study, academic and recreational reading, career exploration.
In addition to a number of computers available in the IMC for student research and reference, the technology department provides for A‑V listening and viewing, as well as programs and equipment for A‑V materials preparation, production and duplication.