James White Library
a university resource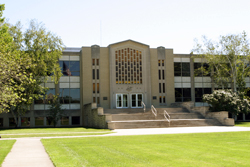 Just next door, on the Andrews University campus, students have the opportunity to utilize the resources of The James White Library. A modern structure which serves the needs of an expanding university, it houses a collection of more than one million volumes including those on microform.

In addition, the library holds many unbound journals, pamphlets, photostats, and other types of library materials. Microform reading and copying equipment afford access to valuable out‑of‑print books and materials. A subscription list of almost 3,000 periodicals covers all major fields of knowledge.
THE CENTER FOR ADVENTIST RESEARCH
Also located in the James White Library is the Center for Adventist Research, which maintains the holdings of five departments: the Adventist Heritage Center, the Ellen G. White Estate Branch office, the Andrews University Archives and Records Center, the SDA Periodical Index, and the James White Library Rare Materials. The Heritage Center is a Seventh-day Adventist archive and research center and contains the rare book collection of the library, including a number of early printed editions of the Bible and a set of first editions of Martin Luther's smaller works. In addition, it houses the Advent Source and Conditionalist Faith collections, made up of several thousand items dealing with the origins of Adventists and the history of the doctrine of conditional immortality. Extensive files of Adventist periodicals are also maintained here.

The Ellen G. White Estate Branch office maintains an extensive collection of published and unpublished materials. It contains copies of 60,000 pages of letters and manuscripts of Ellen G. White, along with 4,600 of her published articles and thousands of pages of other documents related to the early development of the Seventh-day Adventist Church.
Visit James White Library GO >>