Apply Now (New Students)
who may apply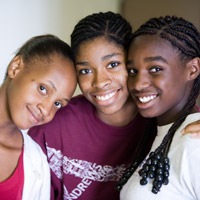 Andrews Academy seeks to attract diverse, talented and qualified students. Admission to Andrews Academy may be granted irrespective of the applicant's race, religious affiliation or national origin. Because Andrews University is sponsored and mainly financed by the Seventh-day Adventist Church, the majority of its students are Seventh-day Adventists; however, no particular religious affliation is required for admission.

Applicants who meet academic and character requirements of Andrews Academy and express a willingness to comply with school policy and adjust congenially to its religious, social and cultural ethos, may be accepted; however, admission to Andrews Academy is a privilege, not a right, and may be withheld or withdrawn by the school at its discretion and in harmony with its mission, function and procedures.


NEW STUDENTS (USA)
Moving to Berrien or coming from around the corner, Andrews Academy has a lot to offer you. Find out how to apply. To learn more about the courses we offer, click here.
INTERNATIONAL STUDENTS
There is a broad representation of nationalities at Andrews Academy. We are ready to help guide you through the application process. Before an I-20 form can be issued, applicants must meet normal entrance requirements and make specific financial arrangements. If you are not fluent in English, find out about our English as a Second Language (ESL) status. Learn more...
CURRENT STUDENTS
Reenrollment is required every Spring for returning students. A reenrollment packet is mailed to your statement address in the Spring, and must be submitted to the office before a student can pre-register for classes in mid-May. Contact the office if you need the renrollment papers (269-471-3138).
PART-TIME STUDENTS
While the school program is planned primarily for full-time students who participate in the wide variety of activities, a part-time student who is responsible and determined to learn should also experience fulfillment and success. Learn more...