International Students
need a study visa? not a problem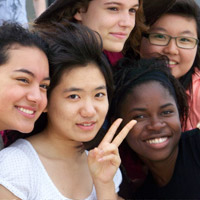 Andrews Academy finds it of great value to its cultural atmosphere to include international students. Because of the multi-ethnic and cultural makeup of the school, these students will find Andrews Academy a comfortable place to study.
To be admitted to the Academy, a student must have satisfactorily completed eight years of elementary schooling beyond pre‑school or kindergarten. A total of 12 years beyond pre-school or kindergarten, with the accumulation of 24 secondary units of credit, is required for a College Preparatory Diploma.
DOWNLOAD THE INTERNATIONAL STUDENT HANDBOOK GO >>
For more information about an F-1 visa, see the government web site: GO >>
Before an acceptance can be granted and an I‑20 form issued, an international student must complete the following:
Two Recommendation Forms - To be completed by your current school administration/teachers
Health Appraisal Form - Including required immunizations
Notarized Legal Guardianship Form - Every six months for F-1 status students
Official transcripts/records from previous school(s)
Non-parent Housing Arrangements (for F-1 status students)
12-month Bank Statements (showing proof of adequate funds to support student expenses)
$2,000 International Student Deposit and $250 Registration Fee (credit card accepted)
Proof of Student Health/Accident Insurance (optional, Andrews University offers student insurance)
Photocopy of current passport
Transfer of credit from an international school—Every effort is made by the admissions officer to evaluate the student's academic qualifications to ensure the greatest possible advantage from the United States educational experience. A maximum of six credits per year may be granted for secondary school work completed prior to entering the United States. Credits accepted are at the discretion of Andrews Academy.
Tuition Assistance—No financial aid or scholarships are available to students on an F-1 visa. Provisional Assistance is granted to qualified students whose parents are attending Andrews University.
ESL
International students planning to study at Andrews Academy for only one year should understand that limited English proficiency will limit the choice of subjects that they will be able to take. Conversely, greater English proficiency widens the students' options. All ESL students will take an English proficiency test prior to final placement in classes.
Duolingo English Test
The Duolingo English Test is an online English proficiency test that can be taken online, on-demand, in under an hour for only $49. The test is taken via a computer with a camera and includes a proficiency score, video interview, and writing sample which are shared with Andrews Academy (choose "Secondary School" when you search for Andrews Academy) when you send your results. Certified results are available within 48 hours of the test session.
The number of ESL classes required will depend on the level of proficiency the student demonstrates. Students will be retested at the end of each semester. Typically, a first year student will enroll in three ESL classes their first and second semesters of high school in the United States. These classes are ESL Language Arts I and II for two class periods per day, and ESL Introduction to the Bible. Students will then have three or more non-ESL classes they may enroll in, depending on their interests, class availability, grade level, and English proficiency. Students are expected to maintain a full class load. This means that they will have passing grades in at least six classes.
International students must maintain a minimum score of 70% in each ESL class. In order to pass out of ESL, the student must acheive an 80% total score. In addition, they must also maintain a cumulative C average (70%) in all other courses. The teacher may call a meeting with the student, agent, and host family if grades are lower than 70% at each progress report, or as deemed necessary. Students who are accepted on academic probation are required to have an Andrews Academy approved tutor. Minimum time in tutorial per week will be about two hours.