International Students
need a visa? not a problem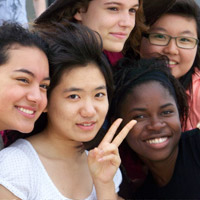 Andrews Academy finds it of great value to its cultural atmosphere to include international students. Because of the multi-ethnic and cultural makeup of the school, these students will find Andrews Academy a comfortable place to study.
To be admitted to the academy, a student must have satisfactorily completed eight years of elementary schooling beyond pre‑school or kindergarten. A total of 12 years beyond pre-school or kindergarten, with the accumulation of 22.5 secondary units of credit, is required for a College Preparatory Diploma.
DOWNLOAD THE INTERNATIONAL STUDENT HANDBOOK GO >>
Before an acceptance can be granted and an I‑20 form issued, an international student must complete the following:
Two Recommendation Forms - To be completed by your current school administration/teachers
Health Form - Including required immunizations
Notarized Legal Guardianship Form - Every six months for F-1 status students
Transcripts/records from previous school(s)
Non-parent housing arrangements (for F-1 status students)
12-month Bank Statements (showing proof of adequate funds to support student expenses)
$2,000 International Student Deposit and $250 Registration Fee (credit card accepted)
Proof of Student Health/Accident Insurance (optional, Andrews University offers student insurance)
Photocopy of current passport
Transfer of credit from an international school—Every effort is made by the admissions officer to evaluate the student's academic qualifications to ensure the greatest possible advantage from the United States educational experience. A maximum of six credits per year may be granted for secondary school work completed prior to entering the United States. Credits accepted are at the descretion of Andrews Academy.
Tuition Assistance—No financial aid or scholarships are available to students on an F-1 visa. Provisional Assistance is granted to qualified students whose parents are attending Andrews University.