Gifted Student Program
challenge yourself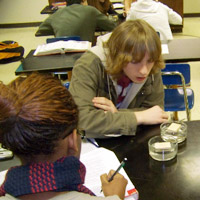 Andrews Academy gives recognition and encouragement to elementary students with unusual academic talent. One way this is accomplished is through the Academy Gifted Student Program where qualified eighth-grade students may enroll in one appropriately selected academy course.
Initial and continued enrollment at Ruth Murdoch Elementary School, the Village Elementary School, or other local area Seventh-day Adventist elementary schools is a prerequisite for program eligibility. This is an enrichment program, and is not designed to lead toward early graduation. If the course selected is Algebra I, the student is required to take at least one additional mathematics course to meet the requirements for secondary graduation. This program is provided on a space available basis.
REQUIREMENTS:
Earn a standardized testing score in the 95th percentile for composite
Earn a standardized testing score in the 95th percentile for the subject area of the course requested
Exhibit an above average sense of maturity and responsibility
Exhibit an unusual affinity toward the subject material related to the selected class
Submit a recommendation from the current elementary school principal to the Andrews Academy Academic Affairs Committee
A tuition scholarship is granted by the academy with a one-time enrollment fee equal to ten percent of the regular tuition rate.