Alumna of the Year
DR. CHARLOTTE GROFF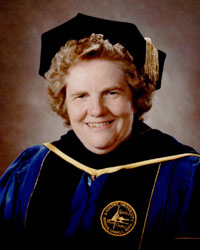 Charlotte Virginia Groff is a sixth generation Berrien Springs resident and fourth generation lifelong resident. She has lived in the same house on North Cass Street all her life. Her great-great-grandfather came to the Berrien Springs area in 1830. He lived the first winter in an Indian wigwam. His daughter, Dr. Groff's great-grand mother, was born here in 1832. During her lifetime she became a First Day Adventist, or Millerite. Dr. Groff's grandparents operated a Berrien Springs hotel, famous for its food.

After Battle Creek College moved to Berrien Springs and became Emmanuel Missionary College, an evangelistic campaign was held in the town hall. As a result of those meetings, members of Dr. Groff's family were the first Berrien Springs residents to become Seventh-day Adventists.

This ancestral association with the Adventist Church has continued in a remarkable way in Charlotte's life. Since six weeks of age she has attended the College Campus Church. In 1940 she became a baptized member of the church and holds the distinction of currently being the longest continuous baptized member of Pioneer Memorial Church. She has served her church as a deaconess continuously since 1975. She is a member of the Church Board and is a leader in the Church's hospitality ministry. In 1999 Charlotte filled the major role as chair of the committee that selects the church's leadership personnel.

Charlotte's education continuum is noteworthy as well. She attended Andrews University schools from the first grade through her doctoral degree. In 1950, after she had completed the requirements for high school graduation in only three years, she began a sequence of degree programs at Andrews University including a Bachelor of Arts Degree with honors in English, a Master of Arts Degree summa cum laude in English, culminating in the conferral of a Doctor of Philosophy Degree in Educational Psychology in 1986.

After 50 years as an elementary classroom teacher in Coloma Community Schools and a reading specialist in Berrien County, Charlotte retired in 2004. During these years she also taught English at Lake Michigan College and Summer Migrant School for 35 years.

Because twelve of her ancestors participated in the American Revolution, Charlotte is eligible for membership in the Daughters of the American Revolution organization. Her very active association with the DAR has resulted in several exceptional distinctions. She has directed the DAR Algonquin Chapter Essay Contest for 40 years. During these years five Berrien County students have been winners in the DAR National Essay Contest as well as many who have been State and Regional winners. She served the Chapter as Regent from 2004 to 2008, being chosen as Outstanding Regent in the State of Michigan in 2007. Not surprisingly, Charlotte is an experienced genealogical researcher and she has assisted a host of people in exploring their family trees.

Charlotte became a published writer in high school when she received a Pen-League award. During her academy senior year she was editor of the EMCA The Tattler (antecedent of The Sanjo). She has written scripts for Your Story Hour, and recently she has authored two books which are historical stories: Glory, Ashes and Love for Job and Dinah published in 2000 and Jochebed Yahweh is Glory published in 2009.

Because of her dedicated commitment to her American heritage, her demonstration of excellence in writing, her investment in the lives of hundreds of children, and her faithful service to her church and community, Andrews Academy is pleased and proud to announce Charlotte Virginia Groff as the recipient of the Andrews Academy Alumna of the Year Award for 2010.