Backpacking Tour
hit the trails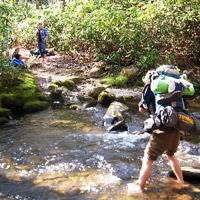 In May 2007 the backpacking class went to The Great Smokey Mountains National Park for a week of backpacking.
Day 1—The first day was a day-hike up The Chimneys. This was a four-mile round trip with a spectacular view of the mountains.
Day 2—A day-hike up Mount LeConte, a popular trip to a rustic lodge at one of the highest points in the park. The round trip was 11 miles and took several hours to complete.
Days 3-6—These four days were spent in the back country, hiking on trails that ranged from easy to very strenuous. Students carried their tents, clothes, food, water, sleeping bags and various items needed to survive for the four days.