News
AAPT Summer Meeting in Portland, OR (July 17-21, 2010)

Stop by at our booth #412 to see our latest technology, pick up a free lab manual on ideal gas laws, and win your choice of a Cloud Chamber, Wave Demonstrator, or Adiabatic Gas Law Apparatus.

For more information, visit www.aapt.org.
---
APS/AAPT Meeting Washigton DC (Feb 14-17, 2010)

Visit our booth #311 to see our latest R&D projects and to participate in a drawing to win one of our products.
Also, you may visit following presentations:
Mon Feb 15 8:30-10:00pm (Exhibit Hall B South)
PST1A-11: USB Hall Probe B Field Measurements along a Solenoid Axis by Dr. Rowland
Mon Feb 15 8:30-10:00pm (Exhibit Hall B South)
PST1A-15: Generating a Hysteresis Loop Using a USB Hall Probe by Dr. Kutzner
---
Advanced Labs Topical Conference (July 23-25)

Visit our vendor table for a hands-on demonstration of our Adiabatic Gas Law Apparatus at the University of Michigan:

Thursday July 23, 2009 at 12:15-1:15pm and 3:00-6:45pm (tentative)
Friday July 24, 2009 at 12:15-5:30pm (tentative)

AAPT Summer Meeting (July 25-29)
Stop by to see our latest technology on force sensors, pick up a new free lab manual on ideal gas laws, and win your choice of a Cloud Chamber, Wave Demonstrator, or Adiabatic Gas Law Apparatus.
Also, do not miss the following presentations on July 27th at 8:30pm in the Dana Atrium presented by Dr. Mickey Kutzner:

- Experimental Verification of Boyle's Law and Adiabatic Gas Law
- A Static Equilibrium Laboratory

---
AAPT/AAAS Meeting in Chicago (February 13-16, 2009)
Dear Customers,

We hope that you had a great time visiting the AAPT/AAAS Winter meeting. This time Physics Enterprises did not exhibit at the convention. However, we were very happy to do a joint project with TEL-Atomic and present you our Cloud Chamber which already drew a lot of attention during the summer convention in Edmonton.

We look forward to the coming conventions where we would like to present you our new products or invite you to join us in some workshops.


---
AAPT in Edmonton (July 19-23, 2008)

Dear Customers and Business Partners,

We were pleased to meet you at our booth at the AAPT convention. It was delightful to interact with you and overwhelming to hear your comments on our products, especially on our Cloud Chamber which was described as a "product of high quality with an easy set-up providing long lasting demonstrations of very visible tracks."
Our aim is to deliver products renowned for its ease of use and outstanding craftmanship. Through our business, we support students, providing them with jobs and scholarships and developing educational facilities for them. Thank you for supporting our vision and your outstanding business relationship!
We wish you all the best and look forward to hearing from you or seeing you at the next convention.

---
Andrews University honors Bruce Lee

Bruce Elwin Lee (BA'49, MS'56, PhD'97), 81, professor emeritus of physics and founder of Physics Enterprises, passed away on Sept. 19,2007. In 1941, at the age of 15, Lee moved to the United States from North Korea, where his parents were serving as missionaries. He subsequently graduated from EMC Academy, to which he returned as a science teacher after graduating from Emmanual Missionary College in 1949. His first teaching job was at Battle Creek Academy where he taught until 1955. He furthered his education at Michigan State University, where he earned an MS in 1956. He also received an honorary ScD from Andrews University in 1997.
Lee made significant and long-lasting contributions to Andrews Unviersity since joining the faculty in 1956 as a physics teacher at EMC Academy. He moved to the college level in 1959 and for the first year he taught in the chemistry department. In 1960 he joined the physics faculty and was in the physics department until he retired in 1988. His ability to communicate the principles of physics had a profound impact on the curriculum of the physics department, and he created many physics demonstrations still used by Andrews faculty today.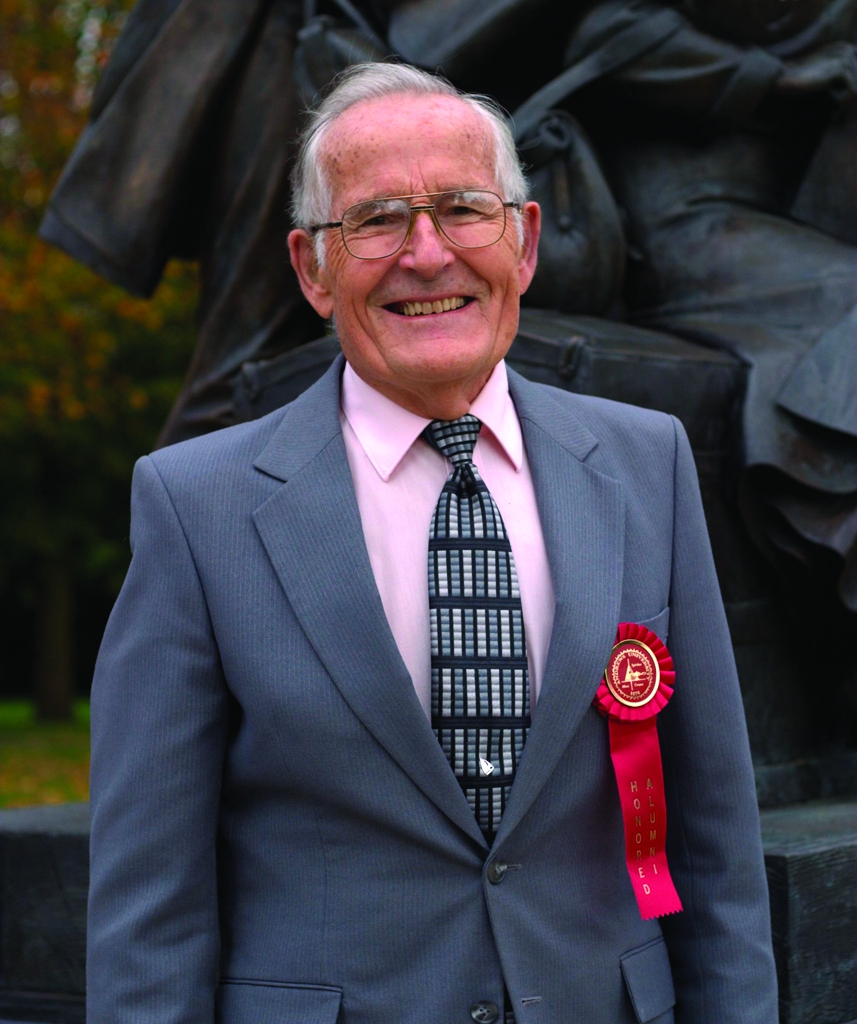 His talent for making practical applications of physics led him to create a number of experiments in the 1980s. Currently, his products are sold through PASCO Scientific, Vernier Software & Technology, American 3B Scientific, TEL-Atomic, and VWR Sargent-Welch, and brought national recognition when they won prizes from the American Association of Physics Teachers in the Apparatus Competition.
He created and administered Physics Enterprises for over 20 years, providing valuable products for teaching physics as well as employment for Andrews students. He directed the manufacture of over 180,000 of the 250,000 student force sensor units sold, and was awarded the Distinguished Service Citation by the American Association of Physics Teachers.
Lee contributed over 4 million dollars in revenues to Andrews, providing money for student scholarships, grants to support innovation in teaching and research, and funds to bring in outstanding new faculty.
At the 2006 Alumni Homecoming, Bruce was an honored alumnus, and the recipient of the Andrews Univeristy Alumni Association Medallion for his outstanding service to the University, unusual achievements in his profession and contributions to the community and church.
provided by Andrews University Relations