Spiritual Integration
Learn how to excel in the world of business while integrating your faith. Although prayer and devotionals are an integral part of the classroom experience here, view these additional ways we're integrating faith and learning.
Scriptural Foundations of Business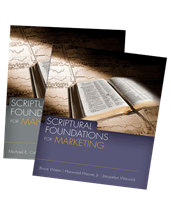 In each of your core business classes, along with your course textbooks, you will study booklets from the Scriptural Foundations of Business Series, which ensures that faith is integrated into the classroom on a daily basis. Published by the Andrews University Press and authored by business faculty from various Seventh-day Adventist and Christian colleges, this series provides you with the biblical grounding needed to prepare you for a career in the world of business, whether in for-profit or not-for-profit enterprises. Andrews University business faculty have unanimously voted to incorporate this series into our classes. Each booklet is written to help you understand how each business discipline (accounting, marketing, management, etc.) can be comprehended, and eventually practiced, within the context of biblical truth.
Ethics Oath Ceremony
We are committed to promoting a higher ethical standard for our graduating students. You will learn about ethics in various business courses throughout your studies here at Andrews University, and will even take a whole class about ethics with our RELT 390 Christian Business Ethics or RELT 340 Religion and Ethics in Modern Society course requirement.
During your graduation weekend, you will have the opportunity to participate in an Ethics Oath Ceremony if you wish to affirm a higher ethical standard of business conduct. Research has indicated that those who take a public stand in front of family, friends and professors are more likely to adhere to their ethical and moral principles when an ethically compromising situation arises. During the ceremony, you take an oath and sign a pledge committing to work in an ethical manner, striving for: Excellence, building Trust, being Honest, preserving Integrity, Character, and being good Stewards (ETHICS).
Campus Ministries
Andrews University has many exciting options for you to grow spiritually and get involved, including Bible Studies, Missions, multiple church services (One Place, New Life, P.M.C.), University Vespers, Impact, Prayer Ministries, Thursday Chapels, and more!
View Campus Ministries for more information.
"I am currently involved in Least of These Ministries, which is a group that a few friends and I started. Every month we take a team of twenty to thirty college students out to Chicago with backpacks loaded with care packages containing basic toiletries and food items to pass out to the homeless." – Christopher Gilbert, Business Administration/Pre-Med major
"Few schools can boast both a thriving spiritual atmosphere and an excellent school of business, and I was very keen on establishing a firm Adventist foundation for my future studies and future career. Andrews University is not only close to home and family, but also has a very supportive faculty and staff." – Melissa Ruhupatty, International Business major
"I wanted to attend an institution that would both foster a rich academic experience and a Christ-like environment where I can grow spiritually." – Noreena Ogidan, Business Administration/Pre-Med major