Delivering More than Expectations
Business and design students tackle real life collaboration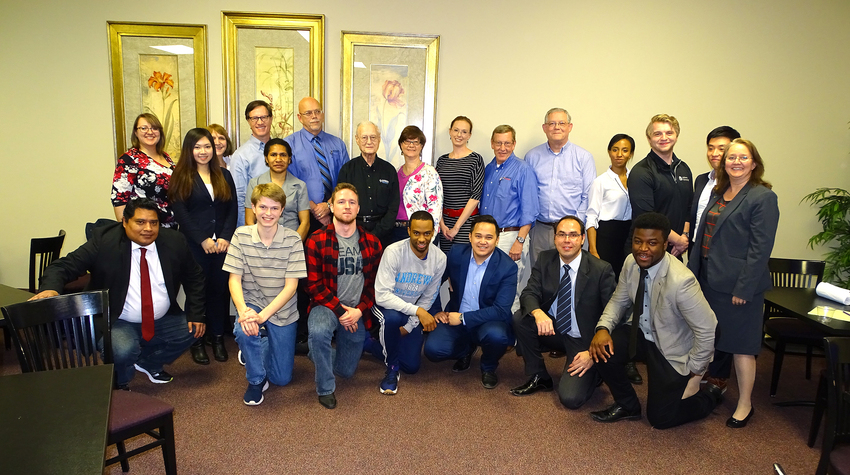 Last fall, the School of Business Administration received an email from Syscon International, a local global leader in industrial controls, requesting assistance with rebranding their multimillion-dollar company. Knowing that this project could stand out on student portfolios, professors Kimberly Pichot and Jacquelyn Warwick from the School of Business Administration (SBA) and Doug Taylor from the Department of Visual Art, Communication & Design (VACD) in the College of Arts & Sciences, brought their marketing and design courses together as though they were a firm of their own, each class with its own important part to contribute. From the start of the spring semester to its busy conclusion, the SBA set out to build a strategic business plan for Syscon International, and VACD set out to design new logos, letterheads and other visual marketing tools for a complete redesign.
Expanding into both undergraduate and graduate-level curriculum, the scale of this project was unlike any other in comparison to the projects either area had previously acquired. In the past, the School of Business Administration mostly worked with local businesses whose presence didn't reach much farther than the Berrien Springs community. A partial list includes Mabuhay Oriental Food Store, Woochi Japanese Fusion, Baguette De France and more. Bringing four different classes together from the SBA and VACD, this project is the largest and most auspicious project to date. Working together to completely rebrand, redesign and present Syscon's representatives with the best business and advertising strategies, Andrews University students brought their professionalism and zeal for hard work to the table, impressively representing their university, their professors and the Andrews mission.
Including online students, this project brought seven time zones together in collaboration and, at times, the entire SBA in one unified meeting place. Surpassing the expectations of everyone involved, Maxwell Murray, an MBA student who was also then the enrollment strategic marketing leader at Andrews University, received an exceptional response to his work: an impromptu job offer.
From his new office at Syscon International's headquarters, Maxwell commented, "I went in to this assignment completely unaware of Syscon and the industry they operated in. Thanks to the professors that created this extremely unique assignment, Syscon International invited me to work in their Plantstar division where I will help to relaunch their brand, sell software and hardware and position our manufacturing execution systems to be a leading tool in the fourth industrial revolution—also known as Industry 4.0."
"The whole project was a big success," says marketing major Joey Jorgensen. "The School of Business Administration and Syscon International blessed us with an opportunity to gain practical experience. Working side-by-side with my peers for a serious company was very refreshing—it felt like the training wheels had been taken off."
In reaction to Andrews University's presentation, Syscon International's president, Lary Johnson, said he was "pleasantly surprised at the submission of the homework… more was delivered than expected." Johnson also said he "appreciated the perspective of young fresh eyes," providing a clue as to how the partnership was drummed up from the start. Last, but certainly not least, Gary Bendix, Syscon International's vice president of sales, reflected on the partnership from its start to finish, "This project showcased the broad skillset that Andrews University students have."
For more information about the School of Business Administration, visit andrews.edu/sba. For more information about VACD, email commdept@andrews.edu.