Summer Biochemistry
Covid-19 Update:
We would like to reassure you that Summer Biochem is going to happen this summer despite the current health concerns. We will be delivering the content via remote instruction, so you don't have to leave home to receive excellent instruction in biochemistry topics from Dr. David Nowack. He will be contacting each registered student with details on how the program will work, so stay tuned and check your email.
NOTE: the Early Bird rate of $876 per credit is now available through April 27.
NOTE: After that time, the price is $927 per credit.
NOTE: There will be no futher discount due to remote delivery.
NOTE: the Summer Fee for food has been canceled.
If you have any concerns, please email: chemistry@andrews.edu.
________________________________________________
We are happy to offer our upper-level Biochemistry Intensive course, BCHM 421:
May 11-June 5, 2020
May - June, 2021 (dates to be determined)
The Biochemistry Intensive is designed to meet the academic needs of highly motivated university junior or senior students who are preparing for graduate school, or for medical, dental, or pharmacy school. The course is an effective preparation for pre-professional exams such as the MCAT and the DAT. Chemistry, Biochemistry and Biology majors are required to take this rigorous course as part of their degree fullfillment. The instructor creates an environment that engages students through a variety of learning opportunities.
Prerequisite: A passing grade in Organic Chemistry II
Registration: Opens February 3, 2020.
Application: If you are not an Andrews student, you may get a head start by applying to Andrews University as a guest student prior to that date.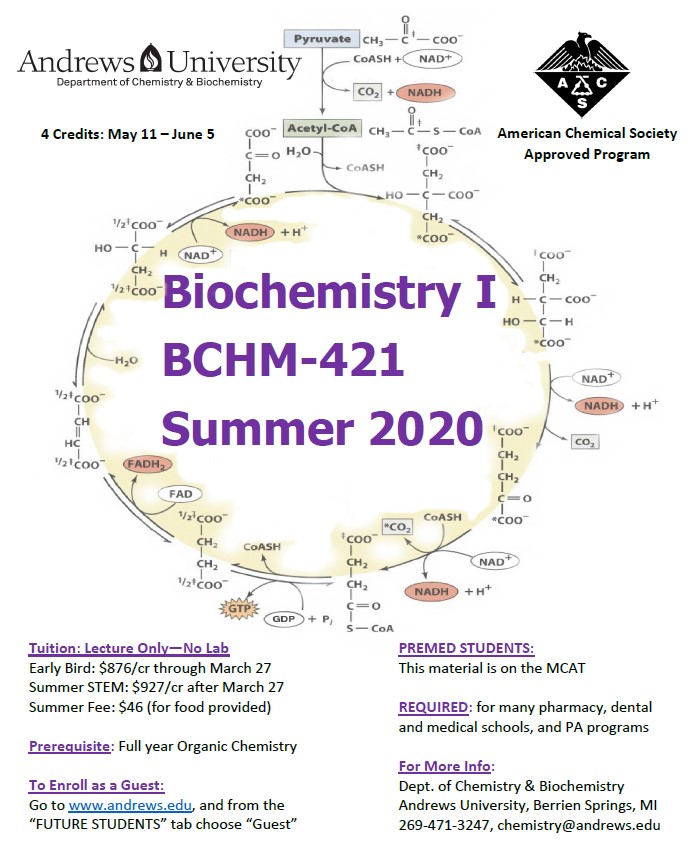 Summer Biochem 2020 details.