France Study Tour
France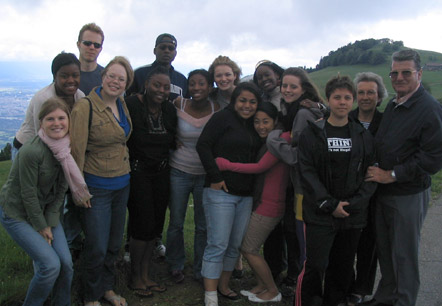 Picture: Students on the Saleve above Geneva
For three weeks this past May, twelve wonderful students joined a study tour to Belgium, France, and Switzerland to learn more about francophone and French cultures. Beginning in Brussels with a tour of the "bandes dessinées" murals two hours after landing, the group stretched their Euros with many stops at supermarchés and spoke French as much as they could. After three and a half days in Paris, we had met many of the colorful inhabitants of Belleville, a neighborhood that holds both Christian and Muslim worship services in one old church, practiced breaking the "codes" of French culture by smiling at Parisians, and eaten divine "macarons"--think violet & black currant--while helping in the back rooms of Arnaud Delmontel's ( www.arnaud-delmontel.com) award-winning bakery on our gastronomic tour of Montmartre. Under skies that seemed to sun up whenever we got out of our bus, we enjoyed Monet's garden in Giverny, and then moved on to the cliffs of Normandy to see crumbling Nazi bunkers, pristine American cemetery, and the lesser known pleasures of France's "gites", or vacation homes.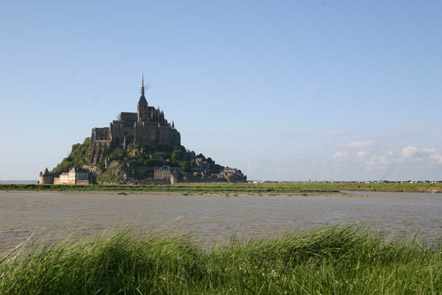 Picture: Mont St.-Michel

In rainy Bretagne we saw St.-Malo, the walled Atlantic town from whence Jacques Cartier left to discover Canada, and almost missed the tide as it rushed in to encircle Mont St.-Michel. A canoe trip down the Dordogne, jasmine ice cream in the gardens of Marqueyssac, a Sunday morning market in St.-Cyprien, the medieval village of Carcassonne, an afternoon on the Mediterranean beach, and horseback-riding with a French cowboy through the dry countryside of Haute Provence were some of the highlights of our tour. We finished with a five-hour drive through the Alps to arrive at our sister school in Collonges-sous-Salève for the last weekend. Some thoughts from a few students, "The cheese was affirmed. I thought they were crazy about it and they ARE." "Thanks to all that we visited, I feel that I see the French in a different light. I don't think that they are stuck-up or rude. They just see the world differently than we do. Now I have an appreciation of this."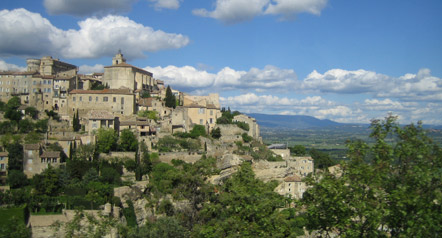 Picture: Apt, France