Northern New England Conference Office
The M.A in Pastoral Ministry intensive classes will meet in the Warren Auditorium at the Northern New England Conference office, Westbrook, Maine.
Contact Information
Belle Scully
Northern New England Conference Office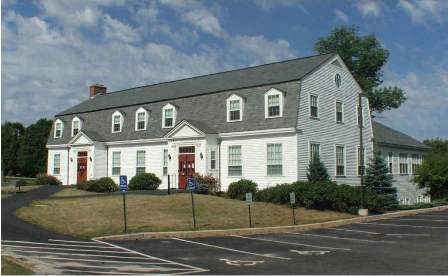 479 Main Street
Westbrook, ME 04092
207-797-3760 x216
Email: bscully@nnec.org
Lodging
NNEC Accommodations Available $25 per night. Key deposit maybe required.
• Four rooms on the lower floor of the building. Two rooms have queen size beds and the other two rooms have a bunkbed in each (twin size).
• A common area with a couch, recliner rockers and a desk is outside the bedrooms with beautiful windows overlooking a patio.
• There is no bathroom within this living area but down the hall not far away (this includes two showers).
• A fully equipped kitchen is available on the 3rd floor.
• The conference office is within walking distance to eateries businesses and a short drive to two large-chain supermarkets.
Fireside Inn & Suites
81 Riverside Street
Portland, Maine 04103
(207) 774-5601
Complimentary Continental Breakfast; Onsite restaurant, Pool
Please call for (NNEC) pricing. About 5 minutes from meeting site (NNEC)
Portland Super 8
208 Larrabee Rd, Westbrook, ME 04092
(207) 854-1881
Continental Breakfast served; Pool
About 5 minutes from meeting site (NNEC)
Airports
Portland International Airport, Portland, ME (PWM) – http://www.portlandjetport.org/
Directions
Portland Jetport
1001 Westbrook St
Portland ME 04102
Takes approximately 10-12 minutes
*****************************
Start out going north on Westbrook St toward Jetport Blvd. Take the 1st left onto Jetport Blvd.
Cafe Stroudwater is on the left.
Take the 1st right onto International Pkwy.
Take the 1st right onto Congress St/ME-9/ME-22. (If you are on Congress St and reach Blueberry Rd you've gone about 1.1 miles too far)
Take the 2nd left onto Westbrook St. Westbrook St is 0.1 miles past River's Edge Dr.
Westbrook St becomes Stroudwater St.
Turn right onto ME-25/William L Clarke Dr. ME-25 is just past Pleasant St.
Take the 1st left onto Westbrook Arterial. If you are on ME-25 E and reach Larrabee Rd you've gone about 1.1 miles too far
Turn right onto Main St/ME-25-BR. 10. 479 MAIN ST is on the left.
Your destination is just past Tramway Ln. If you reach ME-25-BR W you've gone a little too far