Forest Lake Church SDA Church
The M.A. in Pastoral Ministry Center intensive classes are held at the Forest Lake Seventh-day Adventist Church in Apopka, Florida.
Contact Information
Forest Lake SDA Church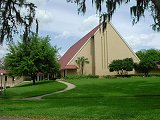 515 Harley Lester Lane
Apopka, FL 32703-6129
Phone: 407.869.0680
www.forestlakechurch.org
Site Contact: Roger Anderson
randerson@forestlakechurch.org
407-869-0680
Lodging Options*
Forest Lake Academy
Forest Lake Academy rents motel units on their campus for $80/night plus tax.
The contact isTerry Sampson, (407) 862- 8411 (phone) or sampsont@forestlake.org (email).
The academy is adjacent to Forest Lake Church and the motel units are about one block away.
Hampton Inn
321 S. Lake Cortez Dr, Apopka, FL 32703
About one mile away from the church.
Candlewood Suites (6.11 miles, according to MapQuest)
644 Raymond Avenue
Altamonte Springs, FL 32701
Telephone: 407-767-5757
Fax: 407-767-0097
Florida Living Retirement
Contact Nancy Pleasants
407-862-2646
Florida Living Retirement
Rates are $60 per night including taxes; Stay one week get one night free.
Dining Options
Forest Lake Academy cafeteria (1 block away from the church)
Breakfast 6:30 to 7:30
Lunch 11:30 to 12:30
Dinner 4:45 to 5:30 (closes at 5:15 on Friday)
Florida Hospital Cafeteria (20 minute drive from the church) never closes.
There are many good restaurants in the area. My favorite for vegetarian is Sweet Tomatoes (5-minute drive from the church). It's a buffet-style soup, salad, and much more place. Another good place with many vegetarian choices is Golden Corral (3-4 minute drive from the church).
Airports
Orlando International Airport, Orlando, FL – www.orlandoairports.net
Orlando Sandford International Airport, Sandford, FL – www.orlandosanfordairport.com
Directions
Please visit MapQuest at www.mapquest.com or Google Maps at maps.google.com for directions.

*More lodging options may be found at www.hotels.com, Priceline.com or Google maps at maps.google.com, where you can search for hotels near the location of our classes.