Forest Lake Church SDA Church
The M.A. in Pastoral Ministry Center intensive classes are held at the Forest Lake Seventh-day Adventist Church in Apopka, Florida.
Contact Information
Forest Lake SDA Church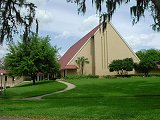 515 Harley Lester Lane
Apopka, FL 32703-6129
Phone: 407.869.0680
www.forestlakechurch.org
Site Contact: Pastor Tom Nichols
tnichols@forestlakechurch.org
407-869-0680
Lodging Options*
Florida Living Retirement Community Housing Opportunity
Beautiful short term rental units (like hotel apartment).
Florida Living (FLRC) has 10 + fully equipped apartments with wireless internet, full kitchen utensils, parking, laundry, and a community pool. We also offer efficiencies with a queen bed, wireless internet, a kitchenette and a private bathroom). We are also open to any Christian family that may want to come to Orlando for vacation, transition or for the Summer.
Contact Information:
Katty Castro
(703) 855-8586
Public Relations
Florida Living Ret. Community (FLRC)
Hawthorne Suites by Wyndham Altamonte Springs Florida
Reservation Procedures
To make a reservation:
1. Call the hotel at 407-767-5757
2. Ask for the "Forest Lake Academy" rate or for Rate Code "LKFC".
Online:
1. www.Hawthorn.com/Hotel/46506
2. Enter dates
3. Select "Special Rate & Codes"
4. Enter "LKFC" in the Rate Code box.
5. Make Reservation
One Bedroom Suites(One Queen bed and one sofa sleeper-sleeps 4)
Rollaway Beds – there are a limited number and must be reserved at time of reservation.
Guestroom Billing: Individuals are responsible for room, tax and incidentals
Cancellation Policy: Must cancel by 6pm day of arrival to avoid a charge of one night's room and tax.
If you have any questions, please contact Ed Sills at esills@wyndham.com or at 407-571-5702.Hawthorn Suites by Wyndham Orlando Altamonte Springs
Hampton Inn
321 S. Lake Cortez Dr, Apopka, FL 32703
About one mile away from the church.
Candlewood Suites (6.11 miles, according to MapQuest)
644 Raymond Avenue
Altamonte Springs, FL 32701
Telephone: 407-767-5757
Fax: 407-767-0097
Florida Living Retirement
Contact Nancy Pleasants
407-862-2646
Florida Living Retirement
Rates are $60 per night including taxes; Stay one week get one night free.
Dining Options
Florida Hospital Cafeteria (20 minute drive from the church) never closes.
Good places with many vegetarian choices are:
Golden Corral (3-4 minute drive from the church).
CrepeVine in Altamonte Springs has good vegetarian options.
Olive Garden does too, as do several other area restaurants
Airports
Orlando International Airport, Orlando, FL – www.orlandoairports.net
Orlando Sandford International Airport, Sandford, FL – www.orlandosanfordairport.com
Directions
Please visit MapQuest at www.mapquest.com or Google Maps at maps.google.com for directions.

*More lodging options may be found at www.hotels.com, Priceline.com or Google maps at maps.google.com, where you can search for hotels near the location of our classes.