New Programs & Program Changes
2019-20 Bulletin Cycle Instructions
On March 7, Undergraduate and Graduate Council voted to approve guided changes for the 2019-20 Bulletin Cycle. They voted based on feedback from Dean's Council, at the recommendation of the Academic Operations Council.
Guided changes will allow for a thorough Bulletin review and clean-up, with the strategic implementation of new programs. The Offices of Academic Records and Institutional Effectiveness will coordinate the implementation of guided changes for the following reasons:
1. Bulletin Clean up (i.e. formatting and presentation)
a. Layout: Focus on layout and formatting to clarify degree, major, and concentration requirements
b. Shared Cores: Reduce shared cores that are difficult to edit and transfer to bulletin
c. Degree Works: Ensure degree requirements in curriculum are clear for ease of programming in Degree Works
d. Editorial Changes: include punctuation changes, grammar corrections, reordering existing material and adding headers for ease of use, address and faculty name changes, and hyperlink additions
2. ACE revamp
3. Program review
4. Program prioritization
5. Strategic new programs
6. Accreditation
The editing or creation of programs/courses that do not align with the six rationales mentioned above will not be reviewed and voted upon during this Bulletin cycle.
Applications for ALL curriculum changes must be submitted through Curriculog. Curriculog will automatically route proposals to the appropriate committees for action. Changes include
All new degrees, majors, concentrations, and certificates (see Definitions)
All program changes (name, credits, courses, etc.)
All changes of delivery (language, online, off-campus, and timing of courses)
Deactivations of degrees, majors, concentrations, certificates, minors
Approval of new programs and substantive changes to existing programs are under the purview of the Program Development and Review Committee (PDRC), a sub-committee of the Graduate and Undergraduate Councils. Completed proposals must be received by the PDRC chair at least one week before the regularly scheduled meeting. The PDRC meets the third Friday of every month during the school year.
Use the following documents to guide you through the process of developing a new academic program or concentration.
Necessary approvals are shown in the Process Checksheet for Bulletin Change Proposals and the New Initiatives Flowchart below.
Proposals for new programs must be submitted to the chair of PDRC by the second week of September of the year prior to the projected start date, in order to be approved by the October Board. Please see all deadlines on the Annual Faculty Calender.
Resources for Developing New Programs
New Initiatives Flowchart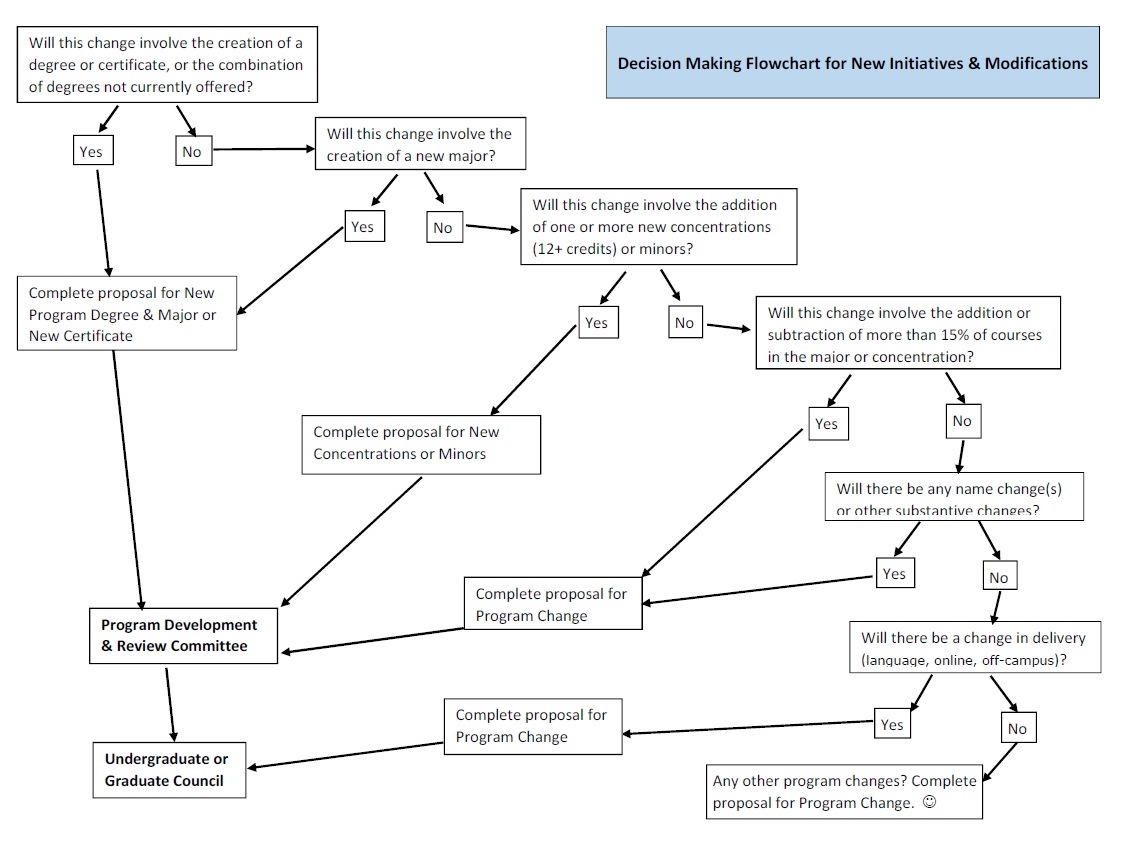 For help with dual degrees, substantive changes, additional curriculum tracks, please contact the Assistant Provost for Institutional Effectiveness.