Guide to CAPP
What is CAPP?
(Curriculum Advising and Program Planning)
Degree Requirements & What-If Analysis
What is CAPP?
CAPP (Curriculum Advising and Program Planning) is a tool for comparing a student's coursework against a specific set of program requirements needed to complete their graduation requirements. The CAPP report will answer questions such as:
What are the requirements for the given program?
What courses has the student taken?
Which requirements have and have not been met?
Total Upper Division credits met
Major GPA
What If Analysis
For students who have not yet declared a major the CAPP report will show how the classes a student has completed to date can fulfill the graduation requirements for any AU major by using the "What If Analysis." Interested in adding a minor? A CAPP report will provide the requirements needed for all approved AU minors.
Access Student iVue Profile
Students:
1. Go to http://vault.andrews.edu/vault/goto/home
2. Click iVue. You will be prompted to enter your Andrews user
name and password. Click "Login".
Advisors:
1. Open list of advisees.
2. Select "Profile" for student.
Select the correct term
Verify that your major, concentration, minor, and preprofessional program are listed correctly.*
To the right of your photo, click on "View Degree Progress (CAPP)".
*Major, concentration, minor or preprofessional program incorrect? Contact the Student Success Center, majorchange@andrews.edu or 269-471-6096.
Generate Evaluation
1. Selecting Degree Progress opens a new window (see below).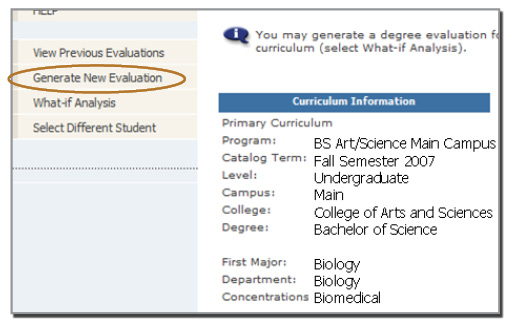 Check to make sure the information is correct—especially the catalog term and any concentrations or minors. If correct, select "Generate New Evaluation" from the menu on the left. This takes a few moments.
2. "Generate New Evaluation"
Click to select the program you want to run. Only one program may be selected at a time. Click "Generate Request".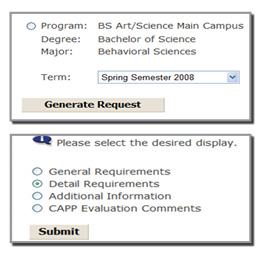 CAPP will automatically pull up a future term. You do not need to change the term.
3. Select from the following options:
General Requirements lists the overview of the courses as evaluated.
Detail Requirements lists specific requirements for majors, concentrations, minors, cognates, and general education.
Additional Information lists any courses not used by CAPP, such as Deferred Grades, Incompletes, In-Progress courses, and grades which do not meet minimum requirements.
CAPP Evaluation Comments do not always appear. You may want to check the comments to see what adjustments have been made.
How To Read Your CAPP Report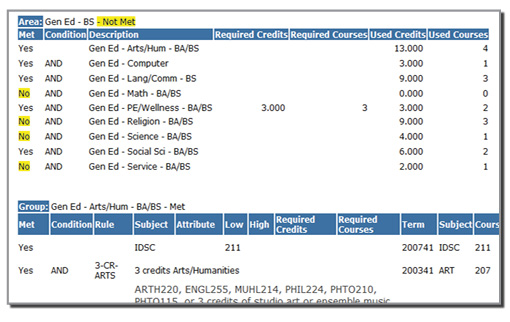 Example of a CAPP report, looking at general education requirements.
Highlighted areas have not been completed ("Not Met").
"Source" indicates the status of the class—R is for registered courses; T is a transfer course; and H is a course taken at Andrews.
Transfer courses appear as their Andrews equivalent. They can appear as a direct equivalent (HIST 118) or an indirect equivalent (HIST 000).
Petitioned classes will often appear with "-pet" afterwards.
Waived requirements will usually be listed as "Waive, no credit".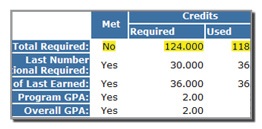 This is an example of what appears at the top of a CAPP report. This is where you find the number of credits required for your degree, used credits, your program GPA and your overall GPA. Used credits is the number of credits taken combined with registered credits.
CAPP Glossary of Terms

Area:
An area represents each major component of a degree program, such as Andrews Core Experience (ACE)-General Education requirements, major requirements or electives.

Attribute:
An attribute identifies specific characteristics of a course or student that can be used in Degree Evaluation. (i.e., Andrews Core Experience course attribute SA refers to Studio Art which falls under the Arts & Humanities Group) Attributes are not visible on the course or on CAPP. It is an internal code device. In ACALOG if you check the course description it will have the course attribute—example ART104 Drawing One has Studio Art course. ART130 Introduction to Digital Media and ART200 Color Theory and Use are not Studio Art courses.
CAPP Degree Evaluation:
Acronym for the Banner Curriculum, Advising and Program Planning software (Degree Evaluation). CAPP Degree Evaluation helps you track a student's progress towards a degree.
Catalog Term:
This term reflects the year of the catalog in which a student bases the requirements of their degree on. CAPP will show what that specific bulletin required.
Compliance Process: (Degree Audit)
The process by which you check a student's progress toward a degree. When you run the Degree Evaluation process, CAPP Degree Evaluation checks course work against degree requirements and generates a report. The report details whether or not the student has completed the requirements of the program and why.
Connectors:
"And", "or", and "none" are the three types of connectors used in CAPP Degree Evaluation. These connectors are used when defining detail requirements for programs and areas. They allow combinations such as the number of credits and/or courses required.
Curriculum:
The programs offered at AU are what constitute the curriculum. These include such basics as level, degree, major, and concentration.
Evaluation Term: (Bulletin Year)
The term for which the Degree Evaluation was generated.
Exception:
An exception reflects any changes, such as waivers or substitutions, applied to your academic program. This allows CAPP to individualize your specific degree program.
In Progress:
Courses a student has enrolled in that have not yet been graded and entered into academic history. Includes current and future term enrollment. Will be shown as an 'R' in the detailed report.
Met:
Indicates requirements for a program, area or group have been satisfied.
Not Met:
Indicates requirements for a program, area or group have not been satisfied. If the student has transfer work that has not been equated to AU courses, the department advisor will need to determine if the area has been met and submit a petition to the academic dean for major, minor, cognates or to the Andrews Core Experience Director for Andrews Core Experience or check with the Articulation Coordinator in the Academic Records Office.
Overall GPA:
Current grade point average for ALL courses taken at AU and Transfer.
Program:
A program is always the goal that a student is aiming for (Bachelor of Arts Degree, Bachelor of Science in Architecture, Masters of Arts in Teaching, etc.)
Rejected:
Courses that could not be used in the Degree Evaluation. Generally contains courses with the grades W, N, NG, I, and F. Remedial courses like MATH091, 092, GNST091, etc. do not count toward graduation or toward academic credits. Transfer courses that have not been equated to an AU course may be rejected also. A listing of rejected courses can be viewed in the Rejected Courses section at the end of the CAPP Report.
Requirements:
The detailed specifics of what the program, area or group requires. Requirements can be things such as the specific grades allowed, maximum number of courses, and minimum GPA's.

Program Requirements = General Degree Requirements
Example:
124 hours to graduate
30 hours of last 36 at AU or 50% of the courses taken at AU
2.00 minimum GPA (some programs require a higher minimum overall GPA)
Detailed Requirements (Areas) = Course Requirements
Example:
RELT100
ENGL 215
Result as of:
The date the Degree Evaluation was generated. If you want a new evaluation, you must click-Generate New Evaluation. You should always do this when you view your CAPP Report.
Rule:
A rule is used to handle more complicated requirements such as:
Selecting three courses from a list of ten courses;
Selecting one group of courses from many groups.
Used:
Indicates the number of credit hours used for the Degree Evaluation. Includes in-progress courses.
Unused:
Indicates the number of credit hours not used for the Degree Evaluation. Courses not used will fall under rejected courses.
Frequently asked questions about CAPP Degree Evaluation System
The following questions have been provided to assist you with troubleshooting issues related to the CAPP (Curriculum, Advising, and Program Planning) Degree Evaluation System.
Who can use the CAPP degree summary tool?
All degree-seeking students who plan to graduate.
How do I access it?
Access is gained using your Banner-web username and password at the AU Vault website. Click on iVue. After logging in, click on the "Degree Evaluation" link.
What are the "general requirements" and the "additional information" screens for?
These are the screens which show the courses that were used toward your degree and courses that were excluded from your degree. The "detail requirements" option provides the most comprehensive analysis of your progress toward degree completion. The "additional information" screen shows excluded courses including co-op work terms, repeated courses, withdrawals and failures.
How does CAPP decide where to place courses that I've completed?
CAPP processes your courses chronologically, based on a "best-fit" scenario. It will look through each of your courses in the order you've completed them, and assign each course to the first requirement in your degree program that the course will fulfill.
Can I request an adjustment in the degree requirements on my CAPP evaluation? How does this work?
There may be circumstances necessitating an adjustment to your degree requirements in CAPP. Your academic advisor and chair must approve the adjustment, or substitution via petition in the major, cognate, and minor.

What are the program and overall grade point averages that are listed on the first page of my audit?
The overall grade point average is your cumulative grade point average (GPA). The program GPA is the average for all courses that CAPP used to complete your degree program. Please note this grade point average is not your official GPA at the university. Your official GPA is noted on your academic transcript.
Does the CAPP evaluation replace advisement?
No. The CAPP degree evaluation does not take the place of regular academic advising. Students are responsible for making sure all of the requirements for their degree have been met and should work with their academic advisor to plan out how they will meet those degree requirements.
All students are responsible for complying with the academic policies and procedures that are published in Andrews University's undergraduate and graduate catalogs as well as the information on Graduation found on the Academic Records website via the Andrews University Home Page.
What if I don't see courses I've taken, or otherwise think my CAPP report is wrong?
E-mail articulation@andrews.edu if it was a transfer course. The Articulation Coordinator will review your request and will reply to you. The majority of degree programs are designed to accept the classes you take, but exceptions can occur.
If it was an Andrews course, email ugrecords@andrews.edu and your email will be reviewed and answered.
Course Substitution-how does this work in CAPP?
The system only allows one course to replace one course inside of an area or group. In other words you cannot use one course to replace two courses inside the major, etc.
Some requirements have "and" & "or" next to them. What does this mean?
A requirement with an "or" beside it means that you can take the requirement it is listed next to or the one listed above it. A requirement with an "and" next to it means that you must take both the requirement it is listed next to and the one above it.
What happens to a course when I receive an "I" (incomplete) or "DG" (Deferred) grade?
Courses with incomplete and deferred grades appear under the heading Courses Not Used section at the end of the CAPP Report. Once a final grade has been recorded which meets degree requirements, then the course will be used in the proper place.
Why aren't courses that I am currently repeating showing on my degree evaluation?
When a course is present in academic history and is not marked as an "Excluded" course, CAPP will attempt to use that course to meet a detail requirement. If the course's grade is lower than the minimum grade specified in the compliance requirement, then the course will not be used.
If the course is listed as a non-repeatable course, then the occurrence of the same course that is present in registration will be viewed as exceeding the repeat limit and will not be used.
Once the course in registration is subsequently passed and its grade is rolled to academic history (after the semester), running the repeat process will assign it an "Include" repeat status. The earlier course in history with the lower grade will be given an "Exclude" repeat status. When compliance is subsequently run, CAPP will attempt to use the "included" course
Does the CAPP Degree Evaluation use all of my courses?
CAPP searches through earned courses, in-progress courses, and transfer credit to find courses that match the degree requirements.
The following will not be used by CAPP to complete requirements: courses with incomplete grades, deferred grades, audited courses, withdrawals, failed courses, repeated courses, and remedial courses ( MATH091, 092, etc.)
How often is my CAPP Degree Evaluation updated?
A degree evaluation updates when degree requirements change or when information on your student record is updated (such as a grade change, late add, etc.). In order to see these updates, you must generate a New Evaluation. Once a CAPP Report has been generated, it will not change. This is why you need to generate a New Evaluation if changes have occurred in your academic history or registration.

Important Reminders:
Total Required:
On page one of your CAPP Report there is a section which has Required and Used in regards to academic credits.
The Required number is the minimum number of credits required for the degree (124 minimum).
The Used number reflects the credits that you have earned and the credits that you are registered for during the academic year.
iVue
iVue will show your current earned credits, Andrews GPA, Transfer GPA if you have transfer credits, Overall GPA, class standing, etc. This will be more detailed than your CAPP Report.
Please keep these points in mind when using your CAPP Report:
CAPP degree evaluations are not official documents to be used outside of Andrews. They are a tool for advisement and degree audit only.
It is the ultimate responsibility of the student to be sure all the requirements for the degree have been met. For undergraduate and graduate students, final approval for graduation is determined by the Registrar's Office (Academic Records Office).
CAPP degree evaluation does not take the place of regular academic advising. You should work closely with your academic advisor to plan out how you can achieve your academic goals.
We have attempted to make sure your CAPP Report is accurate based on your degree program and bulletin (catalog) year. Since Andrews Academic Departments tend to make changes from year to year in degree requirements, you must work closely with your academic advisor to ensure you are on track for graduation with any changes which have occurred since you matriculated (began) at Andrews.
Changes on your CAPP Report are permissible by petition signed by your advisor, department chair and academic dean if it pertains to your major, minor, cognates, and core or General Education Director if it pertains to Andrews Core Experience (GE).
**CAPP problems or questions? Please contact Undergraduate Records Office, ugrecords@andrews.edu or 269-471-3305.