Need to Know: December Issue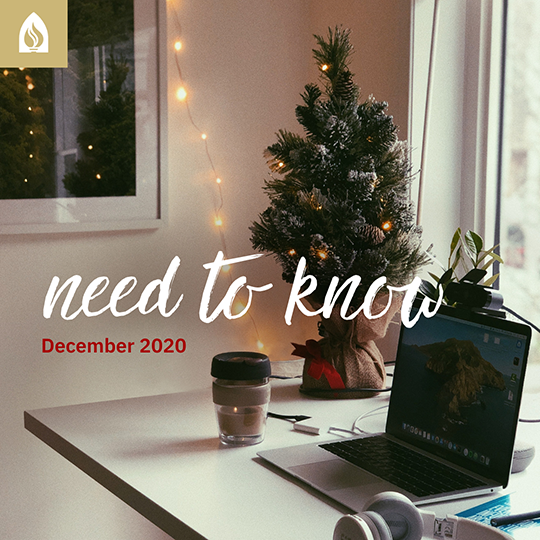 Dec. 10, 2020
Greetings, Andrews University friends,
As we prepare for the Christmas holidays, we are grateful for the gift that each one of you offers to the Andrews University community in your roles as students, faculty, staff and parents.
We have reached the end of a remarkable semester where your shared commitment to our Community Covenant of Care and an ongoing passion for the safety and care of others has consistently helped protect our community. It has also significantly reduced the risks and impact of the COVID-19 pandemic on our Berrien Springs campus (read more in the Keep Informed section at the end of this newsletter).
Our campus here in Michigan is quiet now as the winter break is underway, and we want to wish you a full measure of rest and restoration, peace and joy as Christmas approaches.
As we get ready for spring semester this January on our Berrien Springs campus, we wanted to take some time in this newsletter to formally offer thanks to our community, share an update on the latest CDC guidelines for health and safety wherever we are this holiday season, and confirm key details about spring semester, including reservations for COVID-19 testing.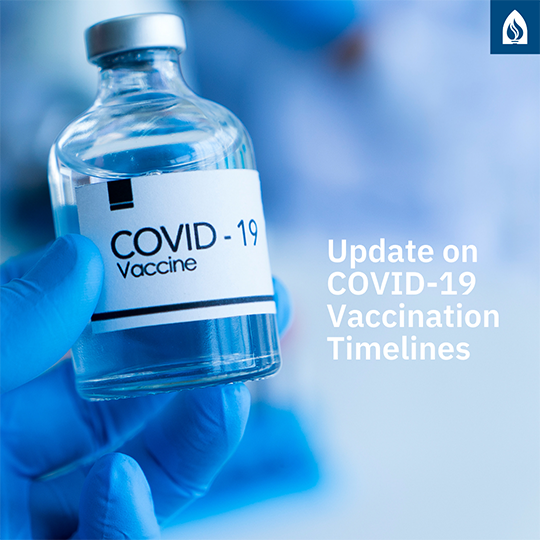 We Want to Say Thank You
Both of us, along with several of our colleagues in University administration who have overseen our COVID-19 journey this semester, wish to thank those of you who took part in COVID-19 testing and risk mitigation (including keeping track of your health each day in #CampusClear). Thanks, too, for the amazing work of each one of our faculty, staff and students (as well as parents who have offered encouragement to our community) throughout this remarkable semester.
We want to share those thanks out loud, as well! Please keep an eye on the Andrews University Facebook and Instagram to watch a special year-end thank you video, which will be released the week of Dec. 14.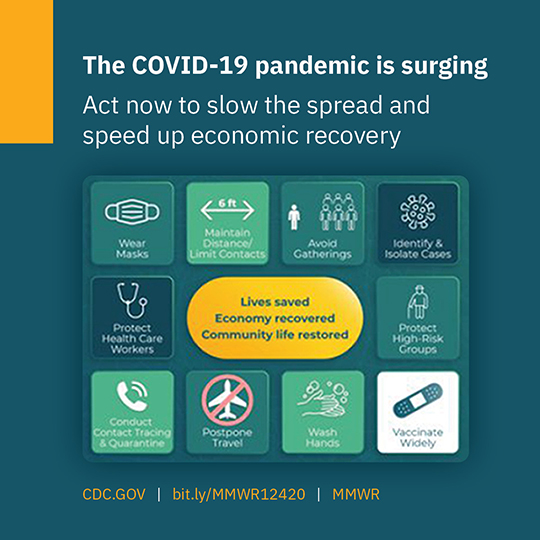 Keeping Our Communities Safe, Wherever We Live
The month of December has represented renewed hope for our country, and our world, in its fight against COVID-19 as vaccinations are being approved and will begin to be administered in the months to come. Early in 2021, we'll be able to confirm timelines and details about COVID-19 vaccinations on our Berrien Springs campus.
At the same time, the spread of COVID-19 in the U.S. has also reached tragically into every part of the country, with tens of thousands of cases and, heartbreakingly, now nearly 2,000 deaths each day.
In recent weeks, the CDC and other health authorities have offered new guidelines on how to best protect ourselves and our communities. On Dec. 4, the CDC released a new set of guidelines that will help restore community life and health. Those guidelines include a call for "universal face mask use, physical distancing, avoiding nonessential indoor spaces, increasing testing, prompt quarantine of exposed persons, safeguarding those at increased risk for severe illness or death, protecting essential workers, postponing travel, enhancing ventilation and hand hygiene, and achieving widespread COVID-19 vaccination coverage."
Along with those new guidelines, the CDC has presented a new set of options for acceptable alternative quarantine lengths of 10 or 7 days in some situations, and as guided by local health departments (you can read the guidelines the Berrien County Health Department uses for decisions in our community here).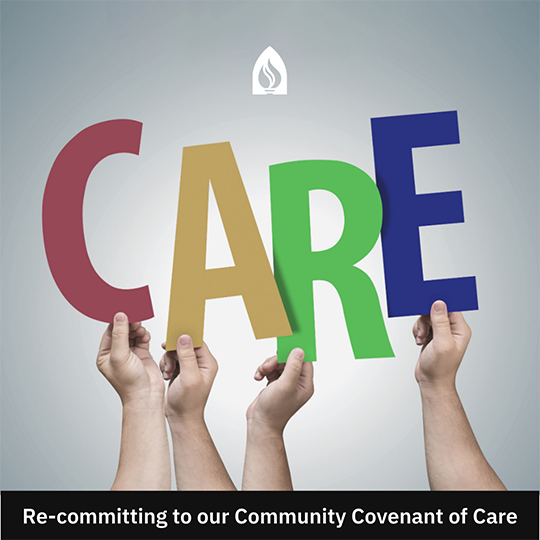 How to Sign Up For Spring Semester COVID-19 Testing
As was the case this fall semester, our in-person studies will be preceded by COVID-19 testing for all students and employees on the Berrien Springs campus.
You can find complete details on student testing options between Jan. 6 and 13 here. Please note that testing appointments must be confirmed no later than noon the day before your planned test. Students will not be able to attend in-person classes until test results are received. International students (other than those from Canada) will need to arrive on campus four days prior to their test date. We encourage each student to take a few moments right now to confirm and book their testing time for spring semester.
Employees will have COVID-19 testing times available on Jan. 6, 7 and 11. You can read more and book your appointment here.
For employees and students, daily use of #CampusClear continues to be an essential way to monitor the symptoms and health of each member of our Andrews University family. Here on our Berrien Springs campus, our employees continue to be committed to using it daily during the winter break. If you are a student who is joining us in January, either returning or enrolling for the first time, you should begin using #CampusClear ten (10) days before you arrive on campus. You can download the Apple/iOS app here or the Google/Android app here.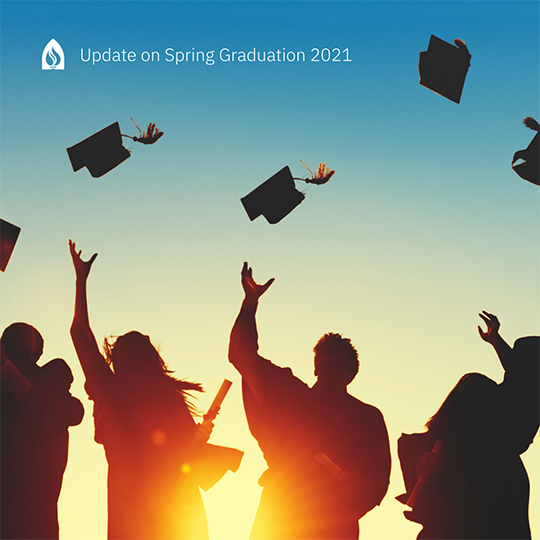 Other Spring Semester Details
To review the highlights of our spring semester plans, including important academic calendar dates, please refer to the letter from Provost Arthur here. You can also find an extended spring semester schedule, including ongoing updates and information, here.
PLEASE NOTE: For students who have not completed their registration for spring semester, Andrews faculty and advisors may not be available between Friday, Dec. 18, 2020 and Monday, Jan. 4, 2021. If you haven't completed your spring semester registration yet, we encourage you to take a few moments to reach out to your advisor before Friday, Dec. 18, or in early January before you arrive on campus. You can find out more about the steps for registering online here.
For students who wish to explore remote learning options for spring semester, please review those details here. Undergraduate students who want to review their options for the limited spring semester remote learning options available must formally apply online no later than noon on Friday, Dec. 18. Graduate students should consult with their advisor to confirm what remote learning options are available for their program of study.
For new students who will be joining us this spring semester, please also see these additional details on our online New Student Orientations on Jan. 10 and 11.
If you're an international student, please also review a variety of updates from Christian Stuart, who leads our Center for On-Campus International Student Services. His letter to international students, sent earlier this semester, notes dates and times for arrival this spring semester, including information on testing and orientation for international students who will be joining us for the first time. The letter also outlines current visa guidelines and restrictions.
If you're one of the new international students who is planning to join us this spring semester for the first time, you can also review this FAQ page that will help you prepare for your arrival for studies in Berrien Springs in January.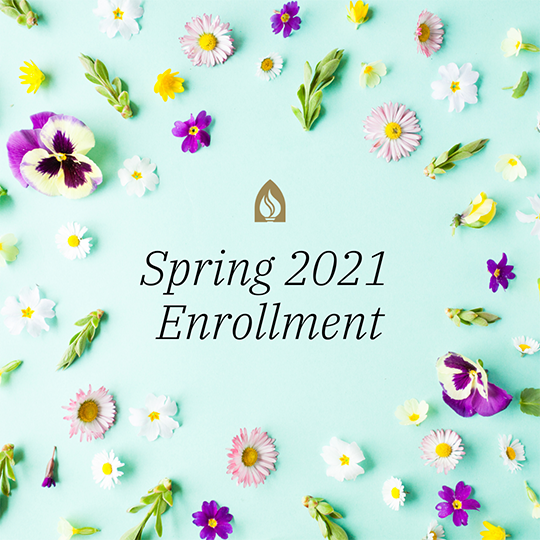 Stay Informed
As we shared in our last issue of Need to Know, Andrews University remains committed to being transparent about the direct impact of COVID-19 on our campus community while also sharing information and resources for our campus community.
We continue to be grateful that for the positive cases in our community (just under 100 confirmed cases in nearly 3,500 tests, as of Dec. 10), there continues to appear to be no evidence of on-campus/community transmission in the classroom environment and minimal transmission within our residence halls. The vast majority of cases continue to come from other off-campus contacts, including individual social, church and family settings. We're also grateful that the percentage of positive cases on our campus is well below the percentages of positive cases in both Berrien County and the state of Michigan.
If you haven't done so already, we encourage you to bookmark our Andrews University COVID-19 Dashboard to keep track of the latest details.
We also encourage you to bookmark our Changing World website as an overall source for ongoing information about our campus operations, schedules and plans. On that page, you'll also find our COVID-19 Safety Plan, additional videos, helpful COVID-19 resources, and an archive of campus communication regarding COVID-19.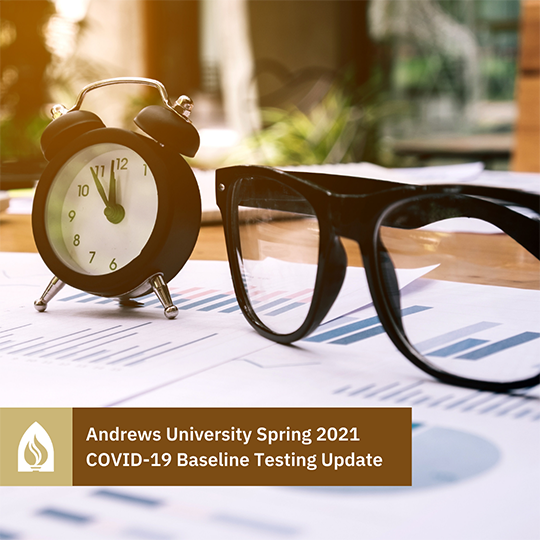 Christmas Gatherings (Virtual Edition)
One of the consistent challenges of our world's journey in response to the threat of COVID-19 is the limitation to how we gather together in community.
On our Berrien Springs campus that reality has daily impacted how we have studied, worked, worshipped and played together. It is an impact that has been felt in families and communities everywhere, and it will especially be felt during these Christmas holidays which are a time when all of us gather together, and find strength and love, in the communities that we are a part of within our home, church congregations, neighborhoods and towns.
As you can imagine, those realities ended up changing our plans for this year's employee Christmas party, which was renamed the "The Best Virtual Andrews University Employee Christmas Pageant Ever," and was streamed on Facebook Live last week.
Even though we couldn't be together, our first virtual employee Christmas program was a wonderful and creative collection of greetings from employee groups, messages and stories from the two of us as your president and provost, and some wonderful Christmas music from our Wind Symphony, Orchestra and Andrews University Singers. The Wind Symphony and Orchestra recorded their 2020 Christmas concerts in a nearly empty Howard Performing Arts Center just as Andrews University returned to remote learning in mid-November; the Singers shared performances from their 2019 Christmas concerts.
We think you'll enjoy hearing those messages, greetings and holiday music as well. If you didn't have a chance to see the program yet, you can find it here.
Our prayers and wishes continue for each one of you in the weeks ahead. We realize that most of us will need to find ways to creatively, and often virtually, celebrate the holidays together. May you and your families find peace, promise and God's blessings during this Christmas season.
We look forward to welcoming our students, both new and returning, and each one of our employee family this January when in-person instruction begins again on our Berrien Springs campus.
Once more, may God's love and protection surround each one of you.
Please know that our prayers are with all of you and that our prayers also continue to surround Andrews University as it seeks to fulfill its God-inspired mission—a purpose that is especially urgent right now—to educate and inspire "World Changers for a changing world."
God bless you this holiday season,
Andrea Luxton
President
Christon Arthur
Provost
Image Credits: Jane Palash, Unsplash; Centers for Disease Control and Prevention; Canva stock photography; andrews.edu/go/changingworld; Andrews University YouTube channel