Need to Know: June 2021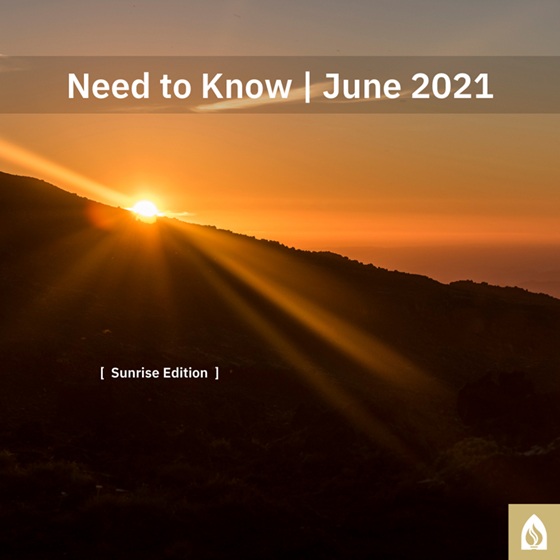 June 8, 2021
Greetings, Andrews University friends,
We begin this newsletter with a picture of a sunrise.
It's to celebrate the hope that is growing as Andrews University, the state of Michigan, the United States and the world are closer to moving beyond COVID-19 to welcome a new "normal."
While there's still some hard work ahead, Andrews University is now making careful plans to reopen for fall 2021 without our current COVID-19 restrictions in place. To help us achieve that reality, our goal is for 70 percent of our employees and students to be fully vaccinated (two doses of Moderna/Pfizer or one dose of Johnson & Johnson).
As we make those plans, we are grateful for the commitment and care that our community has exhibited throughout this last school year, which meant there were consistently minimal campus transmission and low positivity rates throughout the school year and now into the summer.
As we move forward, our thanks for continuing to help keep our campus safe, especially as we plan to return to as normal as possible this August and the 2021–2022 school year.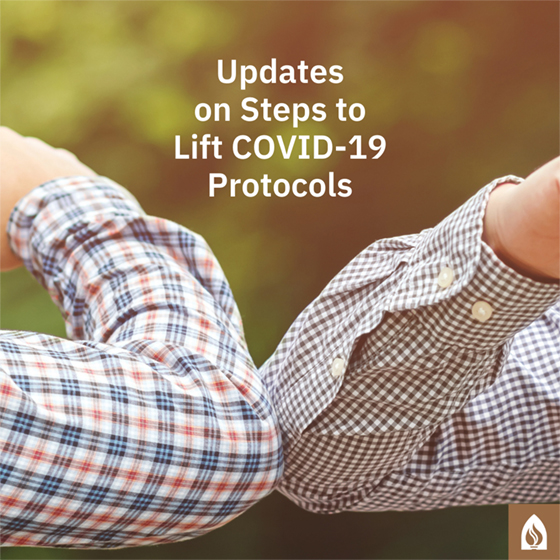 Taking the steps needed to lift COVID-19 protocols
As a growing number of Michiganders are fully vaccinated, the state is making plans to reduce or remove COVID-19 protocols statewide later this summer. However, to make those changes, the state of Michigan, as well as our campus, has a goal of 70 percent of adults fully vaccinated before those changes can be made.
With that in mind, here is an overview of the latest COVID-19 protocols for our campus. You can find full details on these current approaches here:
Masks: Masks are no longer required outdoors, regardless of vaccination status, but indoors, individuals who are not vaccinated will continue to wear masks when in common spaces. Those who have been fully vaccinated (two weeks past the final vaccination dose) will not be required to wear masks indoors. When outdoors, those who are not vaccinated or not fully vaccinated should plan to practice physical distancing and to wear masks in large gatherings.
Physical Distancing: Andrews University continues to follow the Michigan Department of Health & Human Services (MDHHS) guidelines. Those who are not fully vaccinated should also practice six foot physical distancing guidelines when indoors.
#CampusClear: Guided by current Michigan Occupational Safety & Health Administration guidelines, Andrews University expects employees or students to complete #CampusClear reports on any day that they expect to be on campus during the summer months.
Please note that as we continue to see further changes from the CDC/Michigan through the summer, our own COVID-19 protocols will likely be impacted as well. Those changes will also be informed by both the latest vaccination and case data for Berrien County and our University campus.
As they occur, these changes will be communicated directly to the campus community (you can also find all University COVID-19 updates here in the Latest Updates section).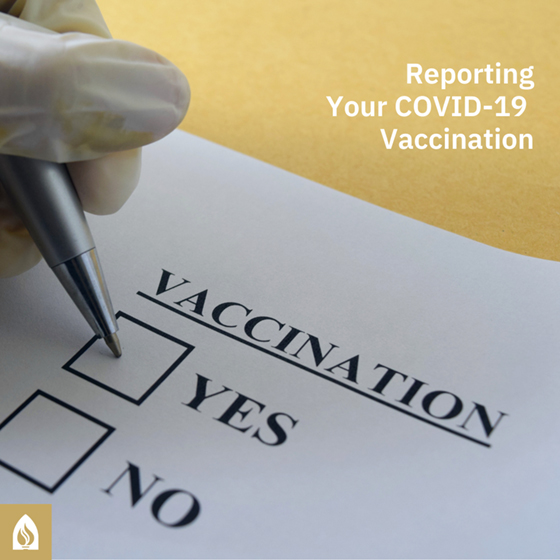 Reporting your COVID-19 vaccination
While Andrews University does not require its employees or students to be vaccinated, we strongly encourage each individual to consider receiving a COVID-19 vaccination.
To help measure our progress toward that goal, it is very important that all employees and students report their vaccinations so we can know where we stand as a campus as we work toward our 70 percent, or better, COVID-19 vaccination goal. If you have been vaccinated, either in the local community or where you live, please take a moment to report your vaccination/s online to Andrews University at this link if you haven't already done so (note that the link to report your vaccination will require an Andrews ID sign-in).
As of now, 57 percent of our full-time employees (or, 414 employees) have self-reported that they are fully vaccinated.
When students return to campus this August, additional vaccine clinics are planned on campus to help assure that options are easily available for those who've not yet been fully vaccinated at that point but choose to be vaccinated.
While vaccination remains a personal choice for Andrews students and employees, there are testing, work arrangements, travel and other implications that will be influenced by those who choose not to be vaccinated.
You can read more about COVID-19 vaccination information and reporting as well as additional expectations for employees here and for our students here. Both employees and students who have not yet been vaccinated will need to be tested monthly at their own expense beginning fall semester 2021; you can find southwest Michigan COVID-19 testing information, including free testing sites, here.
If you live in Michigan and haven't had a chance to get vaccinated yet, you can text your zip code to 438829 and you'll get information on where you can get a vaccine. The service will also ask if you need to schedule a ride to your vaccination appointment or if you need help with childcare while you're getting your COVID-19 vaccine. You can find additional information on southwest Michigan vaccination options here.
Finally, as you know, some people remain uncertain about receiving a COVID-19 vaccination. The following resources may be helpful for those individuals who wish to study and learn more as they make their personal decision about receiving a COVID-19 vaccination:
The North American Division of Seventh-day Adventists and Hope Channel have a number of online educational resources, including a link to a video of their May 15 seminar "Is the COVID-19 Vaccine Trustworthy? A Biblical Conversation About Science."
Our local healthcare system, Spectrum Health Lakeland, offers a series of answers to frequently asked questions to help you better understand COVID-19 vaccinations here. You'll also find links to additional COVID-19 vaccine resources on that page.
There's also a lot of information and misinformation about COVID-19 vaccinations. If you're interested in separating myths from facts, you may find this guide from the CDC helpful.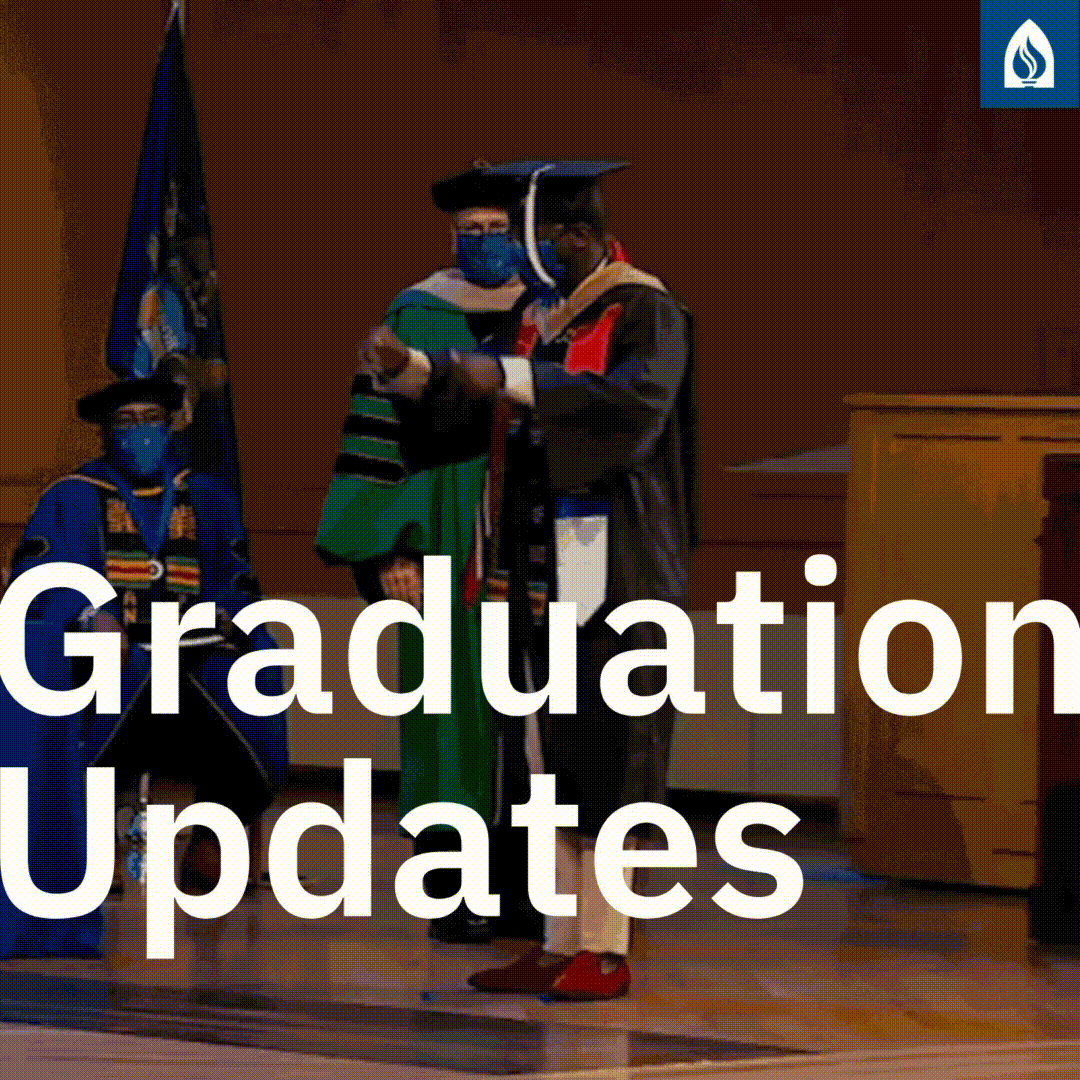 Graduation updates: spring and summer 2021
We are making plans for our summer graduation services scheduled for August 6–8, 2021. With a smaller number of students graduating during summer Commencement, we plan to hold our August graduation services, including Commencement services on Friday and Sunday, in the Howard Performing Arts Center.
We plan to have three Commencement ceremonies that weekend to offer continued physical distancing and the opportunity for a limited number of family and guests to attend. Graduates will receive an email to their Andrews account in early July with complete details on their service, including the number of tickets they'll receive. For the latest updates on summer graduation, please check out our summer graduation website.
Last month, Andrews University returned to in-person (but minimal) graduation ceremonies for students who were eligible to participate in our May spring graduation.
With COVID-19 restrictions still in place, parents and friends of the graduates shared congratulatory videos that replaced our usual Commencement addresses, and families and friends who couldn't sit inside were welcomed to a "drive-in theater" with large video screens in the PMC parking lot. For graduates who marched in person, there was a new "handshake" system with President Luxton, where graduates chose their own form of physically distanced handshake/greeting. If you haven't seen the "highlights" video of some of those greetings and the presidential response, you can watch it here.
Also, if you missed the spring graduation services, you can find videos for graduation weekend here, including the Black Student Christian Forum's Rite of Passage Ceremony, the nurses' pinning service, and Sabbath Baccalaureate services with Wintley Phipps, who also received an honorary doctorate from Andrews University during graduation weekend.
---
Through numerous conversations with our community, we join you in anxiously looking to a new day (or light at the end of the tunnel!) for our University's and world's ongoing and challenging journey to effectively face the global COVID-19 pandemic since early 2020.
As we continue to work together, and continue in our shared commitment to care for and protect each other, we will be able to move to those new and better days ahead with your support and God's blessings.
We wish you success wherever you are spending this summer term, and we look forward to these new steps for Andrews University when our fall semester begins this August.
Andrea Luxton
President
Christon Arthur
Provost
Image credits: Graduation "handshake" video, Philip Roberts and Justin Jeffery