Senior Exit Test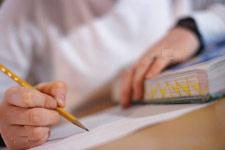 Scheduling of Senior Exit Test
Appointments can be made at http://vault.andrews.edu/vault/goto/home under Senior Testing.
If you have a conflict with your scheduled appointment to take the test, please contact the Counseling and Testing Center with your full name and ID number.
Email: ctcenter@andrews.edu, or Phone: 269-471-3470
What is the Senior Exit Test?
The Senior Exit Test is administered online in students' senior year, as a tool to help Andrews University determine its success at providing core skills in general education and across the curriculum. We use the ETS Proficiency Profile, produced by the same people who do the SAT and the GRE tests.
Your participation in and attention to this test is very important. This test reflects your overall learning while at Andrews University. Your performance contributes to the evaluation of the effectiveness of general education and your department and degree program. Your performance also contributes to the reputation of your Andrews University degree, as Andrews' scores are compared to national norms. This test is an important part of Andrews University's overall assessment of quality, and helps us to meet accreditation requirements.
You may view your scores upon completion of the test, and compare your scores with those of students across the nation at the ETS website.
Please note, your individual results will be shared with your department to help them evaluate their students' critical thinking and general skills. Other than this, anonymous summary information is shared with school deans and Andrews' committees for general education and assessment. Summary information for Andrews University is also compared to previous years and to national data. Some of these results are published on the Office of Institutional Effectiveness website. To view these results, see Assessment Highlights, located on the sidebar.