Senior Exit Test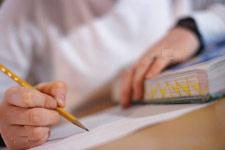 Scheduling of Senior Exit Test
Appointments can be made at http://vault.andrews.edu/vault/goto/home under Senior Testing.
If you have a conflict with your scheduled appointment to take the test, please contact the Counseling and Testing Center with your full name and ID number.
Email: ctcenter@andrews.edu, or Phone: 269-471-3470
What is the Senior Exit Test?
The Senior Exit Test is administered online in students' senior year, as a tool to help Andrews University determine its success at providing the general education portion of the curriculum. Andrews uses the ETS Proficiency Profile to measure students' abilities in Mathematics, Reading, Writing, Critical Thinking, Humanities, Social Sciences and Natural Sciences.
All individual information is confidential. Students may view their scores upon completion of the test, and may compare their individual scores with those of students across the nation at the ETS website.)
The Office of Institutional Effectiveness releases average group scores on student performance to departments only if there are more than 4 respondents. Thus, departments cannot identify individual students. Information is not available for specific disciplines. Like students, departments may go to ETS to compare the performance of their students with students nationally.
Aggregated results of Andrews University seniors are compared with national results to help verify that our graduates are competent in general skills. To view these results, see Assessment Highlights, located on the sidebar.