Print/Copy/Scan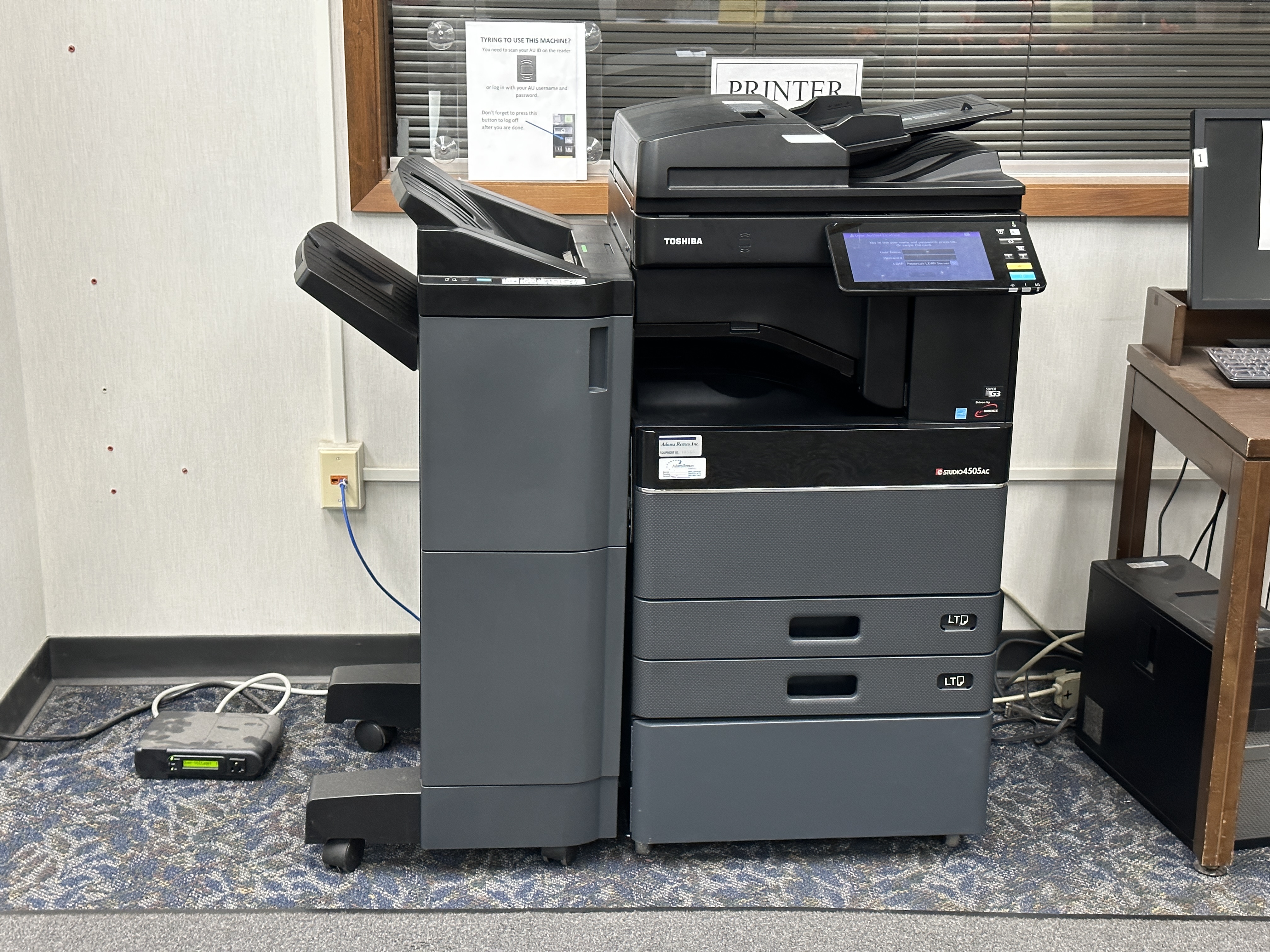 The library has two printers that provide color and black-and-white printing, depending on your choice. This service is available to all AU students, faculty, staff, and community users. The printer on the main level is operated using your ID card or your Andrews University log in details, while the one on the upper level is cash only. For printing by cash, only 5, 10, 25 coins, $1, or $5 bills are accepted.
ANDREWS UNIVERSITY STUDENTS, FACULTY, AND STAFF
Please log in to the computer with your AU username and password.
PRINTING WITH PAPERCUT
To print you will need to have money in your PaperCut account. Log in to papercut.andrews.edu to add money to your PaperCut account. Money can be added with a credit card or from cash in your student account.
COMMUNITY USERS
Please log in to the computer with the username and password in the instruction sheet by each computer. Any document you wish to print will be sent to the printer on the top floor, where you can pay with cash for your printouts.
FULL INSTRUCTIONS ON HOW TO PRINT ARE AVAILABLE AT EACH COMPUTER STATION
Cost
Printing:
Black & White $.10/page
Color $.25/page
Copying:
Black & White photocopy .10/page
Color photocopy. 15/page
Scanning:
Large Poster Printing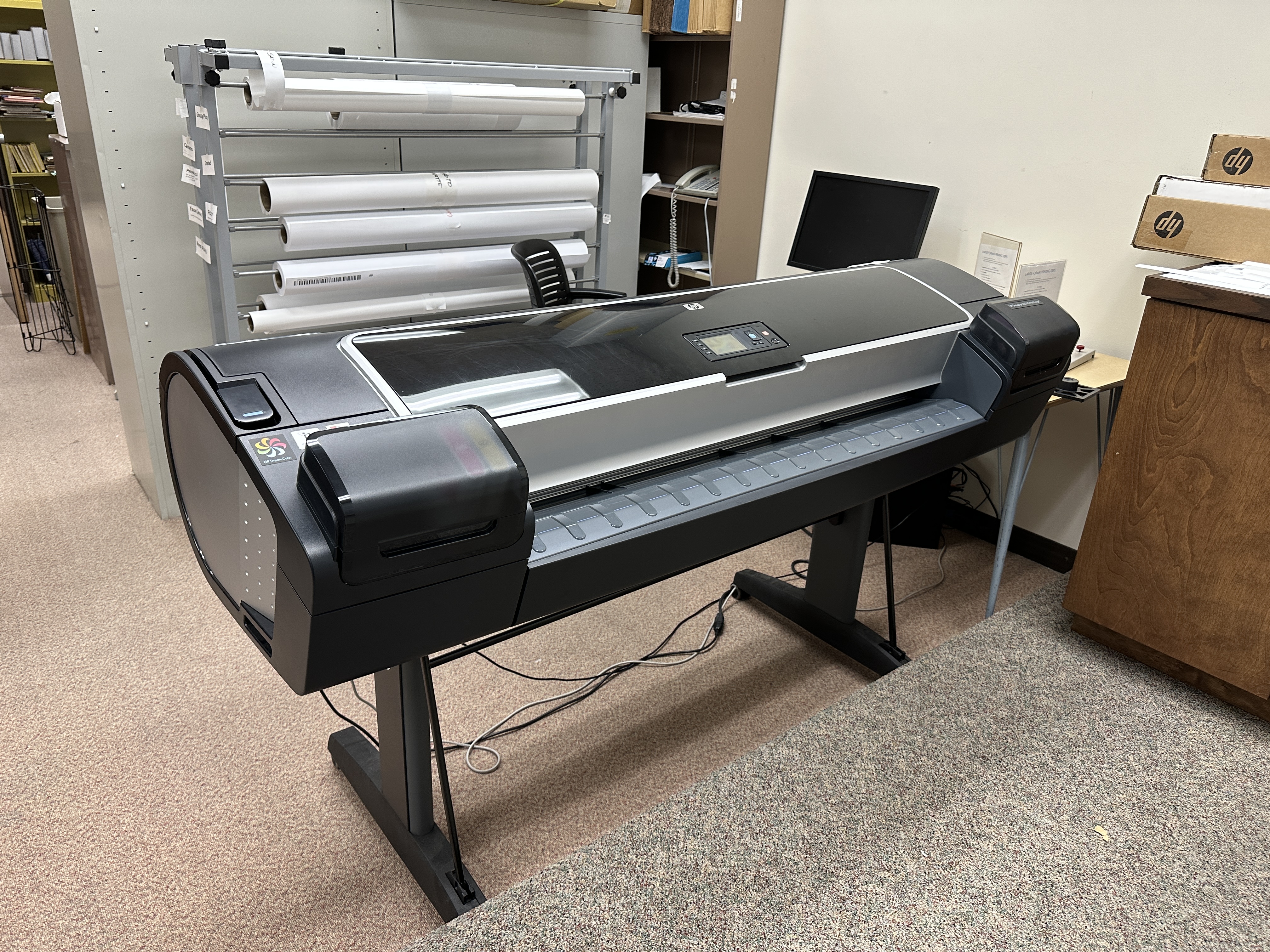 Patron Services operates a large format printer (LFP) that can print posters, photos, banners, and artwork. Please inquire at the circulation desk.
Print Size
The image you create can be any size as long as the smallest dimension does not exceed 42 (or 44) inches. For example: a 24" x 36" photo can be printed. All paper is 42 inches wide, but Matte Photo, Faux Canvas, Canvas and Print-N-Stick. Matte, are 44 inches wide. Print-N-Stick is 24" wide.
Format
Your document should be in PDF format.
Rates
Payment is cash or IDC. Charges to departments must be with an approved IDC. Fees are based on the length of paper taken off the roll. Each type of paper has its own cost.
| | | |
| --- | --- | --- |
| Bond paper | $0.40 per inch ($4.80 per foot) | Used for posters, science fair displays, banners, signs |
| Coated Paper | $0.45 per inch ($5.40 per foot) | Similar to Bond paper but a slightly heavier weight. The coating brings out colors more. |
| Glossy Photo | $0.65 per inch ($7.80 per foot) | Used for printing large format photos.. Any image that may be framed |
| Satin Photo | $0.65 per inch ($7.80 per foot) | This very popular paper has a satin (semi-glossy) finish. Used for printing large format photos. Any image that may be framed. Also used for indoor banners mounted on display stands. |
| Matte Photo | $0.70 per inch ($8.40 per foot) | An archival Matte Photo paper. Used for printing large format photos and art. Any image that may be framed. 44 inches wide. |
| Faux Canvas | $0.75 per inch ($9.00 per foot) | A heavy art paper with a textured surface that somewhat resembles canvas. 44 inches wide. |
| Poly | $1.00 per inch ($12.00 per foot) | This is a water resistant polypropylene that is good for banners placed outdoors. The texture and color saturation is very similar to Satin Photo but without the matte gloss. It is very tough and is tear resistant. Scraps of Poly has been used to reinforce the corners of Satin Photo banners when mounted on display stands. PLEASE NOTE: Banners come out of the printer with the ink semi-liquid. This requires special handling and allow 20 minutes for it to dry. Yes, it really is water resistant. |
| Canvas | $1.25 per inch ($15.00 per foot) | Real canvas. Used for printing large format art or a special photo. Any image that may be stretched over a wood frame. Canvas is 44" wide. |
| Print-N-Stick | $1.25 per inch ($15.00 per foot) | White Satin Cloth backed with a peal-off backing that reveals an adhesive. It is reposition-able removes cleanly and easily with no residue. It will not rip, wrinkle, or stretch. Perfect for wall cut-outs, wall murals, decals, signs, window graphics, and more. 24 inches wide. |
There are samples of each type of paper in the printing room behind the circulation area. To see them, ask the staff at the circulation desk.
Procedure for Printing
Send the PDF file by email as an attachment to jwlmultimedia@andrews.edu; indicate in your message the type of paper you would like to have it printed, the size of the poster, and the payment method. If you're printing for your department, we need an authorized email and the IDC number from the department.
Printing
Printing is on a first-come, first-served. Most printing jobs are completed within 24 hours, depending on traffic. The ink is dry to the touch as it comes out of the printer, but the paper still has solvents in it. We recommend allowing the print to dry for a few minutes before rolling the image. Poly paper, in particular, needs extra time to dry. When your printing is completed, we will contact you either by email or a phone call.
Scanning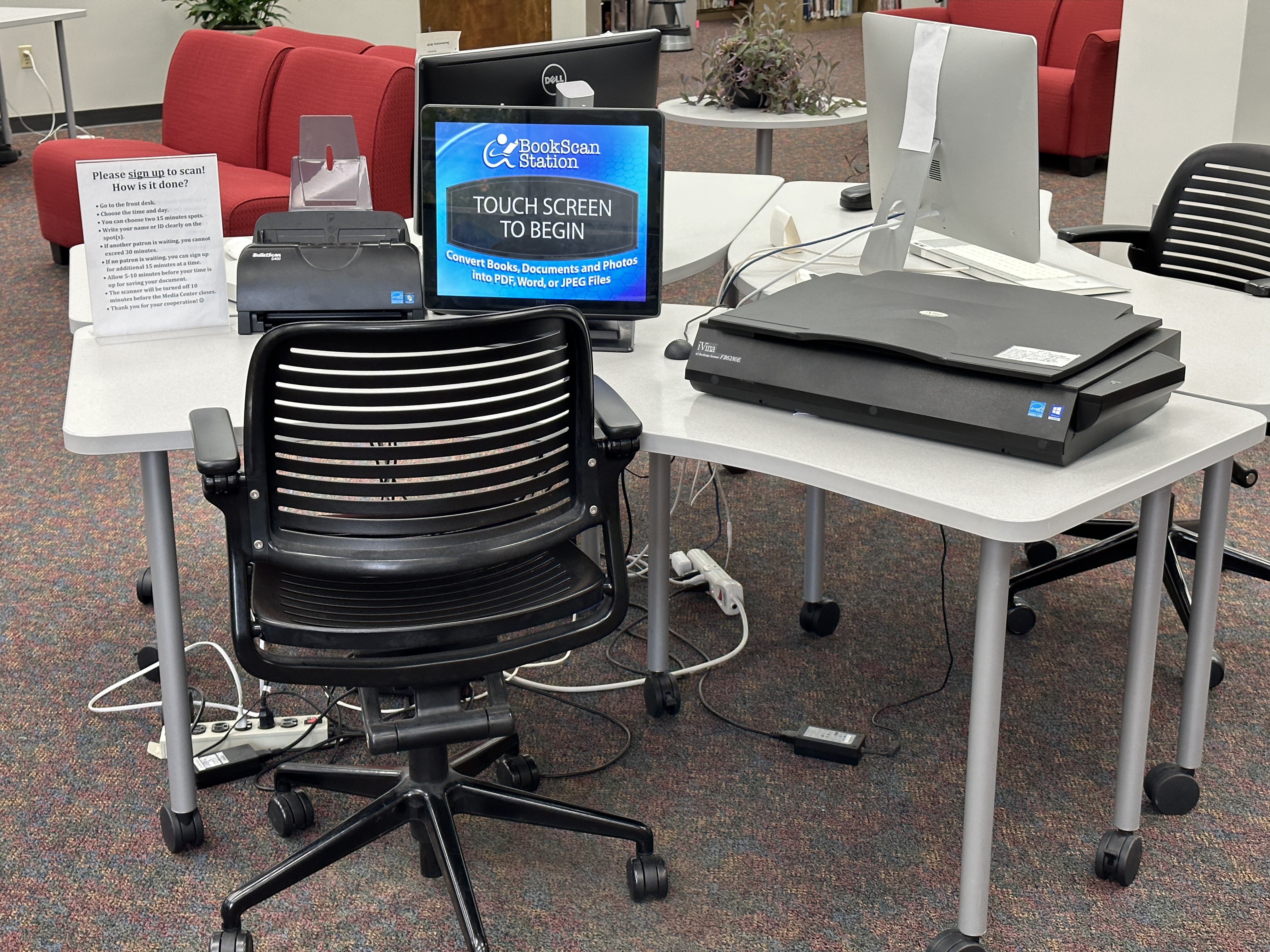 There are two book scanning stations: one at the upper level and the other at the lower level by the periodicals. The scanners can scan images up to 12" by 17." Use the settings: PDF; color; photo quality, and save the scanned image to your USB drive or any email account. You may also scan at the main floor printer or the one at the upper level. The scan stations at the upper and lower levels can send to ANY email address. But the printer/scanners can only send to an Andrews University email address with a limited content of 17 pages of text and 5 pages of photos. You may save your scans in a USB drive. There are no charges for scanning.
Contact Information
For additional information about printing, scanning, and copying, email us at jwlmultimedia@andrews.edu or call us at: 269-471-3267.