Need to Know November 2020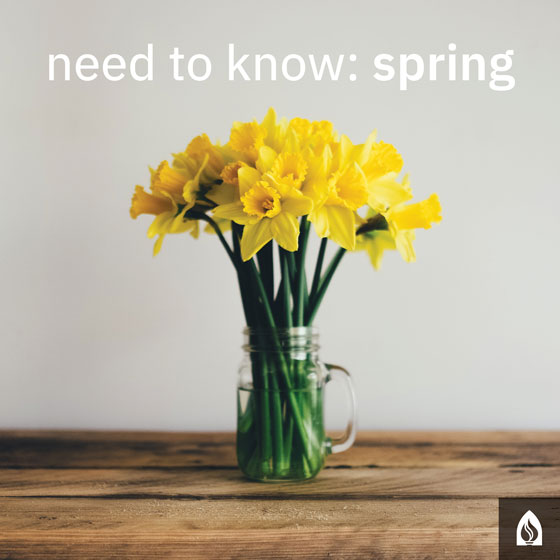 Nov. 11, 2020
Greetings, Andrews University friends,
As we move into the final weeks of this fall semester here on our Berrien Springs campus, we want to share some relevant details with you about the remaining days of this semester and the spring semester to come.
For the highlights of those spring semester plans, including important academic calendar dates and COVID-19 testing requirements, please refer to the letter from Provost Arthur here.
For new students who will be joining us this spring semester, please see these additional details for online New Student Orientation on Jan. 10 and 11.
An extended spring semester schedule, including ongoing updates and information in the weeks to come, can be found here.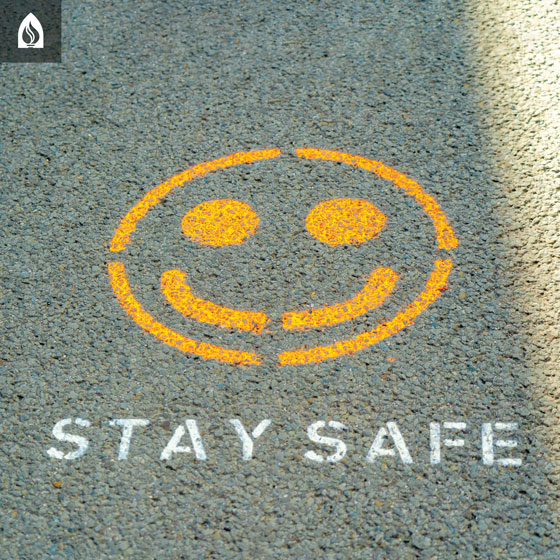 Deepening Our Commitment to Safety
COVID-19 case numbers are increasing here in Berrien County and around the world. As we seek to keep our community safe, we continue to require our campus community to consistently wear masks (read more here) and to limit close contact with others as well as unnecessary movement on- and off-campus (read more here). We encourage you to review and join with us in pledging to renew these commitments to a safe and healthy community.
PLEASE NOTE: As we prepare for travels over the winter break and visits with family and friends off campus, the state of Michigan recommends that university students should leave their residences only for class, work, to get food and go to medical appointments, and should always wear a mask while around others in the two weeks before a student's holiday travels begin.
Students should then wear masks (even around family), physically distance, avoid group gatherings outside of the home and monitor symptoms twice daily for the first two weeks after they arrive at their destination.
In some situations, students may also choose to do a final COVID-19 test before leaving campus. If you'd like to explore your options for local testing, see this website from the Berrien County Health Department.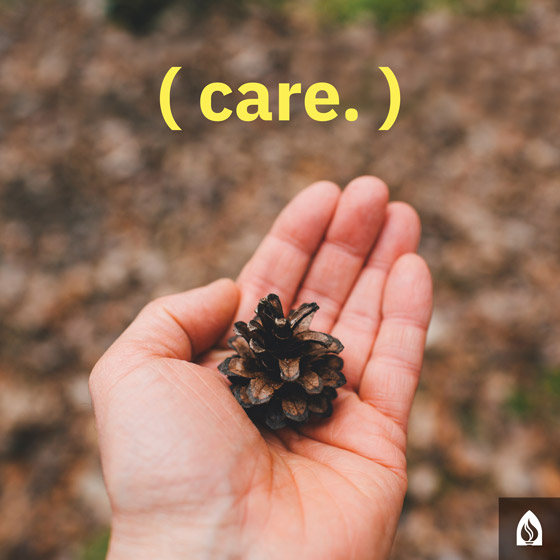 Caring for the Mental Health of Our Community
COVID-19 not only potentially affects our physical health but may also threaten our mental and spiritual health as individuals and a community. As we face those risks, Andrews University has invested in an online mental health first-aid training program that we believe will help educate and strengthen our campus community as we work to identify and provide care for those in our community who may be at risk.
This Question-Persuade-Refer (QPR) tool is a nationally known mental health training tool aimed at providing campus communities with basic tools needed to reduce the risk of mental health distress. You can read more about this new program here. You can find the online training for this QPR tool here.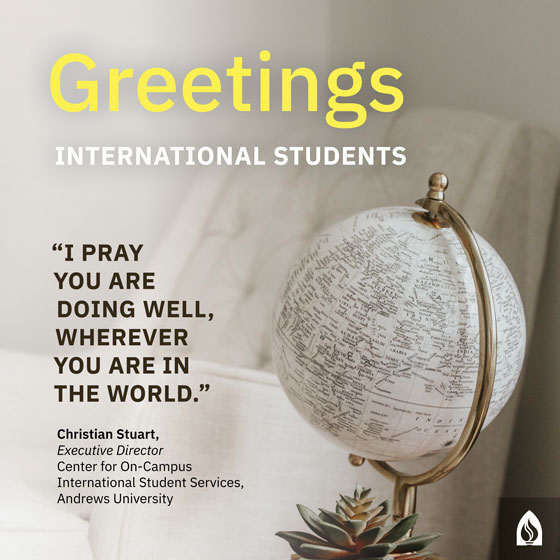 Updates for Our International Students
Christian Stuart, who leads our Center for On-Campus International Student Services, has shared an update with our international students on the final weeks of this semester, including information on winter break, travel endorsement and airport transportation details. The letter includes dates and times for arrival this spring semester, including information on testing and orientation for international students who will be joining us for the first time next semester. The letter also outlines current visa guidelines and restrictions.
You can find the complete letter here. New international students joining us this spring semester can review this FAQ page dedicated to questions they may have as they prepare for arrival for studies in Berrien Springs this next January.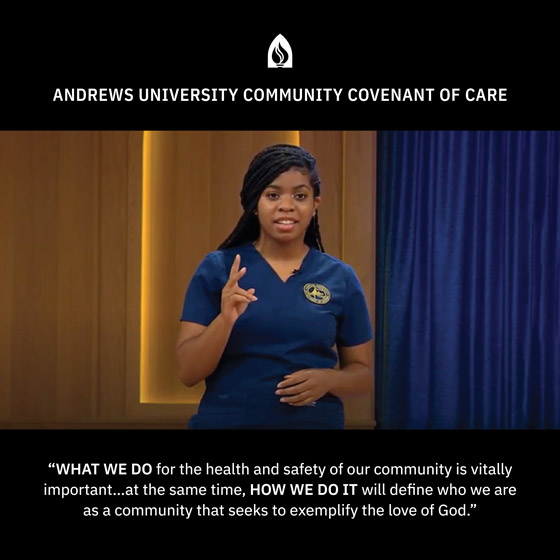 Watch Our Community Covenant of Care
Throughout this and other Need to Know newsletters, we've often talked about our shared commitment to our Community Covenant of Care. We invite you to review and renew your own personal commitment to our Community Covenant of Care.
Incidentally, if you haven't seen it yet, please take a few moments to watch this video, which highlights the values at the heart of our shared Community Covenant of Care. The video features University staff and students (like Kyara Samuels, president of our undergraduate Andrews University Student Association, pictured above), who share the key elements of this Covenant.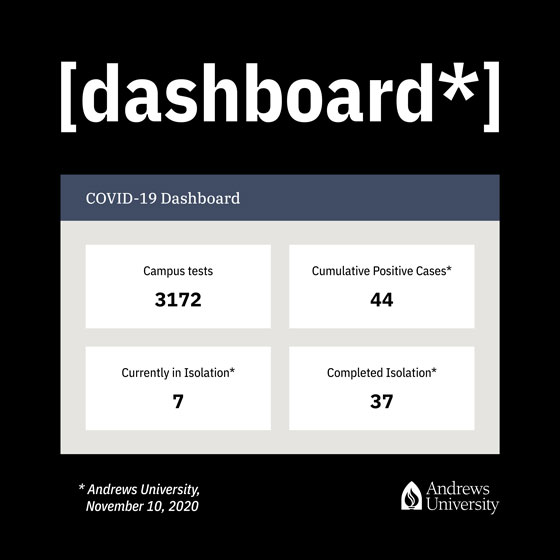 Andrews University COVID-19 Dashboard
We remain committed to being transparent about the direct impact of COVID-19 on our campus community.
We are grateful that for the more than 40 positive cases from on- and off-campus testing (including nearly 3,200 on-campus tests), there appears to be no evidence of on-campus/community transmission among our students, including classroom and residence hall situations. Positive cases have come from other off-campus contacts, including individual social, church and family settings.
If you haven't done so already, we encourage you to bookmark our Andrews University COVID-19 Dashboard to track the latest information.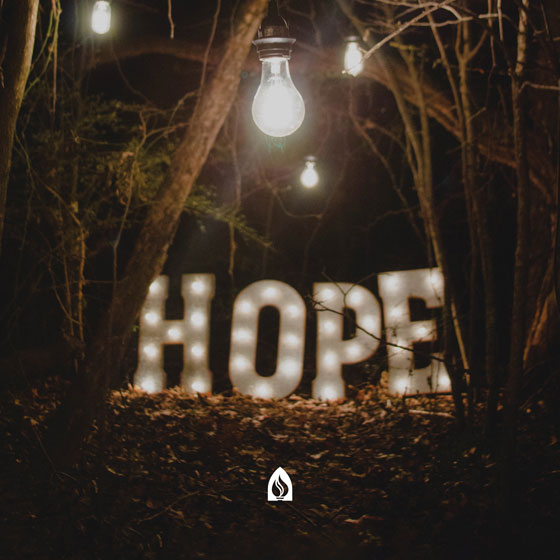 Illuminating Hope for Our Community and World
As we prepare for the end of this semester, the winter break that follows and the beginning of spring semester in the new year, we are grateful for the commitment and care that have characterized our Andrews University community in these challenging times.
Each one of you has been part of that common commitment to keep each other safe and, when needed, to also protect and care for those who are ill. We want to thank you as you continue to share in this wholehearted commitment to care for each other, a foundational and God-inspired response for each step of this complicated journey.
Those commitments, along with your consistent and caring actions, inspire hope and light amidst the seeming darkness we face and better illuminate the holidays and new year to come.
Finally, we join with you in praying for our continued and effective commitment to these things and for God's continued safekeeping for our community and our neighbors here in Michigan, the United States and around our world.
God bless,
Andrea Luxton
President
Christon Arthur
Provost
Credits: Unsplash (Annie Spratt, Nick Fewings, Marcus Spiske, Corinne Kutz, Ron Smith); video capture courtesy of Andrews University Division of Campus & Student Life