Undergraduate Research Mentor Award
2015 STEM Recipient: James Hayward (Biology)
Student Comments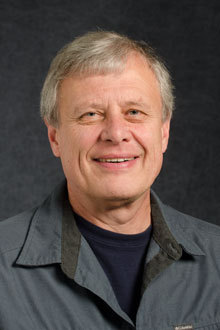 "Working with Jim Hayward on the Seabird Ecology Research Team has been one of the most valuable, instructive experiences of my entire undergraduate training. His thoughtful advice, careful teaching, and constant support have helped me to grow both in my appreciation for biological research and in my own abilities as a student researcher. Jim not only has a clear passion for learning about and understanding phenomena in nature, but he also has the scientific expertise to investigate these phenomena with the utmost integrity and care. Through working with Jim at Andrews and in the Protection Island Glaucous-winged Gull colony, I have seen what it means to be a truly eager and interested learner. His contagious enthusiasm for discovery has influenced me to incorporate research into my own career someday and—more importantly—to view nature and the world around me with fascination, admiration, and respect; and for this I will always be grateful."
"Dr. Hayward has been such a gracious guide as he has assisted me through the research process, helping me to take on a meaningful research project that I was thrilled to tackle. Even though Dr. Hayward was the secondary advisor on my Honors thesis, he made a point to be actively involved throughout the entire process, from mentoring me through the planning stages of the project and the research itself to giving feedback on drafts of posters, presentations and papers. Dr. Hayward always took the time to ensure that I was prepared and that my project was as strong as possible. Dr. Hayward's friendliness and approachability made it easy to ask questions and seek advice when I was unsure about some aspect of my research. As a result, I have had an extremely positive experience completing my Honors thesis, and I consider my participation in the Seabird Ecology Team to be one of the best opportunities that I have had during my time at Andrews University."
"Dr. Hayward was a phenomenal research mentor to me while I was an undergraduate at Andrews University. His unrelenting interest in the long-term research project on Protection Island's seabirds was inspiring. I don't believe many researchers can equal Dr. Hayward's drive and focus. Also, he was eager to get me out to the island for fieldwork. Not only did I do fieldwork for Dr. Hayward's projects, but I was also encouraged and given ample time to pursue my own projects, which doubtless helped spark my interest in a science career. When it came to completing my Honors thesis and other writing projects, Dr. Hayward would carefully read my work and give a humbling amount of editing advice—though I was always grateful for it. Thanks, Dr. Hayward, for your mentorship!"