Research News
These stories represent highlights of research and creative scholarship at Andrews University. For a more comprehensive list of campus-wide research activities, please explore the portions of this Research website dedicated to events, faculty research, and student research.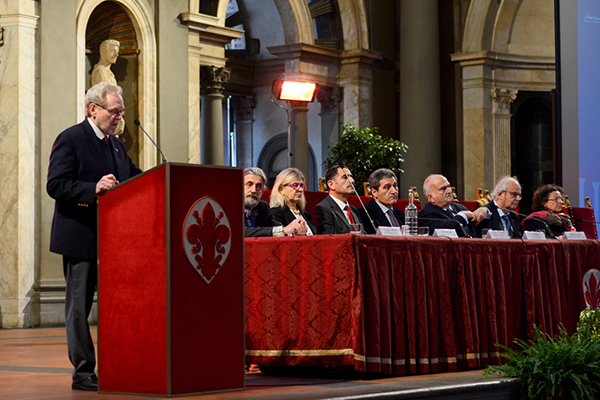 Oystein LaBianca Undertakes Research in Jerusalem at the W.F. Albright Institute of Archaeological Research
October 1, 2019. Oystein LaBianca, who is professor of anthropology and the associate director of the Institute of Archaeology at Andrews University recently spent four and a half months in Jerusalem conducting research as a fellow at the W.F. Albright Institute of Archaeological Research. During this fellowship, LaBianca completed two books in collaboration with others: Levantine Entanglement: Local Dynamics of Globalization in a Contested Region and The Leventine Nexus: The View from Hisban. He also co-led a worshop, planned cultural events for visiting fellows. He also traveled to Florence, Italy, where he was one of the keynote speakers for the opening session of the International Conference on the History and Archaeology of Jordan (pictured speaking). Learn more here: LaBianca Spends 4.5 Months in Jerusalem.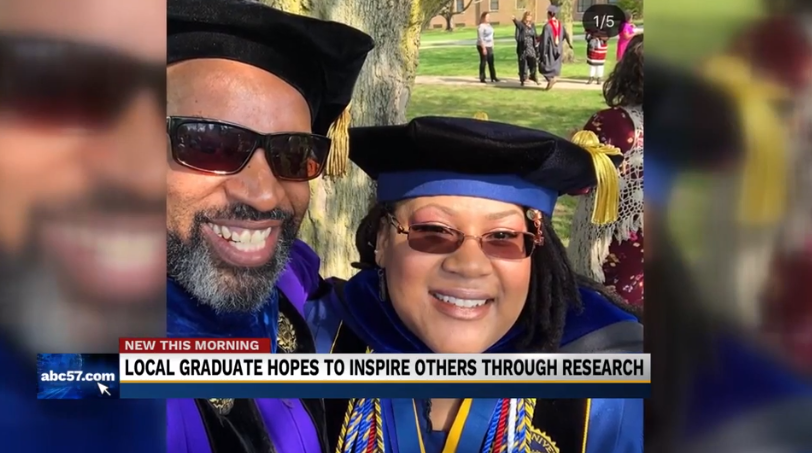 AU Graduate Vivian Laughlin Receives Fulbright Award
September 23, 2019. Vivian Laughlin, who recently earned her PhD from Andrews University in biblical and Near Eastern archaeology, has received a Fulbright U.S. Scholar Program award. "For the next two years, she'll study the cultural appropriation of the ancient Egyptian cults of Serapis and Isis and its impact on Judea and Palestine," reports ABC57, the American Broadcasting Company affiliate in South Bend, Indiana (link).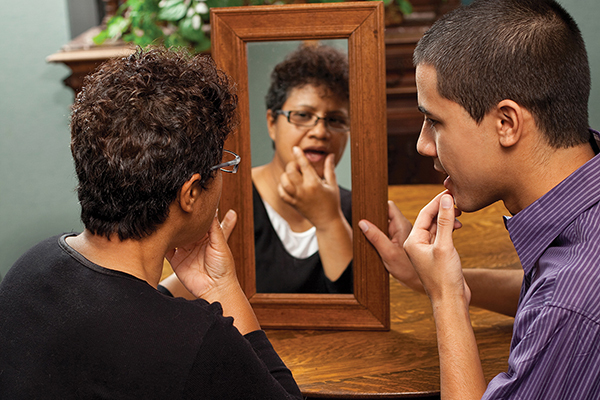 School of Communication Sciences and Disorders Receives Grant from the Parkinson Voice Project
July 11, 2019. The Parkinson Voice Project has named the Andrews University School of Communication Sciences & Disorders as a recipient of its 2019 SPEAK OUT! & LOUD Crowd Grant Program. As a grant recipient, the AU clinic provides SPEAK OUT! and The LOUD Crowd services to the local Parkinson's community in Michiana. SPEAK OUT! consists of individual speech therapy conducted by a speech-language pathologist. Learn more: AU Agenda and WSBT22.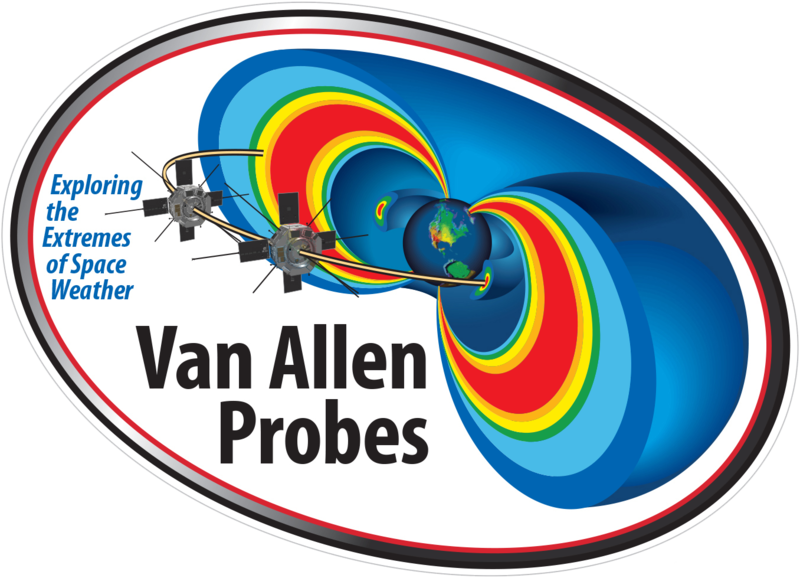 Article by Andrews Professor Highlighted by the European Space Agency
March 4, 2019. The European Space Agency (ESA) has highlighted a paper co-authored by Professor Jay R. Johnson on the front page of its website. Dr. Johnson teaches both physics and engineering at Andrews. The abstract for the paper, titled "Electron Distributions in Kinetic Scale Field Line Resonances: A Comparison of Simulations and Observations" (Geophysical Research Letters, 11 June 2018), begins: "Observations in kinetic scale field line resonances, or eigenmodes of the geomagnetic field, reveal highly field‐aligned plateaued electron distributions. By combining observations from the Van Allen Probes and Cluster spacecraft with a hybrid kinetic gyrofluid simulation we show how these distributions arise from the nonlocal self‐consistent interaction of electrons with the wavefield."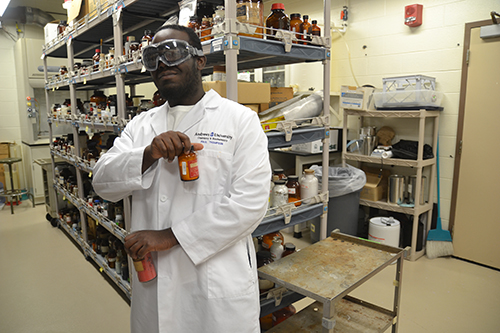 Chemistry Student Named ACS Scholar
December 31, 2018. Paul Thompson Jr. has received a $5000 scholarship and been named an ACS Scholar by the American Chemical Society. According to the ACS website, the scholarship is given to "minority students majoring in undergraduate chemistry-related disciplines" who intend "to pursue careers in chemistry-related fields." To learn more, visit Paul's award page.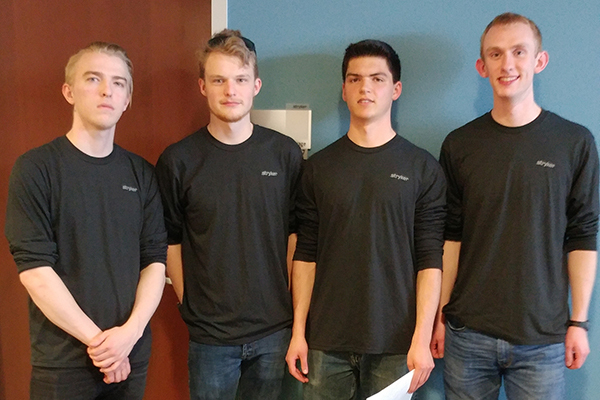 Engineering Students Place Second in Design Competition
April 27, 2018. Three Andrews University engineering students—Eric Anderson, Darrick Horton, and Justin Wiley—teamed up with Levi Vande Kamp of Calvin College to take second place in the 2018 Stryker Engineering Challenge. After preliminary challenges in the competition, the "main event was to design and construct a remotely controlled vehicle. The vehicle had to traverse an obstacle course, find and pick up Lego figures and bring these figures back to their pit area" (AU Agenda). The other five participating schools were Michigan Tech, Western Michigan University, Notre Dame University, Purdue University, and Miami University (Ohio).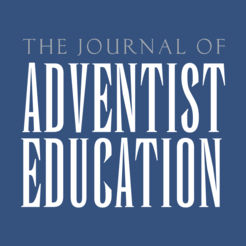 AU Professors Contribute to Award-winning Adventist Journal
April 26, 2018. Professors Anneris Coria-Navia (Curriculum and Instruction) and Jerome Thayer (Professor Emeritus of Research and Statistical Methodology) contributed an article to the April-June 2017 edition of The Journal of Adventist Education (JAE)—"Strengthening Adventist Education in the North American Division: Recommendations for Educators." This issue of the journal received an Award of Merit from the Associated Church Press (ACP) in the category of REPORTING AND WRITING, THEME ISSUE, SECTION, OR SERIES: JOURNAL.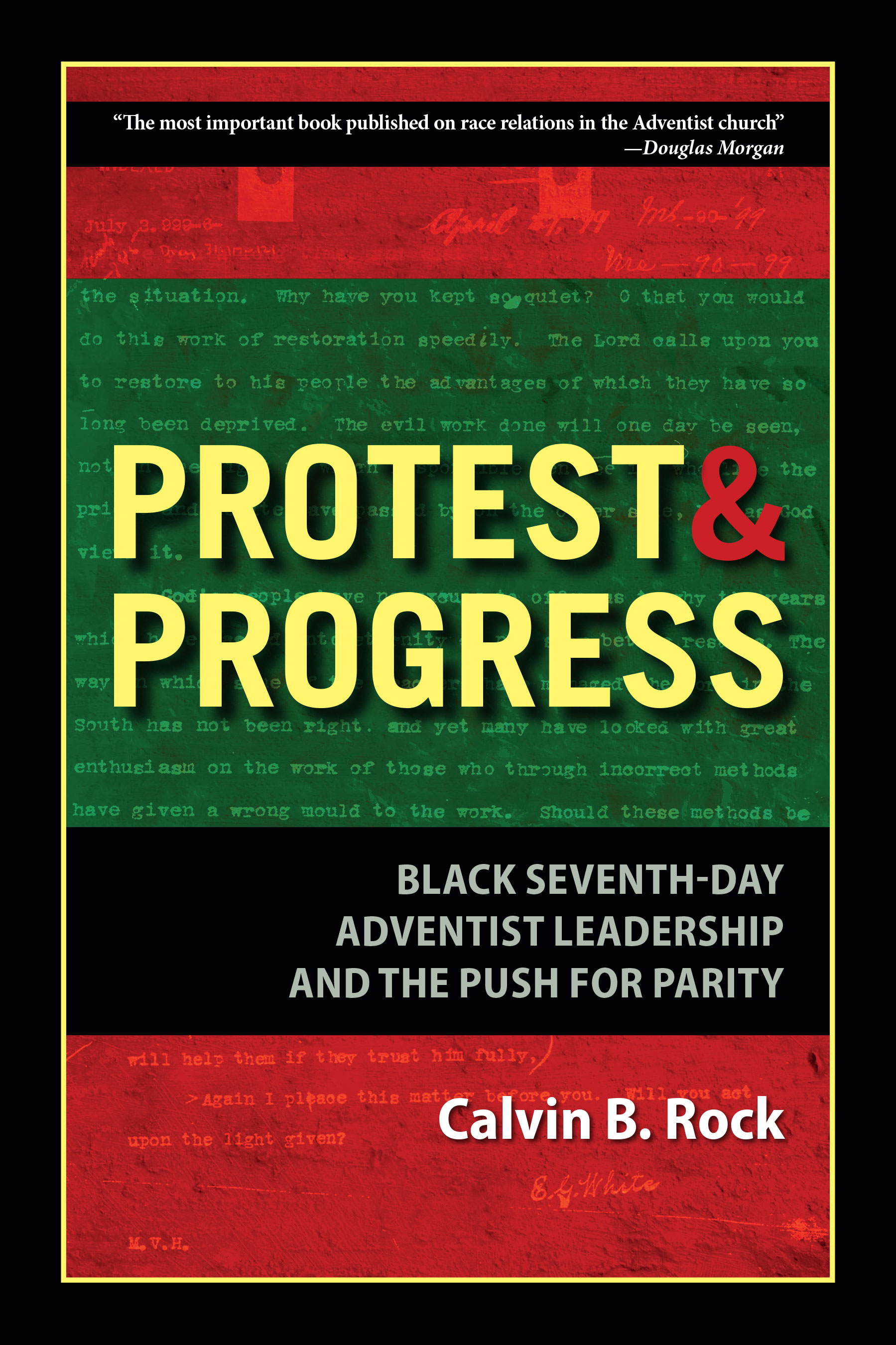 Andrews University Press Releases Book on Regional Conferences
April 25, 2018. Andrews University Press is publishing a book by Calvin B. Rock on race relations within the Adventist denomination—Protest & Progress: Black Seventh-day Adventist Leadership and the Push for Parity. The book addresses the "four major protest movements that arose within the Black community regarding its members' ability to advance the mission of the church in ways relevant to their context" (Adventist Review, 23 April 2018). Andrea Luxton, president of Andrews University, says, "It would be hard to find a more authoritative and respected leader to address this difficult subject than Dr. Rock" (Adventist Review). "His 63 years of keen observation and active participation in these issues as a pastor, change-making academic leader, and church statesman, along with his deep passion for the unity of the church and the Righteousness of Christ, make his perspective absolutely essential to any understanding of our history and our future," continues Dr. Luxton. Adventist historian Doug Morgan states that this is "the most important book published on race relations in the Adventist church." For more, see the Andrews Agenda.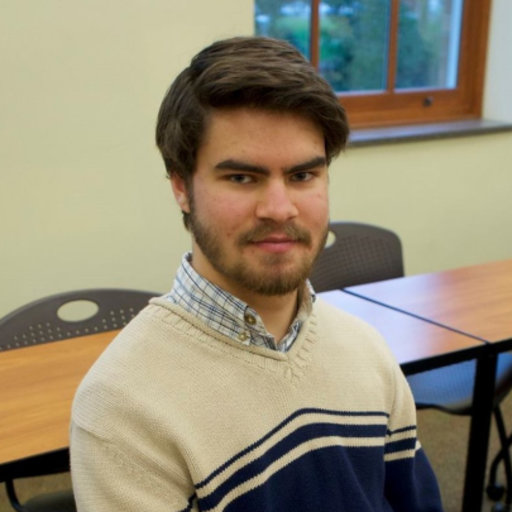 Mykhaylo Malakhov Named Goldwater Scholar
April 24, 2018. Mathematics major Mykhaylo Malakhov has received a Barry Goldwater Scholarship for 2018. He is one of six Michigan students to receive the award. Nationally, there were 1,280 students nominated for the award, with 211 recipients in the fields of natural sciences, mathematics, and engineering (Goldwater press release). The Foundation calls the award "the preeminent undergraduate award of its type in these fields." Recipients receive a financial award of up to $7,500. Mykhaylo says his mentors at Andrews University are professors Anthony Bosman and Shandelle M. Henson.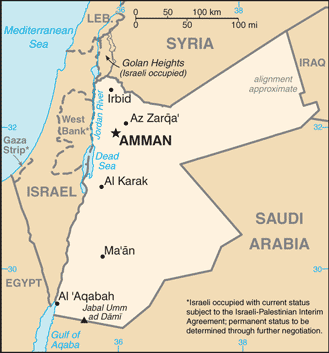 Celebrating 50 Years of Discovery in Jordan
April 19, 2018. This summer marks 50 years of Andrews University's participation in archaeological excavations in Jordan. Dr. Oystein LaBianca, Andrews professor of anthropology, is the director of the Hisban Cultural Heritage Project, which excavates at Tall Hisban, a biblical, classical, and Islamic archaeological site located about 20 km south of Jordan's capital, Amman. This summer the team will be in the field for three weeks (June 24-July 12, 2018). This is the longest continuous archaeological project in Jordan, having started excavations in 1968 searching for biblical Heshbon. Today this project is a premier destination for Islamic archaeology in the Middle East, with particularly exciting discoveries related to the Middle Islamic Mamluk empire's undertakings in Jordan. This season the team is quite diverse; students and faculty represent 19 academic institutions, 15 countries, and 6 continents. At Tall Hisban on Wednesday, July 11, the team will celebrate 50 years of exploration with programming for the wider public as well as for archaeology students and professionals. For a short film about our project, visit Vimeo.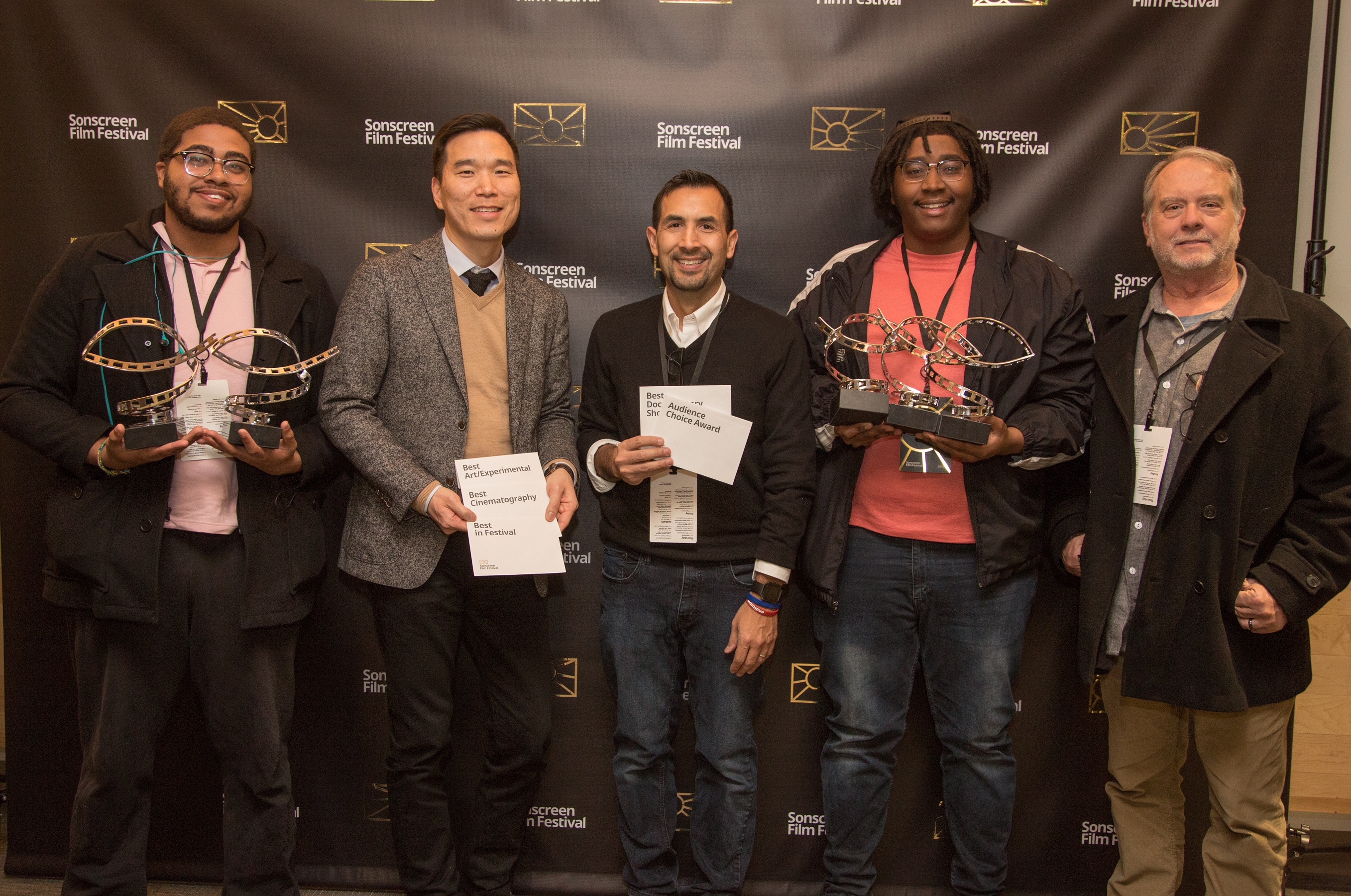 Student Filmmakers Receive Numerous Awards at Sonscreen Film Festival
April 18, 2018. Nina Vallado and Joshua Martin—both graduates of the Andrews film program—won major awards in the 2018 Sonscreen Film Festival, which was "created by the North American Division of Seventh-day Adventists to nurture Christian filmmakers in their craft, career development, and spiritual lives" (website). Nina's film "Sisterly," won Best in Festival, Audience Choice, and Best Documentary Short. "Sisterly" was also a finalist for the 2017 Student Academy Awards (Oscars). "125 Pounds," by Joshua, won Best Art Experimental and Best Cinematography (awards list). Both films were made while Nina and Joshua were studying at Andrews. "We are very proud to take the top awards in what I believe was one of the strongest selections of films to ever play at the festival," says Paul Kim, chair of the Visual Art, Communication & Design Department. (Photo: Current Andrews University film students holding the awards with Paul Kim, festival director Julio Munoz, and the lead Juror and master film editor Chris Cibelli.)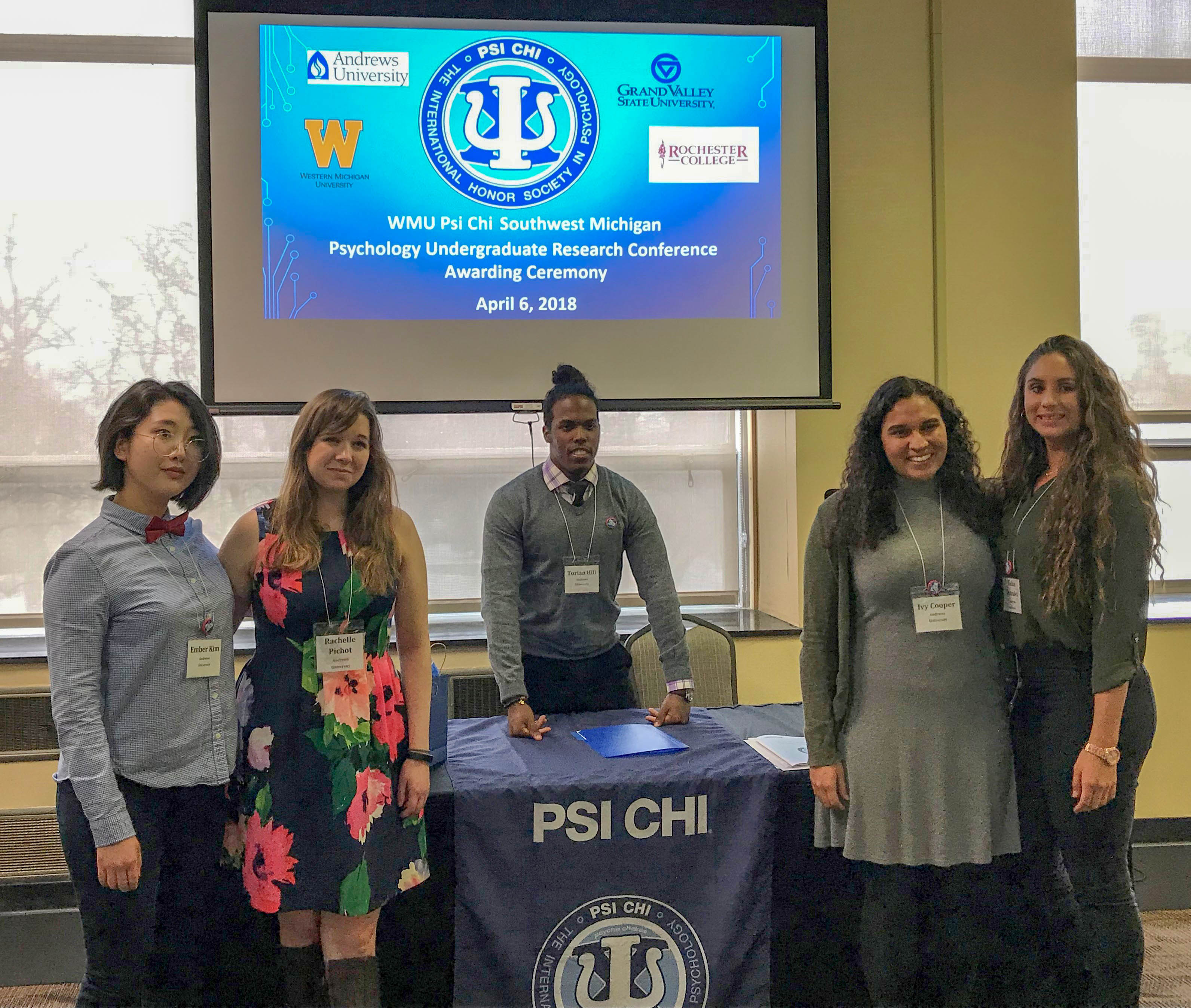 Psychology Students Present at WMU Undergraduate Research Conference
April 6, 2018. Five Andrews University psychology students gave presentations at Western Michigan Univeristy Psi Chi Chapter's Second Southwest Michigan Psychology Undergraduate Research Conference. Participating students represented Andrews University, Grand Valley State University, Rochester College, and Western Michigan University. For oral presentations, Talisa Gonzalez placed second, and Ivy Cooper placed third. Torian Hill was awarded third place for his research poster.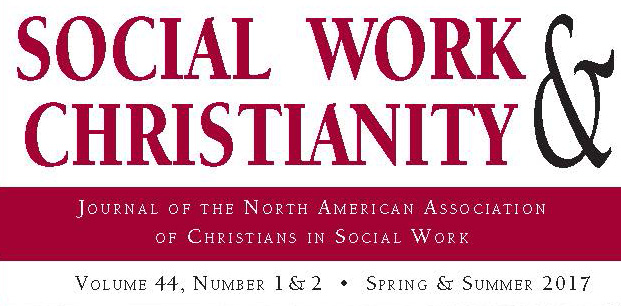 Social Work Professors Publish Study on Adventist LGBT Millennials
Professors Curtis VanderWaal & David Sedlacek have published an article in Social Work & Christianity titled, "The Impact of Family Rejection or Acceptance among LGBT+ Millennials in the Seventh-day Adventist Church" (Spring/Summer 2017, Vol. 44, No. 1 & 2, 72-95). The research was financially supported by the North American Division of the Seventh-day Adventist Church. An interview with the research team is available on Spectrum.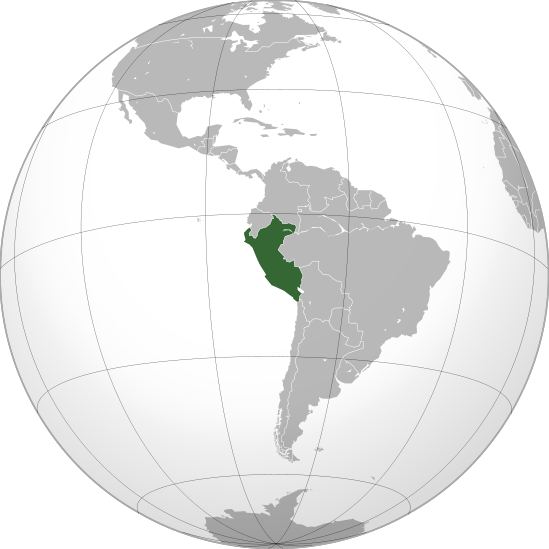 Alumnus Documents New Bird Species in Peru
April 2, 2018. Andre Moncrieff, who graduated from Andrews University in 2014, is part of team that has documented a new species of bird--the Cordillera Azul Antbird in Peru. Learn more at Spectrum, Sci News, and The Auk: Ornithological Advances.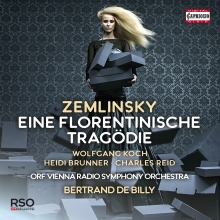 Vocal Professor Releases New Recording
Jan. 22, 2018. Charles Reid, Associate Professor of Voice, has released a recording of Alexander von Zemlinsky's "A Florentine Tragedy." The recording features the ORF Vienna Radio Symphony Orchestra. Access Here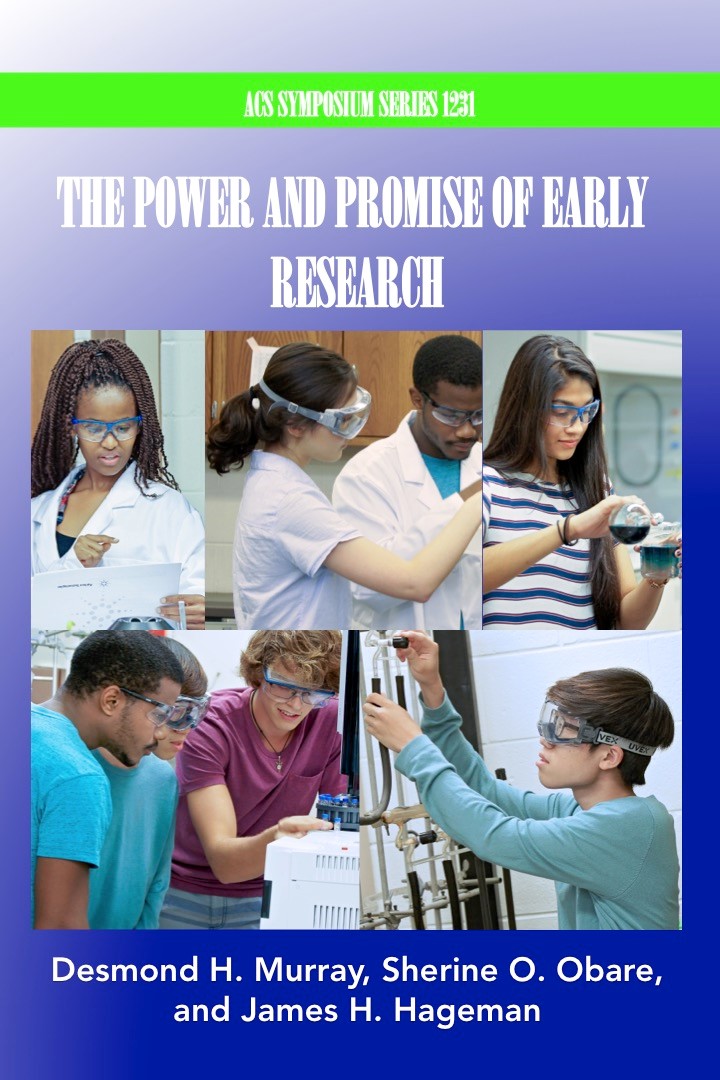 Cheminstry Professor Publishes Book on Early Research
Jan. 11, 2018. Desmond Murray is a co-editor of The Power and Promise of Early Research, which has now been published in hard copy by the Oxford University Press. The book draws on Dr. Murray's rich history of incorporating early research into his high school and university classes. Access Here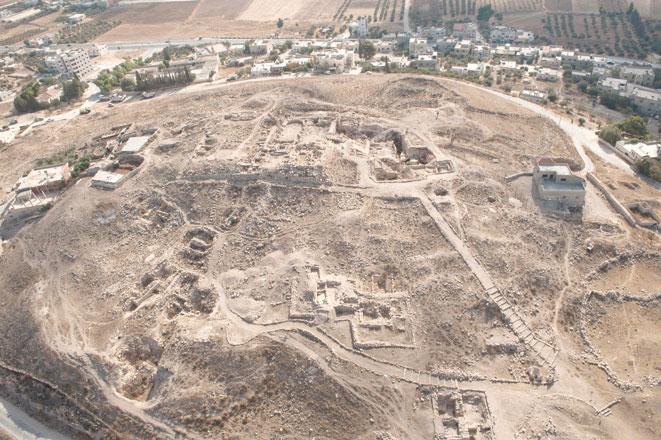 Anthropology Professor Noted in Archaeology Report
Jan. 8, 2018. Oystein LaBianca, professor of anthropology, was recently highlighted in a Jordan Times article on community archaeology (Saeb Rawashdeh, "Norwegian scholar draws parallel between archaeological sites and botanical gardens," January 7, 2018; Photo courtesy of David Kennedy, APAAME). Read Here
NEWS ARCHIVE (Click for older news stories)