Undergraduate Research Mentor Award
2015 Social Sciences Recipient: Karl Bailey (Behavioral Sciences)
Student Comments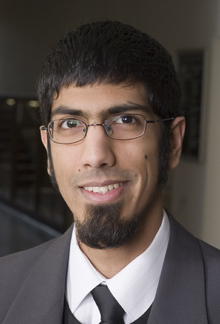 "Dr. Bailey has been a huge help during my undergrad experience when I had to conduct research in his classes. He guided me in the right direction as to which articles to search for and how to analyze my data. He is very knowledgeable about his field and has a passion for helping students to also have a passion for research and behavioral sciences."
"I have nothing but praises for Dr. Bailey; his help as my research mentor is invaluable. He is the kind of professor that does not force his students into research they do not like but rather encourages them to investigate things that interest them. By doing this, he fosters a love and appreciation for not only research but for learning too. I had absolutely no interest in any kind of research, and now I keep thinking of new research topics because Dr. Bailey has shown me that research can be both stimulating and enjoyable. I also appreciate that he does not spoon feed everything to us but rather pushes us to work hard and use our minds and creativity to figure things out on our own. With that being said, he does not leave us out to dry like wet towels; he is always there for us at every step. I am so grateful to Dr. Bailey for being an amazing research mentor and fostering in me a curiosity about the world; a curiosity that I can now enjoy through research. Thank you so much, Dr. Bailey."
"Over the past three years, Dr. Bailey has facilitated a valuable epiphany for me: Research is not scary! From designing the study, to writing an IRB form, to running subjects, and finally running stats, he has faithfully demonstrated how useful and rewarding the research experience can be. I am exceedingly thankful for his guidance!"