Undergraduate Research Mentor Award
2018 STEM Recipient: Shandelle Henson (Mathematics)
Student Comments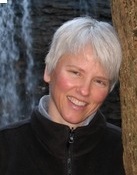 "Dr. Henson has been one of the best mentors I could have ever had! I remember always being motivated when I was making slow progress in research and was always pushed out of my comfort zone to learn more and be independent. The mathematical modeling class taught by Dr. Henson was one of my favorite undergraduate courses because we actually had fun in it, and the assignment structure helped us to learn from our mistakes. My coursework and research experience with Dr. Henson has helped me to secure research positions in some top schools in the nation."
"When I first met Dr. Henson, I was anxious and nervous. As a biology major, I didn't know anything about math or field biology, and though I was very excited to work on this new project, I was also very anxious. When I came into her office with Dr. Hayward, she reassured me and told me she would be with me every step of the way. Since then, Dr. Henson has taught me a lot about the importance of asking good questions and brainstorming solutions to obstacles, as well as taking ownership of one's work and being proud of yourself at a job well done. After having such intellectually stimulating conversations with them, I have been inspired by their work and gone on to pursue summer research opportunities. Dr. Henson is by far one of the most fantastic and excellent mentors that I have met, and I am so glad that she has been nominated for the 2018 Undergraduate Research Mentor Award. She totally deserves it!!!!!"
"Dr. Henson is one of the best mentors and professors that I have had the privilege to work with. She always encouraged me to work hard and to do my best. I could always find support from her when going through the struggles and victories of my thesis. She did not give up on me nor have I seen her give up on any of her students. Her kindness, wisdom, self-confidence, integrity, and love for God is contagious. It was truly an honor to have met Dr. Henson, and I will always be grateful to have worked with her during my academic journey. Thank you for everything, Dr. Henson."
"Where do I even begin in speaking of Shandelle Henson? From our first Skype call when I was a senior in high school, to my REU with her research team last summer, to recent REU and scholarship applications, Dr. Henson has continued to inspire me through her tireless dedication to my success, her passion for science and mathematics, and her deep Christian faith. I can always count on her to offer exactly the right balance between challenge and support, to guide me through demanding research problems while ensuring that those experiences result in my growth as a Christian scholar. Indeed, Shandelle is much more than a mentor, she is my role model for the kind of professor and person I strive to become."