Undergraduate Research Mentor Award
2019 STEM Recipient: Benjamin Navia (Biology)
Student Comments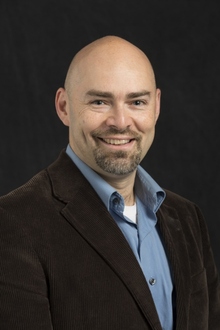 "When I found out that Dr. Navia was going to be my research mentor, I was excited because he is a widely respected professor known not only for his scholastic abilities but also more uniquely for his genuine care and interest in his students' learning. My experience working on his research team has only confirmed this. Those of us on the cricket team have been able to witness Dr. Navia's other good qualities such as his tireless work ethic as well as his ability to form meaningful relationships with his students. No matter how busy he is, Dr. Navia has always made himself available to help us. In the cricket lab, we all know that we can ask Dr. Navia any question (no matter how small it is or how many questions we have already asked that day) and he will kindly explain the answer until he is confident that we are effectively able to navigate the issue. Dr. Navia goes way above and beyond what is asked of him as a research mentor. It is not unusual to see him spend hours tinkering with cricket machinery to help a student with their problem; a feat that many would see as not their responsibility. On top of the time that Dr. Navia spends every week giving guidance, he has spent countless hours helping me and the other students in the lab compile data and put together posters and presentations to make sure that we are properly prepared. Dr. Navia has also given me extremely valuable advice at a time when I needed it the most. I know that I am one of many students (inside and outside of the lab) that Dr. Navia has influenced in a similar way. I originally started working in Dr. Navia's lab in order to gain research experience and motor dexterity to prepare me for medical school. While this did happen, under his guidance I also gained a love for research and formed a great group of colleagues who I now call friends."
"I have had the honor of having Dr. Navia as my undergraduate research mentor over the past two years, and it has been an incredible privilege. Together, we investigate the relationship between behavioral and neuronal responses in a cricket model via painstaking cycles of trial-and-error. To clarify, the project that I am working on is not an easy one; however, throughout the entire process, Dr. Navia has helped mentor, guide, and motivate me. There were many times where I felt defeated and dejected, but he has always had words of encouragement. 'You're building character,' is one of his favorites. He also consistently pushes me to test my own intellectual limits, and teaches me when I err. Finally, Dr. Navia has inspired me through his genuine investment in learning about his students and mentees, and the way that he respects, cares for, and seeks to understand and accommodate each of our backgrounds. I believe this is something which everyone at Andrews University should seek to emulate. He has taught me more than I could possibly imagine knowing about crickets, and he has truly been an inspirational figure to me during my time here. I believe that he is undeniably qualified and deserving of the 2019 Undergraduate Research Mentor Award."
"I am so glad I got to work with Dr. Navia in doing this research. Through collecting and analyzing my data, I learned to think in more three-dimensional ways that required honest self-evaluation and much thinking outside the box. I learned how to communicate my research content to an interdisciplinary audience in a way that will speak relevance and 'light-bulb moments' to them. I got to have many fun learning experiences by attending conferences where I presented my research. Through these conferences, I was able to experience the bigger ocean of academics that reminded me once again that there is a lot more to see, learn, and challenge myself with. I am thankful for all the work Dr. Navia is doing that helped me to get to where I am today! Thank you very much, Dr. Navia!"
"I have worked with Dr. Navia as my research mentor for the past couple of years. He is an amazing research mentor. In lab, it is very easy to become frustrated and discouraged when working with crickets, but in Dr. Navia's lab that is not what happens. He drops words of encouragement and wisdom throughout the lab workday that make it easier for all of us to power through each experiment. Dr. Navia also does a great job at building up the lab's morale as a team. We have get-togethers and research meetings that help us to catch up with the other projects being conducted and to build deeper friendships with one another. I have definitely enjoyed working with Dr. Navia, and he is a worthy recipient of the Undergraduate Research Mentor Award."