Undergraduate Programs
Undergraduate Program in Medical Laboratory Sciences
Our department offers several options to students seeking a career in the Medical Laboratory Sciences. We developed these options while taking into consideration the varied academic status of our applicants. Find an option that fits your academic and career goals...
View descriptions about each option from the links above or from the menu on the left.
IMPORTANT: The Andrews Univeristy MLS Program may not meet some states CLS/MLS Licensure requirements:
Undergraduate Program in Allied Health Administration
Designed for health-care professionals seeking the academic background to prepare them for advancement into management/administrative positions, the Bachelor of Science in Allied Health Administration is a completion degree only.
View more information about the BSAHA degree click here.
Program Accreditation
Our Program, accredited by the National Agency for Clinical Laboratory Sciences (NAACLS)*, prepares students who successfully complete the requirements for eligibility to take the United States national professional certification examination in order to work as a certified Medical Laboratory Scientists. The certifying examination (Board of Certification) is sponsored by the American Society for Clinical Pathology (ASCP).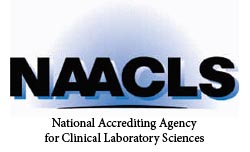 *5600 N. River Road, Suite 720, Rosemont, IL 60018-5119
Phone: 773.714.8880; Fax: 773.714.8886
Email: info@naacls.org; Website: www.naacls.org
Student Outcomes (2014 - 2016)
Program Graduation/Completion Rate: 100%

Program Certification Pass Rates (ASCP): 91%

Placement/Employment Rate: 95%
Testimonials from Previous Students