Regalia
Academic Regalia
The history of academic regalia extends to the earliest days of the oldest universities. European institutions of higher education show great diversity in their specifications of academic dress. When American colleges and universities desired to adopt a suitable system of academic apparel a century ago, it seemed best to agree on guidelines that all might follow. Accordingly, in 1885 an intercollegiate commission drafted an academic costume code f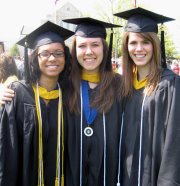 or universities in the United States. A revision was made in 1932. A committee on Acetonic Costumes and Ceremonies, appointed by the American Council on Education, has, on different occasions, reviewed the costume and made several significant changes.
The gown for the associate degree is gray in color and styled the same as a bachelor's degree gown. The gown for the bachelor's degree has pointed sleeves. It is designed to be worn closed. The gown for the master's degree has an oblong sleeve, open at the wrist. The gown is designed to be worn open or closed. The gown for the doctoral degree has bell-shaped sleeves. It is designed to be worn open or closed. These gowns are usually black, but the Andrews University doctoral gown is dark blue and trimmed in black velvet with the University seal on the left lapel near the top.
The length of the hood worn for the bachelor's degree is three feet; for the master's degree, three and one-half feet; and for the doctoral degree, four feet. The hoods are lined with the official color or colors of the college or university conferring the degree. The Andrews University hood is lined with dark blue and gold. Inasmuch as members of the Andrews University faculties hold degrees from a large number of colleges and universities, space does not permit identification of each.
The color of the velvet border on the hood is associated with the degree the candidate has earned.
Undergraduate candidates also wear cords or medallions signifying that they are members of a National Honor Society and graduating with honors. The identifying colors of the cords are as follows:
Graduating with Honors........................................ Gold, blue and white cord
Graduating with a Cumulative GPA of 3.50 or Better .....................White cord
Member of a Departmental National Honor Society ....................... Red cord
Member of Phi Kappa Phi....................................... Medallion on blue ribbon
The designation "J.N. Andrews Honors Scholar" signifies completion of the J. N. Andrews Honors Program's Scholars' Alternative General Education Studies curriculum, submission of a senior Honors Thesis, and achievement of a 3.5 overall GPA.
Summa Cum Laude, Magna Cum Laude or Cum Laude means an undergraduate student has the following minimum overall GPA earned on the A, B, C, D, F scale (A=4).
Summa Cum Laude .........................3.90-4.00
Magna Cum Laude...........................3.75-3.89
Cum Laude...................................... 3.50-3.74